Ariana Grande is a multi-talented young artist. She has captured the hearts of her fans, especially the youth, because of her undeniable charisma, unique fashion sense, and beautiful voice. In addition, Ariana is an advocate for women's rights, making her a powerful influencer among teenagers. Because of this, Ariana gained her fans' undying love and respect, supporting all her ventures in life.
In September 2015, the young artist decided to launch her first fragrance globally, Ari by Ariana Grande. Fans loved this luscious and sexy scent. But this is just the beginning of Ariana Grande's success in the perfume industry. After only seven years in the industry, she released several best-selling scents.
Ariana is known to be very hands-on in conceptualizing every perfume she launches. She is also very passionate about promoting and connecting with her fans. As a result, every bottle she released exceeded the expectation of the market. As a result, her fragrances gained several nominations and awards, including Fragrance of the Year and Consumers' Choice awards.
---
Ari by Ariana Grande
Sparkling, Sexy & Flirty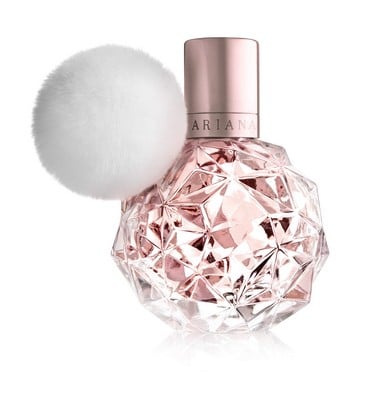 Ariana Grande launched her first-ever fragrance in 2015. She named it Ari, after her nickname. It is bottled in a pink bottle with a very chic white pom-pom. The design is cute, girly, and very Ariana.
Ari reflects Ariana's sparkling, sexy, and luscious personality. It opens with the delicious scent of pear, raspberry, and grapefruit, followed by some floral scents that make the scent more feminine. It has a distinct autumn-like aroma that may remind you of a damp forest. The dry-down is to die for. It embraces you like the heat from a bonfire on a cold October night. Read our review of Ari by Ariana Grande.
This is a perfect scent for young ladies who want to feel feminine, beautiful, and flirty.
---
God is a Woman
Vegan & Cruelty-Free Perfume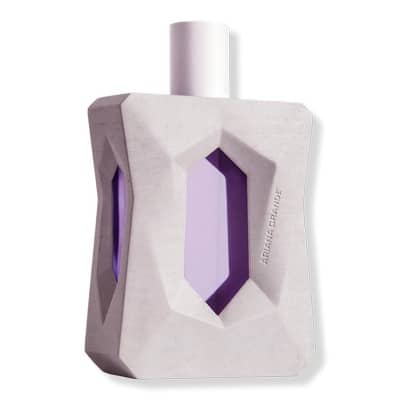 God is a Woman is a powerful addition to the Ariana Grande collection. It was created by the perfume artist Jerome Epinette.
God is a Woman opens with musk mallow and pear, followed by the alluring scent of Turkish rose and orris. It smells juicy, fresh, and powerful. The scent is sweet but not overwhelming and headache-inducing. It also has surprisingly bitter notes, balancing its overall scent. Read our review of God is a Woman by Ariana Grande.
This perfume represents Ariana's advocacies to save nature and stop animal cruelty. The artist proudly announced that God is a Woman is 100% vegan, and almost all ingredients are naturally derived. It is a perfume for animal advocates and nature lovers.
---
R.E.M. by Ariana Grande
A Dreamy Fragrance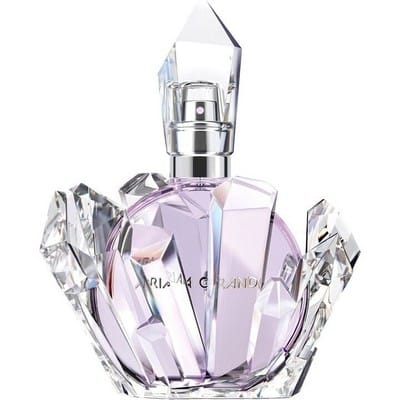 Ariana Grande launched R.E.M. in 2020. This perfume was inspired by Ariana's fascination with outer space. It is bottled in an out-of-this-world lavender container with a crystal cap.
R.E.M. smells very dreamy. It opens with an exotic blend of pear and salted caramel. Then, it becomes more intoxicating as it highlights its lavender and pear blossom notes. Finally, it ends perfectly with the calming musk of sandalwood and tonka beans. The experience is unforgettable, exciting, and one of a kind. Read our review of R.E.M by Ariana Grande.
It is perfect for girls with big dreams, ready to paint the world. The longevity is moderate, so you should keep a bottle with you when going out.
---
Thank U, Next by Ariana Grande
The Most Exciting Ariana Grande Perfume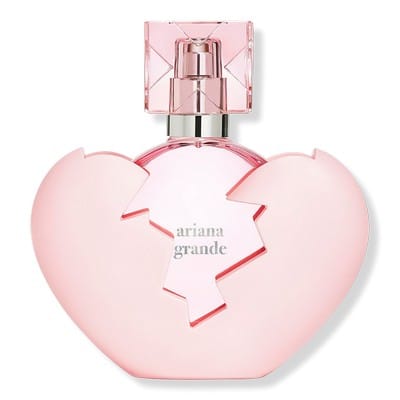 This floral fruity gourmand perfume was launched in 2019. It is the masterpiece of the renowned perfumer Jerome Epinette.
Thank U, Next represents new beginnings and the strength to let go of the negativities of the past. It opens with the warm scent of pear and raspberry, followed by the scent of pink rose and coconut. The dry down smells a little pickle-y but pleasant and inoffensive. It'll leave you smelling like musk and macarons. Read our review of Thank U, Next by Ariana Grande.
Thank U, Next is a good scent for those trying to turn their lives around. In addition, it has impressive longevity, so you can wear this on a busy day.
---
Cloud by Ariana Grande
Top Pick for Gloomy Days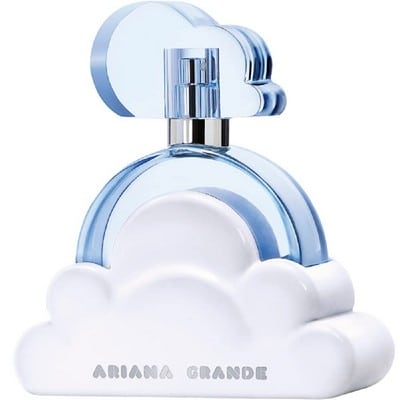 Cloud by Ariana Grande was launched in 2018. It is a wonderful floral fruity gourmand scent created by Clement Gavarry.
The perfect blend of this fragrance can uplift the spirit and lighten the mood of anyone who can smell it. Many experts refer to this perfume as an artistic expression of joy and positivity. It opens with the alluring blend of pear, lavender, and bergamot. Then, it becomes a little creamy and sweet with the scent of coconut, whipped cream, vanilla, and praline. Finally, it settles to a calming blend of woody and musky notes. Read our review of Cloud by Ariana Grande.
Since it has a pleasant aroma, Cloud is perfect for gloomy and slow days.
---
Moonlight by Ariana Grande
Top Pick for Date Nights
Ariana Grande launched Moonlight in 2017. It was marketed as another addition to the brand's floral fruity scents.
Ariana wanted Moonlight to express her love and admiration for her fans. It is a scent that can boost your self-esteem. After a few sprays, you'll quickly notice the rich scents of black currant and juicy plum. You'll enjoy the sour and sweet fruity notes for a while, and then, the scent gets interesting. Cloud's fresh poney and marshmallow notes are captivating, intriguing, and mysterious. Read our review of Moonlight by Ariana Grande.
Because of its seductive aroma, Moonlight is a perfect scent for romantic getaways and date nights.
---
Sweet Like Candy by Ariana Grande
Sexy, Playful, and Sweet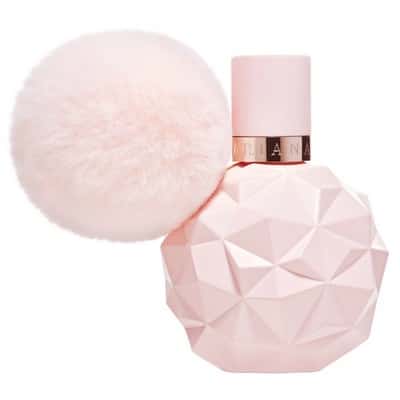 Ariana Grande launched Sweet Like Candy in 2016. It is bottled in a cute, girly container with the iconic fluffy pom-pom.
Sweet Like Candy is one of the most loved feminine perfumes of its time. It's sexier than other Ariana Grande fragrances, but it still has the same playful and youthful aroma. It opens with the sweet smell of berries, vanilla, and scented candles. Next, you can distinctly sniff the smell of fluffy marshmallows, frosted blackberries, and bergamot. Finally, it settles with the exotic scent of precious woods and vanilla. Read our review of Sweet Like Candy by Ariana Grande.
It has an amazing projection, sillage, and longevity. So, this delicious scent can brighten your day all year round.