Kilian Hennessy, born from one of France's most prestigious families in the world of fine liquors, has brought the same vision to fragrance. He is a genuine master of scent, directing the work of a team of prominent noses to create each unique scent.
The crucial events of his life define Kilian Hennessy's artistic ambitions, and his fragrances are derived from his fondest recollections. His works are inspired mainly by his travels across the globe, meetings with artists, foreign tastes, and his confident character. Perfume, in the eyes of Kilian Hennessy, is a safeguard and a tool of seduction.
Kilian Hennessy has given a modern spin by adding his bold twist to the country's customary luxury. The company is unwavering in its commitment to using only the highest quality components. This has earned them a reputation for producing long-lasting accords. Each scent from the collections is a blend of traditional and unconventional elements. The company's current collection of over 34 luxurious scents spans five olfactory families.
---
Moonlight in Heaven
Radiance Above Passion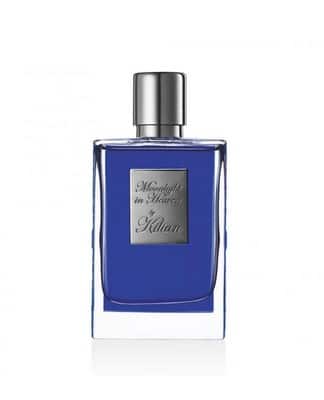 According to Kilian Hennessy, his honeymoon inspired Moonlight in Heaven. Sticky mango rice pudding was a newfound favorite on one of his vacations to the tropical Thai island of Koh Phangan. Velvety rice, drenched in coconut milk, contrasts sharply with crisp mango. After sampling this exotic dish in Thailand, Kilian Hennessy brought the experience to Paris as a new scent.
Moonlight in Heaven has a citrus opening of lemon and grapefruit and lingers with a light and ethereal scent. Creamy mango and Sambac jasmine are rounded off with rice, while a tonka bean dry-down envelops soft vetiver.
Moonlight in Heaven is perfect for a summer day since it transports you to a faraway, exotic place.
---
Rolling in Love
An Addictive Encounter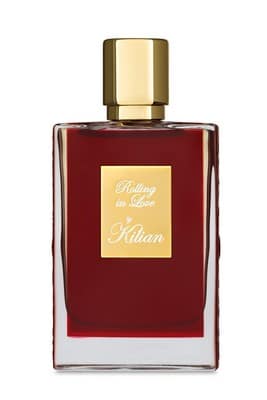 Rolling in Love is an amber floral scent created by Kilian and Pascal Gaurin in 2019. Compared to his other scents, this perfume is simpler, almost monochromatic, in depicting a single emotion. It's a versatile fragrance that may be worn at any time.
Rolling in Love opens with layered, exotic notes of ambrette seeds and almonds. The heart notes are a floral harmony of iris and freesia. The exceptional journey is finished with tuberose, tonka bean, vanilla, and musk.
For a more luxurious experience, an intricately carved image of the Achilles shield decorates its red bottle. Kilian has a philosophy in fragrance that protection is of equal importance as seduction.
---
Back to Black
A Star in the Blackest Night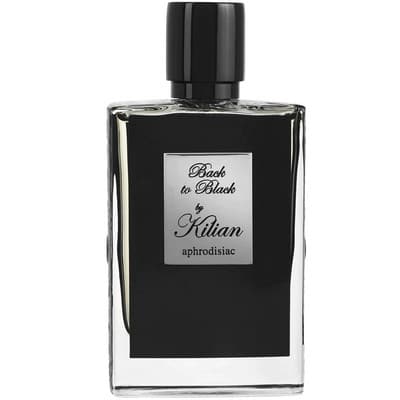 Back to Black is an amber-woody aroma released in 2009. Back to Black is one of the house's first fragrances, significantly establishing By Kilian as a respected brand. This refined scent is a part of the L'Oiuvre Noire Black Masterpieces collection, and it is the eighth in a series of luxury editions.
It starts with the richness of sweet honey. Soon, the smoky incense and spicy vanilla combine with cherry to provide a unique flavor profile. The astounding depth is provided by tobacco, sandalwood, and cedarwood.
This perfume pictures an alluring woman wearing a tiny black dress in the evening.
---
Woman in Gold
Shines the Brightest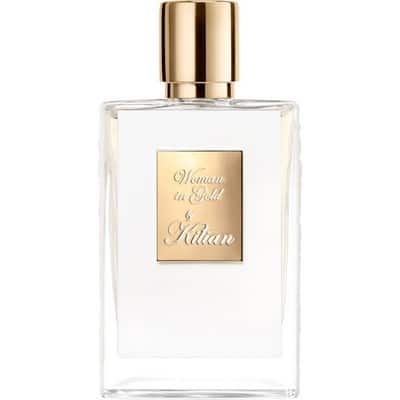 Woman in Gold debuted in 2017 as part of the collaboration of Calice Becker and Kilian. This chypre floral scent for ladies retells a backstory of a painting that Calice found dazzling and sensual.
The top notes are energizing bergamot, aldehydes, and Mandarin orange. Rose, freesia, and geranium make up the heart notes. Patchouli, tonka bean, and akigalawood join the pleasant vanilla as the fragrance dries, adding an air of mystery to the mix.
This perfume is designed to be as multifaceted and alluring as the lady who uses it. Woman in Gold is a versatile scent worn during office time or holiday vacations.
---
Bamboo Harmony
Lingering Pleasure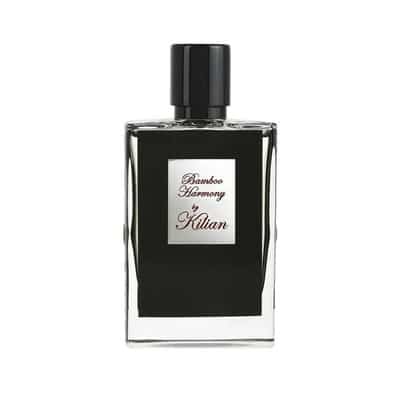 Bamboo Harmony by Kilian is an aromatic citrus fragrance created by Calice Becker in 2012. Bamboo Harmony evokes the aromatic experience of sipping white tea from a bamboo cup.
Bergamot, bigarade, and neroli essences serve as an opening. The scent of white tea infused with citrus and green mimosa elevates the blend. Oakmoss's earthy, bark-like aroma and fig leaf's fruity undertones combine to provide a unique dry scent.
It doesn't overpower the senses but leaves a lingering, pleasurable impression. Bamboo Harmony is suited to be worn from spring to early fall. It's also perfect for the milder winter days because of the subtle hint of spice.
---
Vodka on the Rocks
Spicy & Cool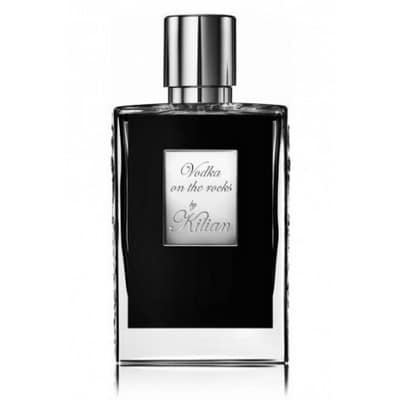 Vodka on the Rocks is an aromatic, woodsy scent with a hint of masculine and feminine energy. In 2014, Vodka on the Rocks made its debut with the help of Sidonie Lancesseur.
The combination of aldehydes and the spicy notes of coriander and cardamon in the opening is immediately striking and distinctive. Rhubarb accord, rose, ambroxan, and lily of the valley make up its center. Sandalwood and oakmoss provide woodsy and mossy undertones to the experience once they have dried down.
Vodka on the Rocks is reminiscent of the frozen vapor rising from ice cubes in a transparent crystal tumbler.
---
Good Girl Gone Bad
A Stronger Desire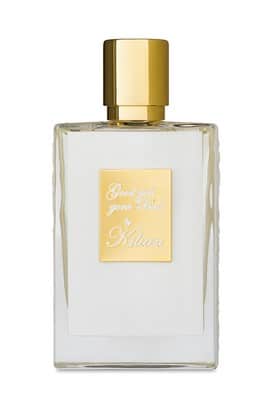 In 2012, Good Girl Gone Bad was released under Kilian's Narcotics collection. This fruity floral scent for ladies evokes a good girl gone bad finding herself in the Garden of Good and Evil.
The apricot osmanthus, may rose honey, and orange blossom has a subtle aroma, complemented by an explosion of Indian tuberose, jasmine, and narcissus. Then it moves lastly to the base notes of amber and cedar. This smooth dry-down is comforting and relaxing.
The perfume bottle is embellished with a beautiful white lacquer and carved on both sides with a ceramic fresco symbolizing the initial sin.
---
Voulez-Vous Coucher Avec Moi
A Playful Quest to Romance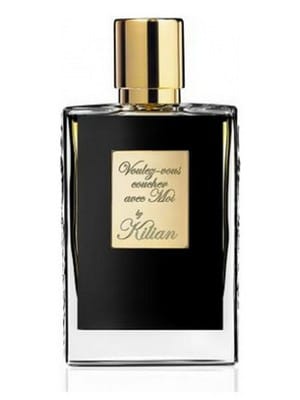 Alberto Morillas carefully crafted this perfume in 2015. This amber floral is inspired by the thrill of a seductive game played in the darkness in the Garden of Good and Evil series.
The opening is a blend of tuberose, ylang-ylang, and Bulgarian rose. Beautiful sandalwood serves as a nice counterpoint to the white floral notes. Then, it is complemented by orange flowers, Mandarin essence, and bright neroli. The sweetness of vanilla leaves a mild imprint on the mind.
This fragrance expresses femininity and has an effortlessly pleasant aroma. The perfume's black bottle, in keeping with the night motif, evokes feelings of seduction and temptation.
---
Lemon in Zest
Aroma of Bittersweetness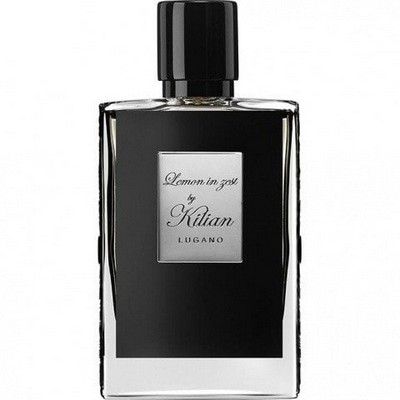 Lemon in zest is a woodsy aromatic scent released in 2015. The smell is based on limoncello, an Italian lemon liqueur famous in the Naples region.
The sour peel of the Italian lemon is pleasantly offset by the scent of its sweet, juicy zest and added with Mandarin orange. The fragrance's core, a sensual vanilla accord blended with orange brandy, gives a warm and comforting vibe. The addictive vetiver and intense patchouli characterize the latter stages of this refreshing fragrance.
It adds vigor to the warmest, sunniest days, evoking the Mediterranean coast of Italy. The scent may easily be used throughout any season.