French tennis player Rene Lacoste founded Lacoste S.A. in 1933. Its lineup of products includes footwear, clothing, eyewear, sportswear, towels, watches, leather goods, and fragrances. The company is also widely recognized because of its iconic green alligator logo. In addition, many consider Lacoste an accessible luxury brand, thanks to its rich history and marketing.
Lacoste started making perfumes in the 1960s, pairing with Jean Patou to create the line's first eau de toilette. The brand launched several fragrances over the years and has several popular scents, including the L.12.12 line for men and women. Their fragrances are often vibrant, alluring, and energizing and blend different accords well. In addition, their scents are suitable for different seasons as their longevity, projection, and aroma are exceptional.
Lacoste perfumes embody sweetness, sophistication, and mystifying allure and help women simultaneously project confidence, strength, and sensuality.
---
Lacoste L.12.12 Pour Elle Sparkling Eau de Toilette
Ideal for Daily Use
It is one of Lacoste's top fragrances for women launched in 2015. It showcases a lighter-than-air sweetness and projects a sweet, fresh, and floral fruity fragrance that demands attention. In addition, its clear bottle lets the pink liquid shine, underscoring its femininity.
The scent opens with the sweet and fresh fruity top notes of apples and blackberries. Then, it gives way to the exotic scents of jasmine sambac and lily-of-the-valley, which enhances the floral bouquet. Patchouli and musk notes round out the scent for an earthy vibe.
It's terrific for daytime, summer, and spring activities as the accords provide a refreshing trail.
---
Lacoste Pour Femme Timeless Eau de Parfum
Long-Lasting Sophistication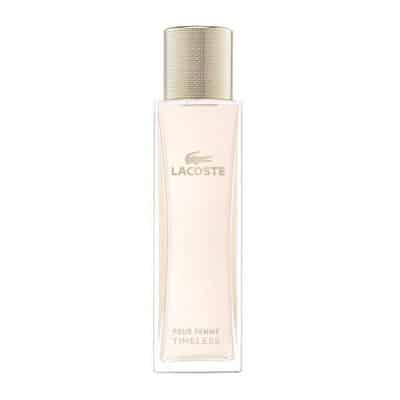 The company captured the essence of effortless, feminine sophistication when it launched Timeless in 2019. Its transparent glass flacon highlights the light pink liquid and underscores the scent's delicate nature.
An intoxicating blend of Bulgarian roses and mandarins make the appealing top notes before the refreshingly seductive fragrance of jasmine sambac, gardenia, and orange blossoms take center stage. Rich, earthy, and warm patchouli sandalwood and incense round out the scent and evoke feelings of elegance.
Suited for the warmer months of summer, spring, and autumn, Timeless captures a woman's elegant and confident aura as the sillage and projection are long-lasting.
---
Lacoste Sensuelle Eau de Parfum
Mysteriously Captivating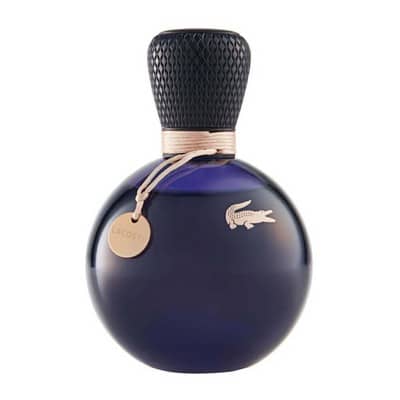 Packed in a sensually mysterious black bottle, Lacoste released Sensuelle Eau de Parfum in 2013, and the scent captivated audiences with its fruity floral sweetness. It promised to take people on an aromatic journey and delivered beautifully.
Sensuelle starts with decadent top notes of black currants, figs, and pink peppers. It then delves into the heart notes, which feature hints of gladiolus, sweet pea, and Turkish rose, which are delightful to the senses. Sweet and smooth base notes of patchouli, amber, and nougat round out the scent and continue to captivate.
The fragrance is perfect for date nights and other romantic escapades.
---
Lacoste Touch of Pink Eau de Toilette
Bubbly & Refreshing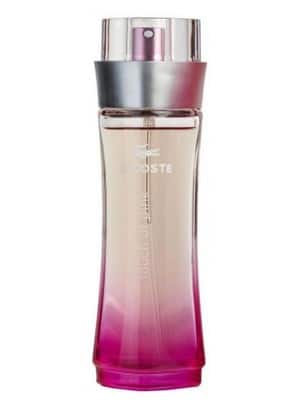 Among the most loved Lacoste fragrances, Lacoste Touch of Pink was released in 2004 and gained immediate popularity with its bubbly and fresh scent. It was billed as a perfectly-blended fruity-floral fragrance that oozes independence, charm, and confidence.
Touch of Pink starts with a spicy-fruity blend of cardamom seeds, coriander, and orange, which is pretty refreshing. Sultry mid notes of jasmine and violet leaves enhance the floral bouquet before the seductive vanilla, sandalwood, and musk evoke a familiar and warmth.
Touch of Pink is a perfect spring and summer scent staple, as the sillage and longevity are exceptional.
---
Lacoste L.12.12 Rose Eau de Parfum
Summer & Spring Favorite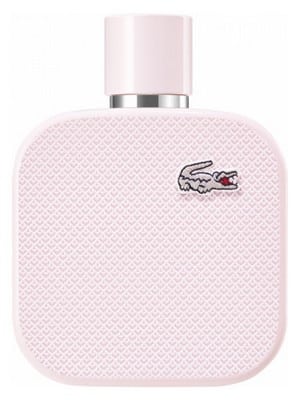 The latest in the L.12.12 collection, the Rose Eau de Parfum, was introduced in 2021 and was touted as one of the more well-composed scents of the brand. It's packaged in the iconic Lacoste glass flacon with hints of pink highlighting the fragrance's femininity.
The scent captures the wearer with its inviting mint and citrus head notes. When the top notes are mellow, the terrific heady hints of frangipani, rose, and sensual musk enthralls the senses. The relaxing and familiar warmth of cedarwood, amber, and ambroxan cap the fragrance.
It's an ideal summer and spring scent as its longevity and sillage create a terrific trail.
---
Lacoste L.12.12 Magnetic Pour Elle Eau de Parfum
Charmingly Seductive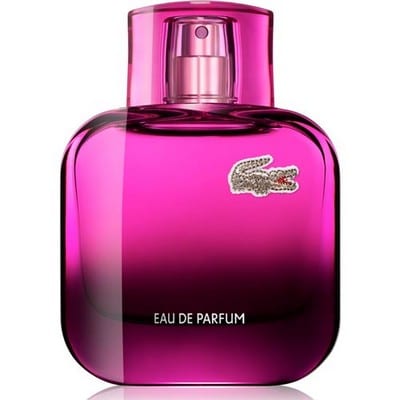 Lacoste successfully launched L.12.12 Magnetic Pour Elle Eau de Parfum in 2016 and billed the fragrance as a perfectly proportioned scent with sensually and refreshingly fruity notes. Clients love the fragrance as it delivered on its promise and more.
Magnetic Pour Elle starts with a blend of mango and oranges, fruity and refreshingly citrusy. It then evolves into heart notes of heliotrope, silky smooth jasmine, and rose accords. The scent finishes with patchouli, tonka bean, and vanilla base notes which evoke a refreshingly familiar warmth and sensuality.
It is great to use during summer and spring as the long-lasting fragrance builds mystery and allure.
---
Lacoste Pour Femme Elixir Eau de Parfum
Versatile Sexy Scent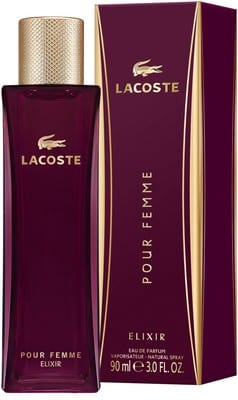 In 2019 Lacoste launched the Pour Femme Elixir Eau de Parfum and captivated women who wished to embody confidence and sexiness. Housed in a maroon glass bottle with a pale gold top, it exuded the scent's sophistication and elegance.
It reels women in with its spicy-sweet headnotes of pink peppers, mandarin orange, and jasmine. It then unfolds into heart notes dominated by the silky smoothness of jasmine sambac, Brazilian gardenia, and heliotropes. Finally, the fragrance settles with the rich creaminess of vanilla, coupled with hints of woody notes, vetiver, and tuberose.
It is best for the cooler months and is versatile enough for the office and nighttime use.
---
Lacoste Pour Femme Intense Eau de Parfum
Sweet Sensuality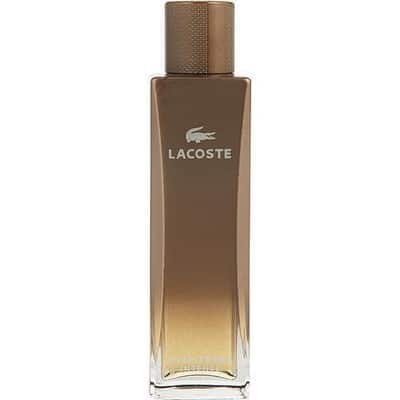 Olivier Cresp created the Lacoste Pour Femme Intense, and the company launched it in 2018. It immediately captivated the target audience with a great blend of caramel and other floral and woody aromas. Presented in the iconic bottle with caramel-gold tinges, it only highlights the scent's sweetness.
Gorgeous caramel notes dominate the headnotes before the refreshing scent of lily-of-the-valley kicks in. Next, the scent morphs into a decadent Bulgarian rose note that captivates the senses. Finally, sandalwood and musk's warm and comforting base notes create a magical finish.
It's best used for autumn, winter, and spring, as the scent's sure to gather compliments.
---
Lacoste L.12.12 French Panache Pour Elle Eau de Toilette
Perfectly Luxurious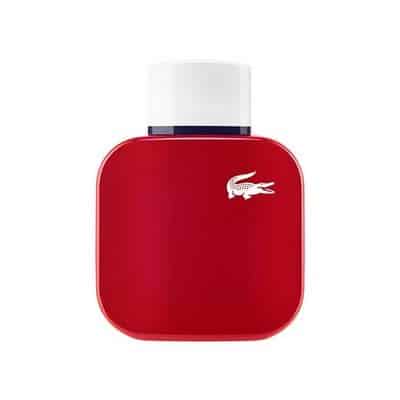 Lacoste captured the essence of a confidently beautiful and successful career woman when it came out with the French Panache in 2019. Housed in a shiny red flacon which emphasizes its vibrancy, it captivates the senses with its opulent scent.
Luscious blackcurrant notes pair with fresh bergamot and spicy pink peppers to create irresistible head notes. The middle notes include sultry jasmine sambac, pink champagne, and roses. The earthy smell of patchouli works well with warm musk and blond woods.
The scent is great for everyday use, especially during the warmer months, and versatile enough for office, business, and leisurely activities.