Cartier has quickly established itself as one of the most esteemed perfume brands in the world due to their remarkable attention to detail. The esteemed fashion house's effortless blend of fragrance notes is carefully composed to perfection by master perfumers.
Their range of fragrances captures luxury in a bottle. Much like the brand's signature jewelry collection, Cartier's perfumes are designed to offer an uplifting finishing touch to any look with a range of fragrances that span the olfactory spectrum, from gentle tropes of floral to warm tones of musk. Each scent carries an elegance and timeless sophistication that is distinctly Cartier – a perfect way to endow yourself with grace.
Cartier fragrances are particularly beloved, as they carry years of rich heritage and top-notch craftsmanship in each scent. So, whether you're treating yourself or shopping for someone else, numerous women's fragrances from the legacy brand are guaranteed to leave an impression.
---
Pure Rose
Naked Rose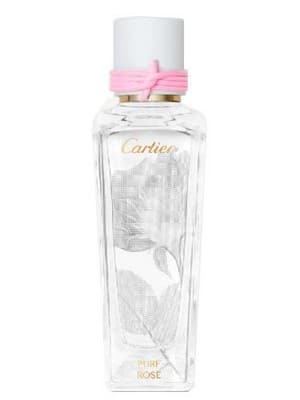 Cartier's latest Les Épures line fragrance, Pure Rose, is for those who seek something delicate that can be worn in any season.
The ethereal rose scent is versatile and safe. It will capture the attention of classic scent lovers and a younger crowd seeking a more accessible fragrance. With its dewy freshness and optimistic simplicity, it encapsulates the captivating innocence of a garden rose.
It stands out from other Cartier scents as it has an airy feel. You will not find any supporting notes as this is a rose scent in its purest form – creamy, milky, and pillowy soft like a baby's cheek.
---
Baiser Volé Eau
Show Stopper
Cartier's Baiser Vole, launched in 2011, is a captivating creation by Mathilde Laurent. This fragrance builds upon a dragon's exotic kiss with an intense floral and citrus blend to the opening notes.
The scent is complex but focused on the powerful essence of lily, deepened with green leaves in the base. Not only does Baiser Vole create an exciting playing field between anticipation and pleasure, but it also has a glamorous drydown that will certainly leave an impression that lasts.
With artistry and expertise, Mathilde Laurent has crafted a fragrance that simultaneously exudes passion and femininity – an unexpected yet irresistible combination.
---
La Panthére
Flower Bomb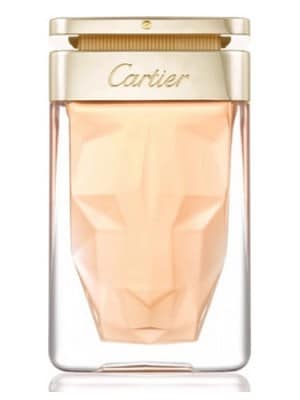 Launched in 2014, La Panthère's modern chypre composition is a classic structure of gardenia, bergamot, and peachy tones, a floral heart, and an oakmoss base.
The fragrance encases its accords within a modern lens. Its opening consists of apricots, and dried fruits give off a sweet, jammy impression, complemented by fresh rhubarb and soft strawberries. The base reveals special notes of oak moss and leather, with contemporary touches such as fuzzy musk lingering to further envelop the scent in an air of modern sophistication.
Not changing much as time passes, La Panthère has an intense sillage, so one should be careful when applying.
---
La Panthére Eau de Toilette
Wonderfully Feminine & Classy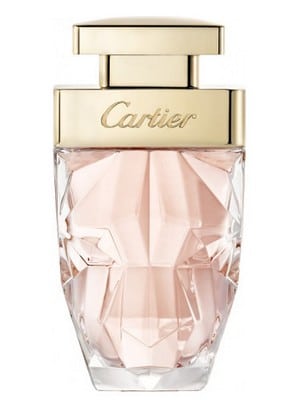 La Panthere Eau de Toilette was launched in 2018 with a captivating scent that is clean and crisp, green and soapy, and wonderfully feminine and classy.
The perfect natural white florals mixed with bergamot are subtle but powerful, with a light yet earthy chypre undertone that won't go unnoticed. This soothing, pleasant fragrance has top-notch longevity yet remains very easy to wear. Its leather accord gives a warm touch while still being light and elegant.
Wearers of La Panthere will be sure to hear the praises after each spray, as the quality niche smell ensures they'll never want compliments.
---
Cartier Carat
Stunning Bouquet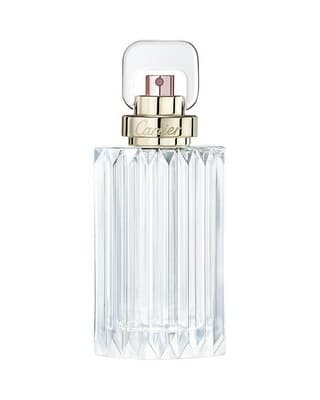 Cartier Carat was launched in 2018, epitomizing a fragrant interpretation of diamonds that would radiate just as brilliantly and intensely.
Described as an explosion of pleasure and freshness with joyous molecules teeming with crystalline energy, the perfume is designed to imitate the diffraction of the color characteristic of diamonds. To accomplish this desired effect, seven distinct fresh flowers, namely violet, lily, hyacinth, ylang-ylang, narcissus, honeysuckle, and tulips were combined to create a new abstract flower reminiscent of a rainbow.
Inarguably, Carat is the perfect pick-me-up during the winter. This captivating fragrance ensures an unforgettable aroma that will last for hours.
---
Oud & Santal Les Hours Voyageuses
Oud in Moderation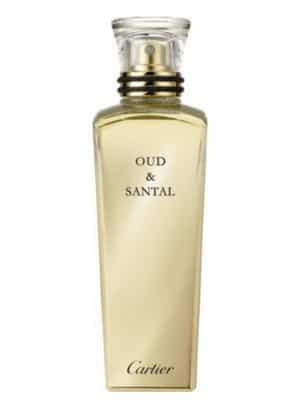 Oud & Santal Les Hours Voyageuses has been making waves in the fragrance community for its creamy, powdery oud and sandalwood combination. It is a well-blended scent that isn't overpowering but has presence and depth.
Upon the first spray, the warm, buttery sandalwood takes center stage, with the oud lingering underneath. As it progresses, the fragrance embraces its softness and becomes intimately cozy yet still exotic.
Oud & Santal has moderate sillage and above-average longevity, allowing a good amount of time to enjoy. Little by little, you will notice hints of sweetness being released as this simple, beautiful scent dances for a good time.
---
Must De Cartier Parfum 2015
Beautifully Limited Yet Complex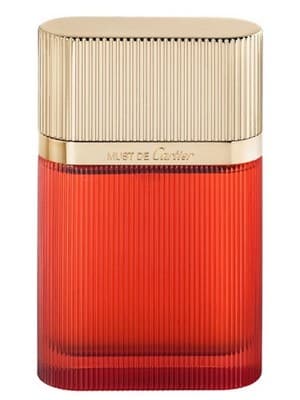 Must de Cartier Parfum 2015 seduces with its complex scent combination from the very start.
Its beautiful floral top note of jasmine is masterfully set off against the crispness of galbanum at its heart before disappearing into a tantalizing medley of vanilla in the base. Sensuality and femininity are entrenched in the perfume's oriental composition, creating a uniquely captivating experience.
Lovers of green scents will enjoy the blend of fragrances showcased in Must de Cartier Parfum 2015 and their graceful harmony. Whether you're buying for yourself or someone special, this charming fragrance will make a lasting first impression.
---
La Baiser Du Dragon
Renaissance Chic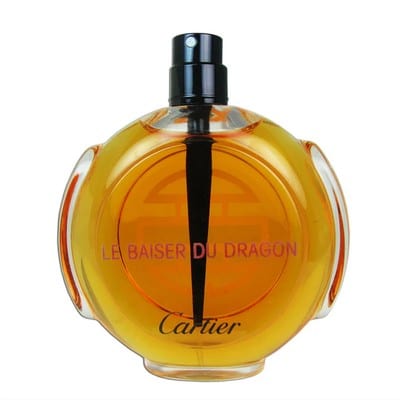 Le Baiser du Dragon is a masterpiece by perfumer Alberto Morillas. Packed with seductive scents including fresh almonds, vetiver, rose and ambery resins, there is no lack of depth and complexity to this luxurious scent.
The opening notes are full of creaminess as the smell pumps around beautifully. It starts bitter, with amaretto dominating before giving way to grassy florals rather than sweet ones. There is also a beautiful gardenia note in a supportive role that rounds out richer woody and earthy tones.
It leans more towards an oriental and mystical scent, but with its ever-changing aromas, it is an addictive delight.
---
Déclaration Haute Fraicheur
Vintage Green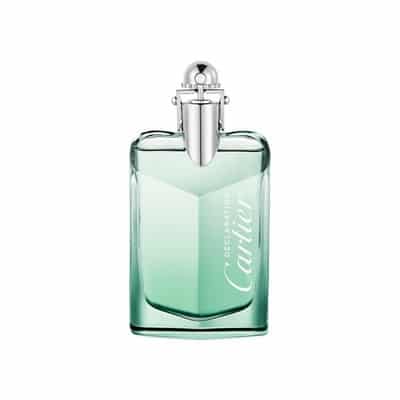 Déclaration Haute Fraîcheur masterfully combines citrus leaf, cardamom, and cedar notes to create a unique and sophisticated scent.
Perfect for any occasion, the delicate blend of non-synthetic, non-biting pale green refresher sets the stage for a mild dry down with a touch of crisp, smoky spice. Intended to be worn anytime, anywhere, Déclaration Haute Fraîcheur is sure to evoke feelings of youthful class and sophistication with its subtle yet memorable bouquet.
Cartier in-house perfumer Mathilde Laurent has crafted what may be deemed a perfectly balanced scent that exudes airy freshness alongside deeper undertones – crafted for just about any wearer.
---
Delices
Gourmand Gem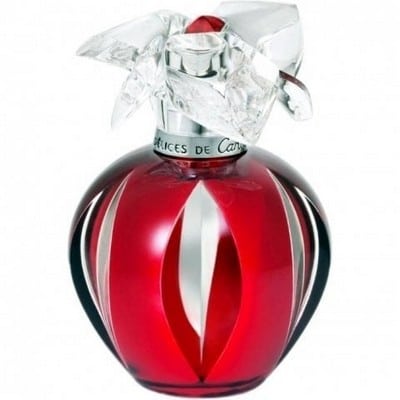 Launched in 2016, Delices is a luxurious and delightful fragrance that certainly lives up to its name. This stunning scent was created by Christine Nagel and features notes of frosted cherry, pink pepper, and bergamot, creating a vibrant and energetic opening.
The heart holds the delicacy of three types of jasmine, violet, and freesia, balancing out the spiciness for an exquisite scent. The amber and tonka bean base is finished with a touch of sana for an aromatic fusion of sensuality that sparkles like diamonds.
Delices is perfect for crisp autumn days, bringing all the joys of a delicious gourmand scent.
---
Luxuriance
Holiday In a Bottle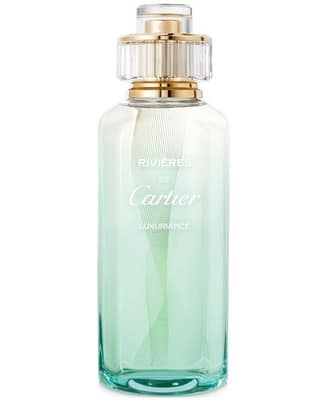 Launched in 2021, Luxuriance is a fragrance masterfully blended by renowned nose Mathilde Laurent.
This elegant and smooth scent has good sillage and impressive longevity, with its top notes of fresh green herbs and nutty almonds being particularly enjoyable for the summer months. Turquoise in tone, Luxuriance is surprisingly subtle and calming thanks to its herbal qualities of geranium, giving it a slightly minty edge.
It is universal enough to remain wearable even on hot days and is naturally pleasant yet eschews sweetness with stunning floral elements. A must-have, Luxuriance is sure to be a crowd-pleaser for any time of year.