The Valentino brand, named after its founder, was established in 1960. The house first hit the fashion scene with a small line of handmade accessories, and quickly became one of the most legendary names in high-end designer fashion. Today, Valentino is known for its luxurious clothing and accessories worldwide, as well as fragrances for men and women.
The brand is known for releasing some of the best feminine fragrances on the market. From fresh, floral scents to woody, musky aromas, Valentino offers a wide range of fragrances that will suit any woman's taste. The House's fragrances are known for their long-lasting scent and luxurious packaging, which are perfect for any special occasion.
From the classic pink bottles to the modern and daring Valentina, there is something for every woman. Here are some of the best Valentino perfumes any woman should consider adding to their collection.
---
Rock'n Dreams
For the Young at Heart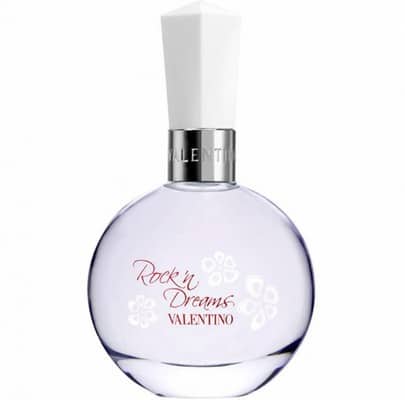 Young women who are playful and carefree will love the Rock'n Dreams perfume from Valentino. It is a floral fragrance from the fashion house's Rock line of fragrances. When it was first released in April 2009, it was an instant hit with young women who wanted something fun and flirty.
Rock'n Dreams has a youthful fragrance with notes of iris, vanilla, cinnamon and myrrh. The woody scent is perfect for the young at heart who are likely spending time on the town today with friends and loved ones!
Considering the fragrance's popularity, it's the classic young, girly scent we often remember from our teenage years.
---
Born in Roma Yellow Dream
Daytime Summer Freshness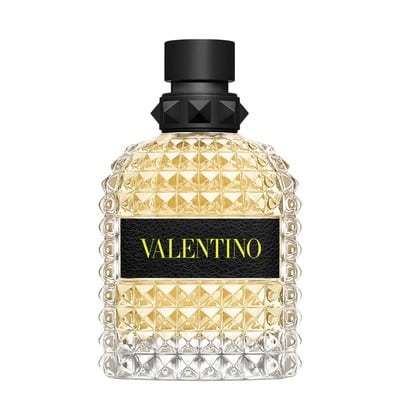 Valentino Born in Roma Yellow Dream is a modern and daring scent released in 2021. The creation of this fragrance was based on the color of one of Valentino's most iconic handbags.
This fragrance was inspired by the vibrant colors of Rome, with its top notes of juicy Italian mandarin and pineapple providing a fresh and citrusy aroma. The heart of this scent features spicy gingerbread, which gives off an irresistible scent, and base notes of pure vanilla and cedarwood for potency.
This bottle is perfect for women who love to make a statement. If daring, you can even layer this scent with other scents.
---
Born in Roma Coral Fantasy
A Deep Dive into Floral, Musky Paradise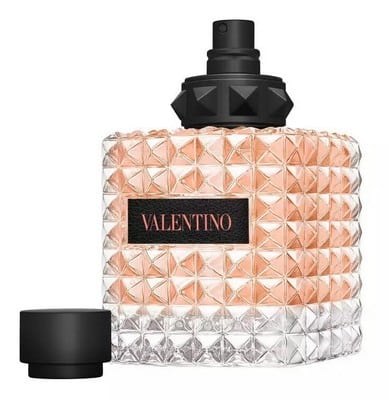 The first thing that comes to mind when you think of Valentino is a romantic, opulent fragrance. Born in Roma Coral Fantasy by Valentino is a good example of the best work from this long-standing fashion house. The bottle resembles a precious gem, with its ornate design and crystal stopper.
It's fruity, with notes of raspberry and Rose de Mai. The heart combines jasmine and rose, which gives it a lighter, more feminine feel, but it also has musk and sandalwood, which lend warmth and comfort.
The scent is lightly floral but not overpowering. The sillage is subtle but noticeable, and the lasting power is excellent.
---
Voce Viva Intensa Eau de Parfum
For the Citrus Scent Enthusiast
Voce Viva Intensa Eau de Parfum is a citrusy scent that's perfect for summer. Introduced in 2021, this perfume is classified as a floral fragrance that opens with citrus notes.
It opens with green notes of citrus and coriander, which blend with spicy florals of jasmine and muguet. A heart of sweet peony, mango, and rose is accompanied by vetiver and patchouli in the base. The composition comes in a classic bottle that resembles a bottle of champagne.
It's a feminine perfume for anyone who loves fruity scents. Voce Viva Intensa Eau de Parfum is worth trying out if you're looking for a new summer scent.
---
Voce Viva Eau de Parfum
A Glimpse of Spice Heaven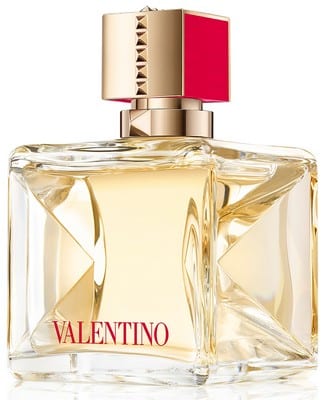 Valentino Voce Viva is a slightly spicy, woody fragrance that makes you the center of attention. One of Valentino's most popular fragrances, it captures the spirit of Italy and the Mediterranean.
The top notes are a treat to the senses, while the heart brings in floral notes and jasmine with a hint of vanilla. Finally, oakmoss and patchouli give this perfume a touch of earthiness at the base.
As with all perfumes by Valentino, Voce Viva is long-lasting and strong enough to last all day. This is for you if you want a less potent but equally fragrant alternative to Voce Viva Intensa.
---
Valentino Donna Rose Verde
A Refreshing Floral Getaway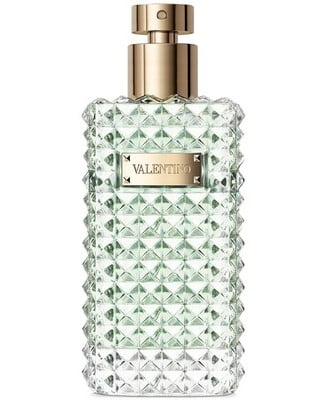 Valentino Donna Rose Verde is one of the latest fragrances released by the design house of Valentino. It was released in 2018 and easily became the go-to fragrance for women since the House sold it to the public.
This fragrance combines a plethora of ingredients that are refreshing and summer-friendly. It has top notes of bergamot, spicy ginger, tea, middle notes of green rose, and base notes of magnolia blossom, creating a pleasant and warm aroma that is perfect for summertime.
The green stone-studded bottle is marketed as more of an everyday type than some of Valentino's other scents, making it versatile and affordable.
---
Valentino Donna Acqua
An All-Season, Nostalgic Sensation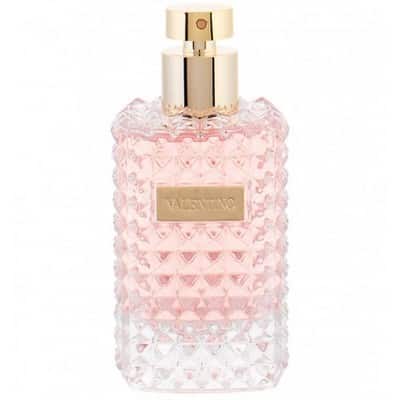 Valentino Donna Acqua is a modern take on the classic aquatic fragrances that were so popular in the 1990s.
Released in 2017, it easily captured the hearts of women looking for an all-season, fruity fragrance choice. It opens with top notes of citrus, heart notes of rose, jasmine, and sandalwood, and base notes of frangipani and Hawthorne – something that really gives it a unique and complex scent.
It's an elegant scent that is less aquatic than its peers but still evokes the freshness of the sea air. This fragrance also has a luxurious side – it's more of a special occasion scent than one you'd wear daily.
---
Valentina Blush
For the Adventurous Youth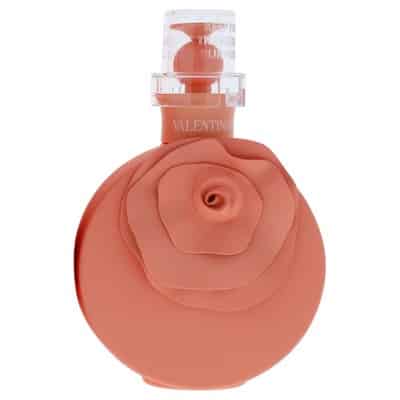 Valentina Blush is a light, refreshing fragrance with a contemporary and youthful feel. It was released in 2017 and recommended for use by women during the day.
You immediately notice the top notes of watery green pear, tangy peach, and spicy black pepper when spraying it on. The fruity notes make this scent refreshing, and spicy floral middle notes of orange blossom and mimosa come out to play, which keeps the fragrance from becoming too sweet.
This is an excellent choice for those looking for a fruity scent for a day out with peers. Also, the fragrance's freshness makes it a great choice for those looking to wear something that lasts all day.
---
Valentina Pink
The Perfect Floral and Fruity Combination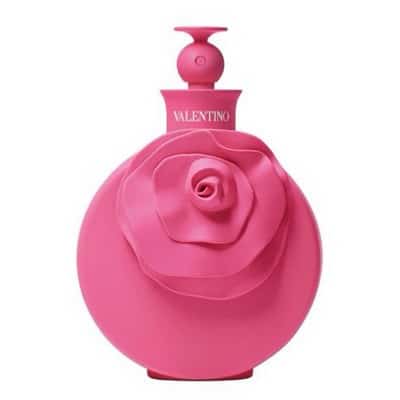 Valentina Pink is one of the first fragrances for women from the brand, and it's supposed to be unapologetically feminine. Launched in 2015, it is like something you'd find in the floral section of a perfume counter.
The top notes are a delicious blend of orange, violet leaf, and tangerine, and the heart consists of peony notes and jasmine for a natural feel. As it dries down, you'll notice notes from the iris flower and freesia, both of which help keep the scent from getting too overpowering.
This is the choice for any woman who enjoys fruity scents or wants something light on a hot summer day.
---
Valentino Donna
A Graceful, Fresh Warmth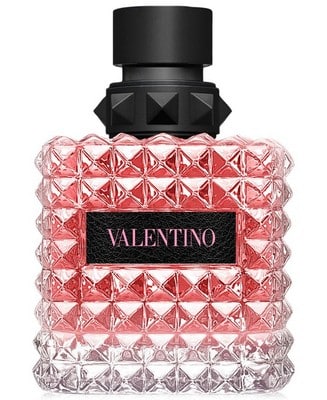 Valentino Donna is a well-blended, fresh and feminine perfume. It was released in 2015 and marketed as the women's go-to scent in the winter.
The top notes feature bergamot, plum, and pink pepper. The heart notes consist of jasmine, lily-of-the-valley, rose, and orange blossom. The musky base includes sandalwood, vanilla, and amber, and the combination is a lovely blend of fresh, feminine, and warm.
This scent has been described as elegant yet youthful, and it's easy to see why. It's classy enough to be worn to a fancy event yet light and airy enough to be worn on hot days or in the summertime.
---
Valentino Valentina
A Delightful Citrusy, Floral Scent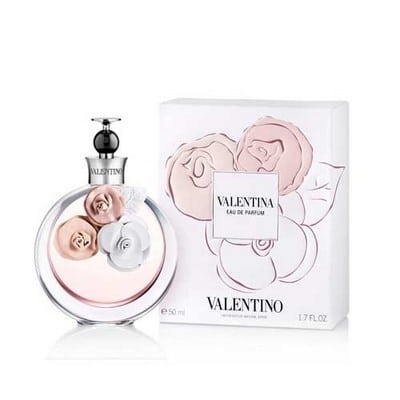 Valentina is a citrus floral scent for women by the Italian designer Valentino. It was introduced in 2011 as a fresh, clean fragrance choice for women.
The top notes of Valentina include orange and bergamot, making it a great choice for spring and summer. The heart notes are a delightful blend of jasmine and strawberry, which blend beautifully together for added depth and complexity. The base consists of vanilla and amber, a one-two punch of sweetness and warmth.
Valentina is an all-around feminine perfume worn daily or when dressing up for a party. It's a versatile scent that can fit many styles and be worn by almost anyone.