Even if one might be unaware of the Valentino fragrance brand, they've likely already heard of Valentino through other endeavors due to how prolific the Italian designer Valentino Garavani can be. Making his debut in 1962, Valentino grew his fashion empire to include Haute Couture, shoes and accessories, women's ready-to-wear, and more.
Valentino was undoubtedly lucrative, and when he finally announced his retirement in 2007, his influence could still be felt across the fashion world. His first fragrance was introduced in 1978, and the company continues to produce fantastic releases all the way to 2023. The Italian designer's productivity rubbed off on his company, and the Valentino brand continues to be one of the leading designers of top-quality fragrances across the globe.
Valentino fragrances are well-known for their subtlety and elegance. Each fragrance exudes a certain charisma, much like Valentino himself. His iconic fragrances reflect the quality of his fashion line.
---
Valentino Uomo
The Classy, Popular Choice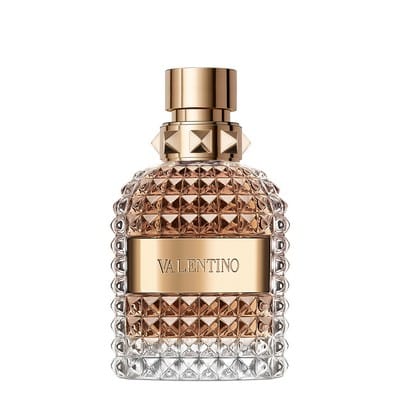 A collaboration between Valentino and Puig, Valentino Uomo is often considered one of the company's most popular fragrances ever released. It is remarkably simple, choosing a scent that expresses charisma and classic elegance.
The Valentino Uomo is known for its woody and nutty notes, with iris being its most striking middle note. It's a composition that opens with myrtle and bergamot, with a base of cedar and leather notes.
As far as classic men's colognes go, the Valentino Uomo is often at the top of the list due to its simplicity and elegance.
---
Valentino Uomo Intense
Vivid, Powerful & Charming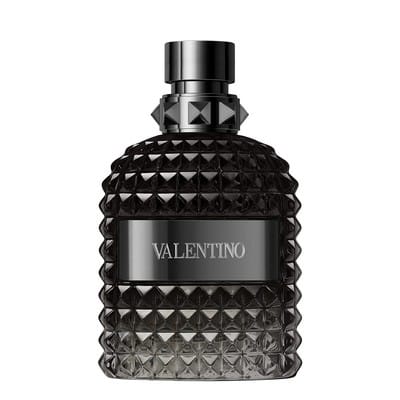 Valentino Uomo's popularity reached the point where the company felt it necessary to release a complement to their classic fragrance. As such, the Valentino Uomo was launched in 2016 and sought to be the more vivid, masculine counterpart to the initial fragrance.
Valentino wanted the Valentino Uomo Intense to naturally be the more intense, charismatic counterpart of the Valentino Uomo. With clary sage and mandarin orange accentuating iris, tonka bean, vanilla, and leather notes, the Valentino Uomo Intense is almost magical in its composition.
This is an inspired pick for those who want to charm and mesmerize their significant other.
---
V pour Homme
Attract & Seduce
The V pour Homme is an amber woody fragrance developed for the Casanovas, launched in 2006. The idea of the V pour Homme was to attract and seduce, not necessarily with a powerful masculine scent, but a subtle one that expresses passion and self-esteem.
As such, the V pour Homme is an interesting array of notes that complement each other. You have tamarind, pink pepper, bergamot, and mandarin orange, elevated by base notes such as vanilla and amber.
The V pour Homme might be for the Casanova looking to attract their partner, but it holds a surprising depth.
---
Vendetta Uomo
Aromatic & Masculine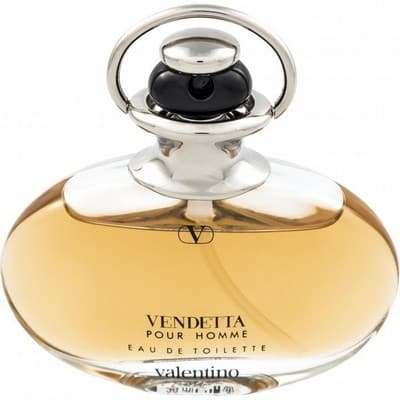 Valentino has been developing fragrances for a long time, and they've kept the tradition of keeping vivid scents with leathery notes. The masculine Vendetta Uomo was launched in 1991 and was widely praised for its overall charisma.
The thing about the Vendetta Uomo is it has a complicated array of notes. Basil, bergamot, coriander, vetiver, cinnamon, cedar, labdanum, benzoin, and many more come together to create a strong scent like no other.
If you're a fan of the classic leathery tones of older colognes, you will be very happy with the Vendetta Uomo.
---
Valentino Uomo Noir Absolu
Mysterious & Enchanting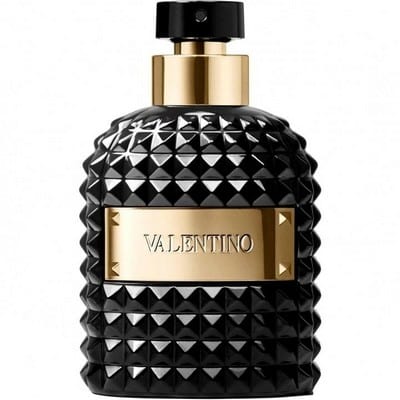 The Valentino Uomo Noir Absolu was launched in 2017 and was meant to complement the original Valentino Uomo fragrance. The company took the Uomo scent into various directions, with this one in particular pushing for the mysterious and enchanting side of Valentino Uomo.
Instead of the typical woody oriental fragrance of the original, Noir Absolu takes things to the next level by delivering warm, spicy notes. With black pepper, cinnamon, and sandalwood, it's a combination that turns heads.
The mysterious nature of Valentino Uomo Noir Absolu makes it perfect for luxurious parties.
---
Valentino Uomo Born in Roma
Balanced Yet Distinguished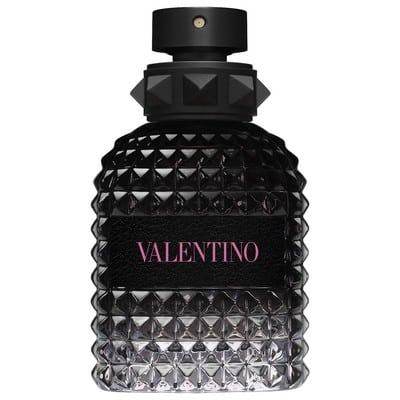 The Valentino Uomo fragrance branched into many scents and became extremely popular. Valentino Uomo Born in Roma was launched in 2019 and experienced acclaim due to its balanced composition.
For example, while it still strives to be a warm, woody, and spicy fragrance similar to other Valentino scents, it does so with mineral and salt notes. There is still that hint of sweetness, but the inclusion of mineral and salt adds a distinguished air to the scent that balances out the rest of the composition.
Valentino Uomo Born in Roma is a strange combination for ambitious trendsetters.
---
Valentino Uomo Acqua
The Summer Flanker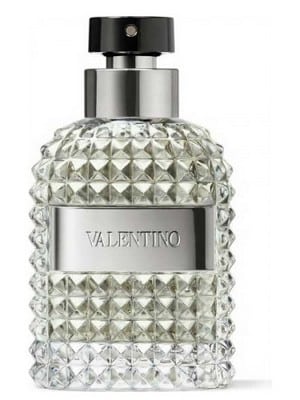 Much like the other flankers of the Valentino Uomo, the Valentino Uomo Acqua was launched in 2017. However, what sets it apart from the other fragrances is the attempt to take the original fragrance and provide an uplifting, summery feel while still retaining similar qualities.
The star notes are a mix of mandarin orange, tomato, and sage. Combined with the leathery base notes, it creates a distinct combination that retains the leathery quality of Uomo while elevating the scent.
It's considered the summer flanker as it's a perfect scent to use during summer events.
---
Valentino Uomo Born In Roma Coral Fantasy
Sweetness & Depth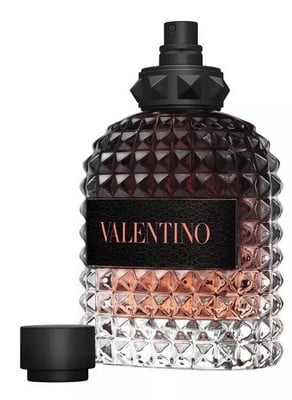 Valentino Uomo Born in Roma Coral Fantasy is a complex composition, as it shares attributes from both Uomo and Born in Roma, while still developing its own identity. Valentino Uomo Born in Roma Coral Fantasy, launched in 2022 and is widely renowned for its fresh take.
With quality notes, including red apple, cardamom, and Calabrian bergamot (among others), it's a surprisingly fresh take on the vivid fragrance. It also has a tobacco base note, giving the fragrance impressive depth.
The Coral Fantasy flanker of Uomo Born in Roma is a great choice for those who want a combination of depth and sweetness.
---
Valentino Uomo Born In Roma Yellow Dream
Sweet, Woody & Spicy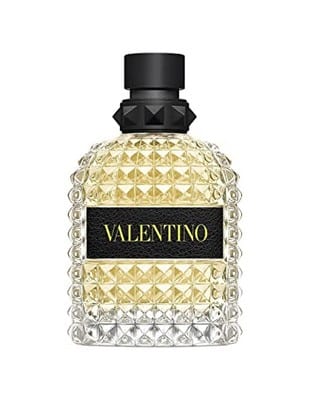 Valentino is well-known for producing flankers that elevate the initial experience, and Valentino Uomo Born in Roma Yellow Dream is yet another fine example. It's a fragrance launched in 2021 and goes for the sweet, woody, and spicy route.
Valentino Uomo Born in Roma Yellow Dream is one of the few fragrances that pushes for sweet notes through gingerbread and spices. It also has pineapple and mandarin orange notes to go with the vanilla and cedar base.
It's a sweet and spicy combination that's sure to impress, especially during fun events.
---
Very Valentino Pour Homme
A Classy Take on Woody Notes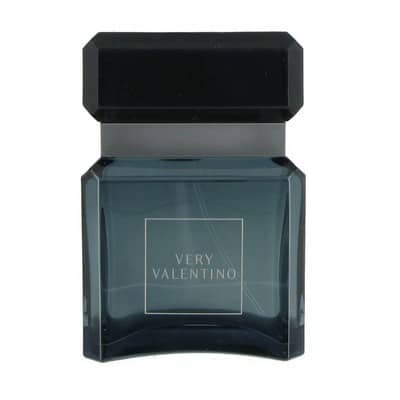 The Very Valentino Pour Homme was launched in 1999 and impressed with its fresh take on woody, aromatic notes. While it was released some time ago, the fact that the Very Valentino Pour Homme is still talked about today is just one of the reasons why it's a fantastic choice for men.
This fragrance is a composition of nutmeg, anise, lavender, tobacco, sandalwood, resin, amber, and more. It's most well-known for its distinct tobacco scent and how the fragrance pushes for a fresh, spicy essence.
Overall, it's an iconic scent worth revisiting today.
---
Valentino Noir Absolu Oud Essence
A Masterpiece of Fragrance Layering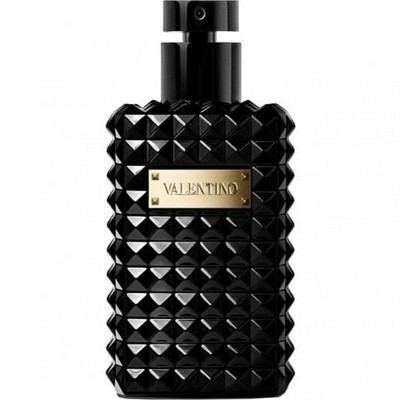 The Valentino brand was never one to shy away from layering fragrances and experimentation, so the Valentino Noir Absolu Oud Essence was launched in 2018. With Agarwood (Oud) as the primary note, Valentino sought to layer fragrances to elevate it further.
As a result, Valentino Noir Absolu Oud Essence combines leather, sandalwood, cedar, saffron, and myrtle to develop an essence that's unlike any other. It takes the Agarwood and complements the scent with expert layering.
It's the perfect fragrance for those who can appreciate how different notes can come together to elevate a single scent.
---
Valentino Noir Absolu Musc Essence
Groundbreaking, Complimentary Fragrance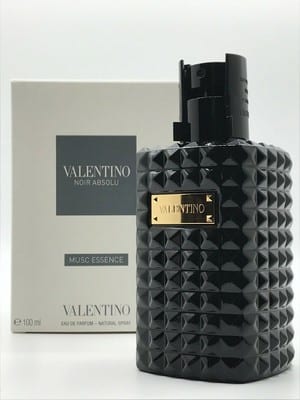 As the Valentino brand continued to experiment, they developed the Valentino Noir Absolu Musc Essence much the same way the Oud Essence was developed. That said, its launch in 2018 showcased the fragrance in a different light. While it can be worn alone, it was developed to complement Valentino's other scents.
It uses aldehydes, heliotrope, and rose as its primary notes. It also has woody facets that were developed specifically to work with more intense fragrances from other lines.
If you are you interested in a bit of experimentation, the Valentino Noir Absolu Musc Essence offers a different way to layer your scent.