Since 1941, Coach has become an American staple in luxury fashion. With their iconic handbags and stunning fragrances for men debuting in 2007, they continue to craft timeless pieces that proudly represent the brand's presence within this highly competitive industry.
Coach colognes take its cues from modern life, ensuring its fragrance offerings align with contemporary trends. These luxury scents represent the power of masculinity, making them perfect for any man looking to add a touch of class and sophistication to his style. Developed to create timeless and inspiring olfactory compositions, Coach gives wearers powerful potions that reflect their individuality and speaks to the energy, strength, and vitality within them.
Whether you are looking for an aromatic fragrance to spritz during the day or an alluring scent for a date, you can find something from Coach that will fit your needs. Let's look at some of the best Coach colognes for men.
---
Coach for Men
For the Bold & Glamorous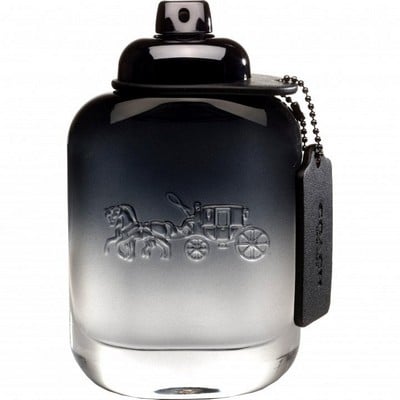 Coach for Men is a lovely blend of exquisite fragrances carefully crafted by master perfumers Anne Flipo and Bruno Jovanovic. It offers the perfect combination of modern elegance and sophistication.
This masculine fragrance bursts with energetic highs from its distinct mix of citrus and pear, while coriander and cardamom temper it nicely to create a complex yet subtle aroma. As it gradually fades away, its earthiness emerges to create an alluring blend that ultimately symbolizes the spirit of the modern man.
Whether one is looking for everyday sophistication or special occasion glamour, Coach for Men will never let you down.
---
Coach Blue
Crisp & Citrusy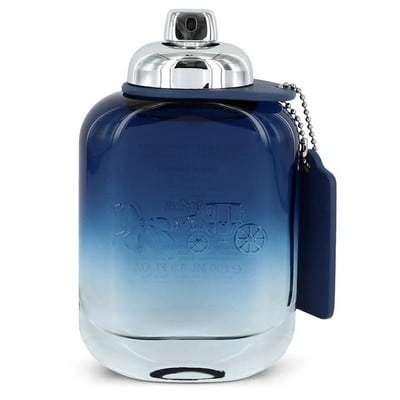 Launched in 2020, Coach Blue is a bold scent for the discerning young man. It's a well-crafted masculine fragrance that provides a lovely burst of energy.
Its opening notes include absinthe and lime, giving off an energetic aura. Aromatic black pepper is the heart of this scent, with ozonic notes to liven it up even further. Earthy base notes provide balance while staying true to its contemporary style.
Coach Blue is a great scent for spring and summer when moderate temperatures allow you to enjoy a fresh, clean smell with citrus undertones. It is perfect for teenage men through their early twenties.
---
Coach Leatherware
Delicate, Suave Scent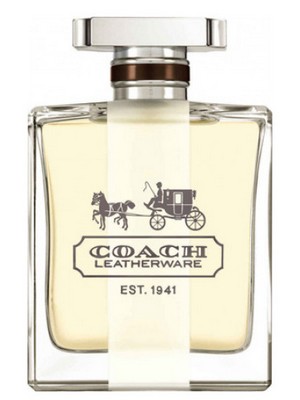 Coach Leatherware was launched in 2009, introducing a unique and unforgettable olfactory experience to the fragrance world. This landmark scent was created by Honorine Blanc and provided an ideal signature item for the modern-day gentleman.
Its top notes highlight a blend of grapefruit and mandarin Naartjie Nature Print. Its heart showcases Darjeeling tea, petitgrain leaves, and nutmeg oil for a woody undertone. Finishing off this masterpiece is oak moss, patchouli, and cedar throughout its base.
Blended for a balance of casual and formal wearability, Coach Leatherware makes for an ideal scent that can take you day to night without worry.
---
Coach Open Road
Long-Lasting Masculinity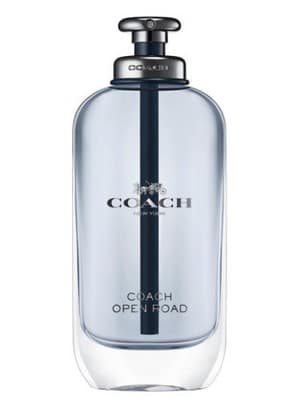 Coach Open Road was released in 2022, with Jean-Christophe Hérault at the helm of its creation. This fragrance allows one to journey through nature and far away from the stresses of city life.
It invokes thrilling adventure with top notes of sparkly Primofiore lemon, juicy red apple, and a zing of Sichuan pepper. Its scent trail continues with lavender and clary sage heart notes, while patchouli and vetiver finish it seamlessly with woody undertones.
Perfect for office and everyday use, Coach Open Road is an ideal companion to bring wherever your journey takes you, especially when it's a perfect spring day.
---
Coach Platinum
Most Uplifting Cologne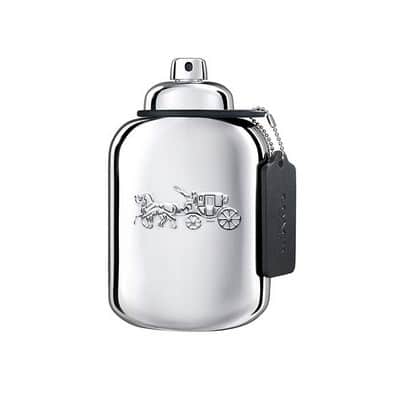 Coach Platinum is a fresh oriental woody launched in 2018. It is a fragrance for men created by expert perfumer Bruno Jovanovic.
This sophisticated scent opens with energizing notes of juniper berries, pineapple, and black pepper, followed by an aromatic center of geranium, sage, and cashmeran. The fragrance base is an unforgettable blend of patchouli, sandalwood, leather, and vanilla.
Coach Platinum skews towards the youthful end of the spectrum but remains attractive enough for everyday office wear. It's been known to spark positive responses from its wearers, making it a great choice for those looking to make an impression without being too overbearing.
---
Coach Leatherware
Whiff of Luxury
Leatherware No. 02 is the perfect date night pick. Originally launched in 2013, this artisanal fragrance makes a good impression for an evening out on the town.
The top notes feature citruses, black pepper, rhubarb, thyme, and crisp greens. The base features patchouli, musk, oak moss, and baseball glove leather accord. It has a softness and allure that evokes mystery and romance.
Offering a mixture of spice balanced by softness and mystery, its warm aroma speaks of comfort and allure. With solid performance and good projection, it is an exquisite experience from start to finish with Coach Leatherware No. 02.
---
Leatherware No. 03
Compliment Magnet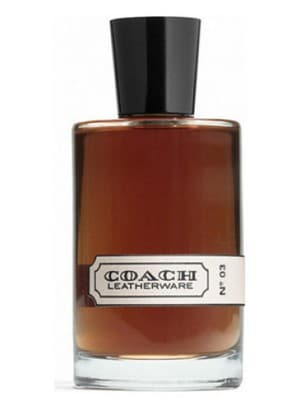 Leatherware No. 03 is a highly distinctive scent that Coach introduced in 2013, and it captures the essence of rugged masculinity.
Its top notes include lemon, pink pepper, cypress, and cardamom, while its heart notes combine leather with iris and cedar wood. Base notes of vetiver, papyrus, patchouli, and woods, create a unique smoky-fruity blend that is intense and nuanced.
Leatherware No. 03 is a stunning fragrance with citrus balanced by green notes for a hint of lightness to balance out the more potent elements. It's an iconic scent that every leather-loving gentleman should make sure to add to their collection.