Elizabeth Taylor was one of Hollywood's most iconic figures, and her influence extended to the world of fragrances. She created a line of luxurious scents that have become classics, and her legacy lives on in these timeless perfumes.
Elizabeth Taylor exuded classic Hollywood glamor, so it only stands to reason that her famed perfumes were resplendent with sparkling jewels. Her initial fragrance, Passion, was released in 1987, with the men's counterpart following in 1989. Two years later, she launched White Diamonds, an enticing scent continually listed among the bestselling fragrances from year to year. Her gem-inspired scents, such as Diamonds and Emeralds, Diamonds and Rubies, and Diamonds and Sapphires, are a testament to her impeccable taste and influential spirit.
When wearing Elizabeth Taylor perfumes, you can feel confident that you are wearing luxurious fragrances created by someone who knew beauty inside-out like no one else did.
---
Passion Eau De Toilette
Perfume for All Occasions
Passion Eau de Toilette was released in 1988 and continues to be a powerhouse oriental fragrance for women who have no fear of being noticed.
Passion Eau de Toilette contains more than 20 different notes that blend to create an alluring fragrance that will turn heads. The main notes include gardenia, bergamot, sandalwood, patchouli, jasmine, cedarwood, rose, leather, musk, vanilla incense, and sandalwood.
It can be worn on any occasion, whether going out for the evening or just running around town during the day. It is not overpowering but is still intense enough to be noticed by those around you.
---
White Diamonds EDT
All-Day Fragrance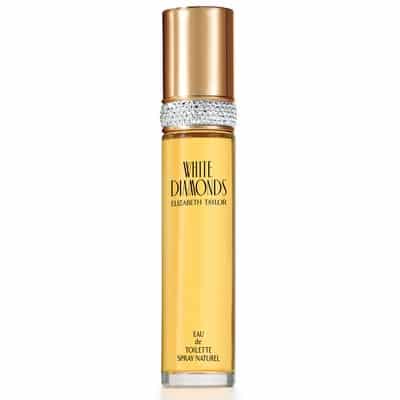 White Diamonds is easily the most iconic Elizabeth Taylor fragrance that has been around since 1991. This sophisticated blend bursts wild florals tamed by solid woody undertones.
This perfume's incredibly complex mix of accords and notes makes it unique. It starts with a glamorous aldehydic element and then transitions into white floral heart notes such as Turkish rose, lily, carnation, narcissus, jasmine, and patchouli.
The intensity of White Diamonds is medium to strong, lasting up to 8 hours after application. It's perfect for those who want a subtle but lasting scent throughout the day without having to reapply often.
---
White Diamonds Night
Head-Turning Winter Pick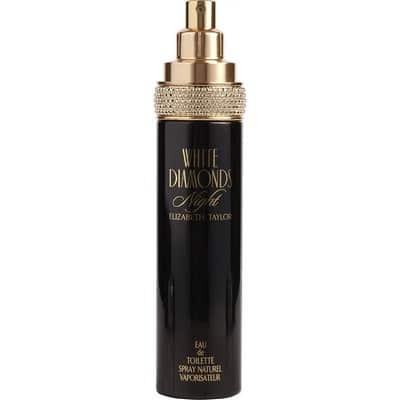 When selecting the perfect scent for cold nights, look no further than White Diamonds Night by Elizabeth Taylor. This sophisticated fragrance combines a floral and woody musk scent that will make any woman bold, seductive, sassy, and unafraid.
Its bold scent will captivate with warm, inviting top notes of mandarin orange, apricot, and bergamot, while the heart is fragrant with freesia and night-blooming jasmine. Sexy base notes of sandalwood, resins, musk, and patchouli perfectly round it out.
White Diamonds Night by Elizabeth Taylor is an exquisite and warm perfume for women who want something special for those cold winter nights.
---
White Diamonds Lustre
Elegance Booster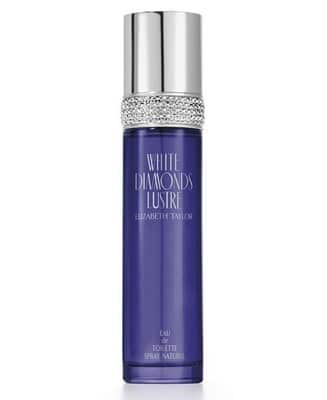 Launched in 2014, White Diamonds Lustre is a fruity floral fragrance that has become the go-to scent for many women looking to make an impression.
It starts with fruity top notes balanced by middle notes of narcissus, orange blossom, and jasmine, which add a delicate floral touch to the scent. The base notes of amber, vetiver, and musk provide a woody finish that make this fragrance unique.
Wearing White Diamonds Lustre is like wearing royalty on your skin. It's for the modern woman who wants to make an entrance without being loud. Suitable for all occasions, it provides elegance without being too overpowering.
---
Diamonds & Sapphires
Signature Go-To Scent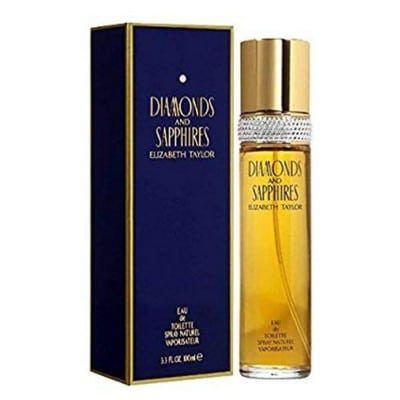 Elizabeth Taylor's Diamonds & Sapphires perfume was launched in 1993 and has captivated hearts ever since. Its combination of floral-fruity scents creates an exotic fragrance that is as timeless as the star herself.
At the top of this luxurious fragrance, you'll find a tantalizing combination of heliotrope, melon, Lily of the Valley, peach, and galbanum. The heart notes form an intriguing, delicate, and complex bouquet, while the base notes provide depth that makes this scent unforgettable.
Diamonds & Sapphires is a delightfully floral scent perfect for various daytime activities. This perfume provides mood enhancement with its pleasant and uplifting tones.
---
Elizabeth Taylor Black Pearls
Top Energy Scent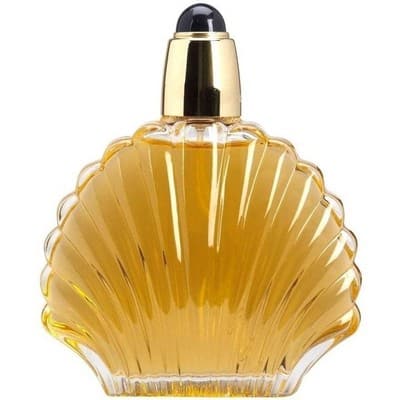 Black Pearls was designed by perfumer Sophia Grojsman who was inspired by Elizabeth Taylor's captivating energy. It's the perfect combination of sophistication and extravagance, sure to evoke Old Hollywood glamour.
Black Pearls opens with refreshing top notes of bergamot and gardenia with an added hint of juicy peach for sweetness. Next, its floral heart notes create an intoxicating aroma, and the musky base is a cozy embrace that lovingly lingers.
Elizabeth Taylor's Black Pearls is an unforgettable and truly distinctive fragrance. It offers a tantalizingly sensuous intensity that is perfect for an evening out in the colder months.
---
Forever Elizabeth by Elizabeth Taylor
Compliment Getter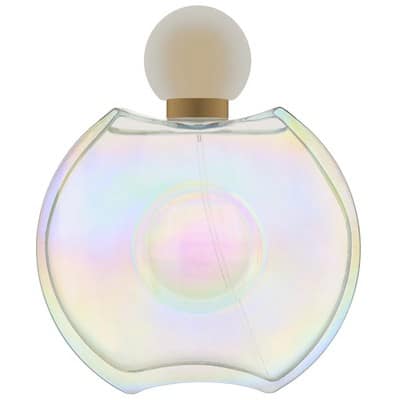 In 2002, Elizabeth Taylor debuted a scent that captured the imagination of women everywhere – Forever Elizabeth. Endowed with an unforgettable blend of exotic aromas, this perfume is sure to please.
Forever Elizabeth exudes captivating opulence. The zesty bite of apple and mandarin intermingles with the exquisite combination of orchid and tiara flowers, renowned for their velvety richness. Finally, a curtain falls upon it with sandalwood meeting notes of musk, amber, and cloves, creating a lasting sense of warmth.
Forever Elizabeth is suitable for all occasions, providing the right subtlety while standing out enough to be memorable.
---
Diamonds and Rubies
Solar and Floral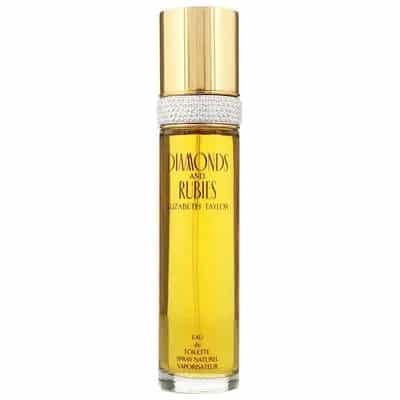 Diamonds and Rubies by Elizabeth Taylor is one of the timeless masterpieces from grand-master perfumer Sophia Grojsman. This signature fragrance evokes sophistication and class through its blend of fresh, floral scents.
Launched in 1993, Diamonds and Rubies continues to be a popular choice among discerning fragrance connoisseurs due to its complexity and seductive aroma. Opening with a strong initial burst, this perfume gradually mellows into a delicate scent.
Diamonds and Rubies by Elizabeth Taylor is an iconic scent that perfectly encapsulates the beauty of colder weather. The scent is strong and sophisticated yet delicate, providing a pleasant alternative to musky winter fragrances.