Elizabeth Arden was founded in 1910 by Canadian businesswoman Florence Nightingale Graham. Since then, Elizabeth Arden has been synonymous with sophisticated scents and luxurious cosmetics. From Manhattan, the firm quickly expanded to other major cities across the globe. Graham continued to serve as the company's CEO until 1966.
Blue Grass, the company's original scent, was released to the public for the first time in 1934. While it hasn't stopped making cosmetics and skincare, the firm is now more known for the perfumes it has released under its name and those of well-known designers and celebrities.
There are over 90 scents by Elizabeth Arden available in the market today. Famous perfumers like Antoine Lie and Edmond Roudnitska worked with Elizabeth Arden to create their signature scents.
Elizabeth Arden offers a plethora of tempting scents throughout their seven unique collections, in addition to the occasional celebrity perfume. There's a fragrance from the line for every event or season.
---
5th Avenue
Chic & Classy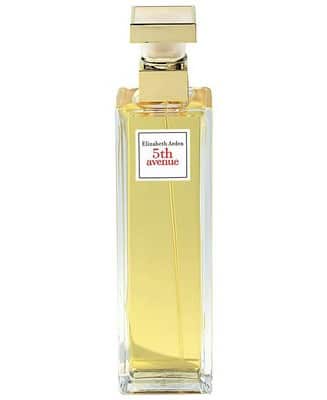 Elizabeth Arden's 5th Avenue is a floral fragrance for ladies, released in 1996 by Ann Gottlieb. This sophisticated floral scent is one of the best-selling fragrances ever made by Elizabeth Arden. It captures the glitz of a famous New York boulevard perfectly.
Mandarin orange, lilac, bergamot, linden flower, and dewy magnolia make up the opening notes. Midway through, the clove and nutmeg nicely balance out the rose, ylang-ylang, and violet flowery notes. A blend of musk, sandalwood, vanilla, and amber creates a warm and luxurious finish.
This perfume may be worn any time of year, but it shines in warmer times. It is a versatile fragrance, suitable for business, formal gatherings, and other professional settings.
---
Arden Beauty
The Aroma of Enigma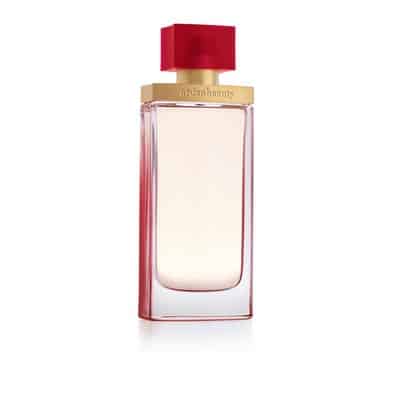 Elizabeth Arden's Arden Beauty is a best-selling floral fragrance for ladies created by Antoine Lie. This lovely perfume exudes confidence and sophistication, making it ideal for formal occasions and even daily use. The perfume's aquatic undertones are also perfect for brightening up rainy days.
Iris, bergamot, rice flower, and aquatic green accords are expertly mixed to create a bright and floral beginning. The base notes of musk, sandalwood, and amber add sweetness. The flowery sweetness of rice blossom is preserved in the pure powderiness of the dry down. The perfume can last for up to six hours.
---
Sunflowers
A Burst of Sunshine
In 1993, Elizabeth Arden introduced a fragrance called Sunflowers. David Apel combined sweet fruity, and fresh floral notes to create this fragrance for women.
Melon and bright citrus flavors provide a delectable start, while rose powder highlights the white osmanthus blossoms. The jasmine contributes a floral undertone, while the cyclamen keeps everything grounded in a fresh, green hue. These notes quickly blend with amber and musk that make up the fragrance's foundation. The oakmoss unites the other fragrance notes into a lingering afterglow.
Sunflower perfume can make summer enjoyable with its bright floral fragrance. After 25 years on the market, this fruity floral scent is still as vibrant and upbeat as the day it was introduced.
---
White Tea
A Classic Clean Smell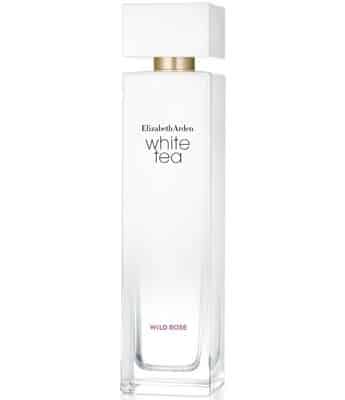 Elizabeth Arden collaborated with Rodrigo Flores-Roux to create White Tea, a floral woody perfume. The simplicity and elegance of White Tea are meant to evoke feelings of contentment and serenity.
Orange, fern, and clary sage open the fragrance before transitioning to a salty undertone. The powdery finish from iris and rose adds to the sweetness of the sea and the tea's mellow harmony. The musky ambrette, amber, tonka bean, and woody notes complement the delicate floral aroma of this white tea.
The fade-out is powdery sweet with lingering undertones of white tea. This refreshing scent is most appropriate for daytime use throughout the balmy months of spring and summer.
---
Always Red
Red Every Wear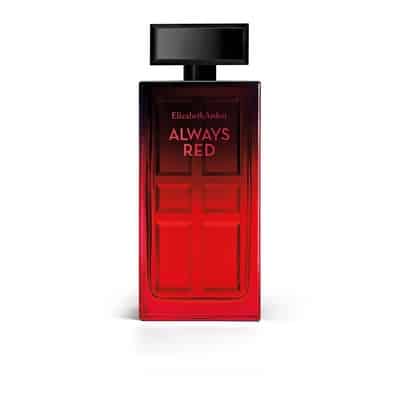 Always Red is an extravagant, attention-grabbing floral scent that debuted in 2015. It is formulated for women who are not afraid to be the center of attention.
Fruity and floral notes of blood orange, passion fruit, and plum make a strong scent upon opening. After the fruitiness fades, the floral scent sparkles with rose and freesia. This floriental trademark finishes with a dry down of enfolding cashmere woods, praline, and amber.
It can be worn on spring nights, but the fragrance suits best during the cooler months. This versatile scent is sure to get compliments during special occasions such as weddings and proms.
---
Blue Grass
Tranquil Meadows Eau de Parfum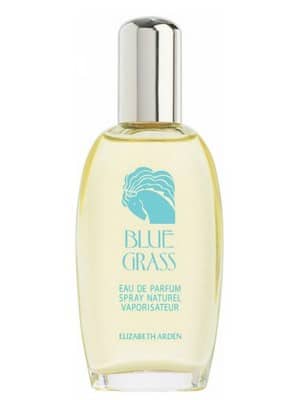 Blue Grass Eau de Parfum is a truly timeless classic and masterpiece. For 85 years, it has been one of Elizabeth Arden's best-selling scents. This green floral scent evokes the bluegrass plains and farms of the American Midwest.
The fragrance opens with geranium, bergamot, aldehydes, orange blossom, lily, and neroli. The vetiver, clove, and bay leaf center notes give the flowery scent a warm, spicy undertone. Exotic woods such as benzaldehyde, sandalwood, vetiver, musk, cedar, and tonka bean make it clean and appealing.
Blue Grass is a calming depiction of any time of the year, whether spring, summer, or even the beginning of fall.
---
Green Tea Fig
The Smell of Luscious Greenery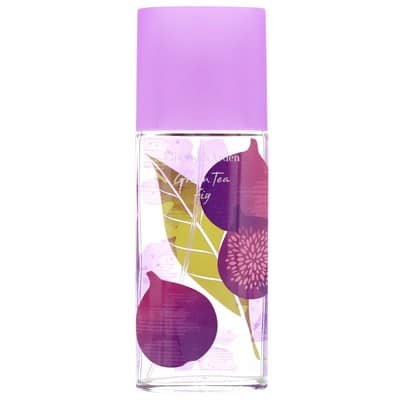 Green Tea Fig is an aromatic, fruity fragrance for ladies created by Elizabeth Arden. Introduced in 2018, Green Tea Fig has been a huge success.
The first impression is a sweet combination of tea and citruses that tastes nearly like a fig. The center note is dominated by the fig's delicious flavor, which combines well with the bittersweet notes of green tea, violet leaf, and pistachio nuts. While drying, it gives off a scent of a mix of juicy figs, green tea, and musk.
This crisp scent is perfect for the warmer months and may be worn year-round. The fragrance is reminiscent of the countryside's simplicity.
---
Red Door
Iconic & Luxurious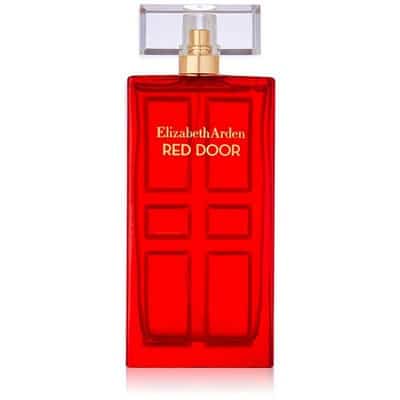 Red Door is a luxurious and timelessly elegant oriental floral perfume.
Sparkling lily-of-the-valley in the top notes combines freesia and violet to provide a refreshing floral introduction. The jasmine,ylang-ylang, and Moroccan orange flower blends into a white oriental flavor.
When combined with honey and sandalwood in the fragrance's base notes, the harmony of the rose creates a delightfully smooth finish. This bouquet fades into a gourmand aroma with a hint of oakmoss and wood.
Red Door lasts for at least four hours and may be applied to fabric and hair to extend its wear time even more.