Britney Jean Spears, popularly known as the Princess of Pop, rose to stardom due to her revival of the teen pop craze in the late 1990s and early 2000s. Her stage presence and voice captured the hearts of millions of adoring young fans worldwide. She also became a fashion maven with her apparel choices which her followers emulated. Spears has had a roller-coaster personal life, but she invested her earnings in diverse interests, including real estate, publishing, video games, clothing, accessories, and perfumes.
Spears teamed up with Elizabeth Arden in 2004 when she released her first signature scent, Curious, which broke the first-week gross sales for a perfume. Spears has released 35 perfumes, and the scents range from the flirtatious to the sensual side of the olfactory spectrum.
Spears has several popular perfumes, but Fantasy is among her best sellers. Her fragrance lineup consists of beautiful blends of fruity floral scents grounded on warm, comforting base notes.
---
Private Show EDP
Enticingly Sweet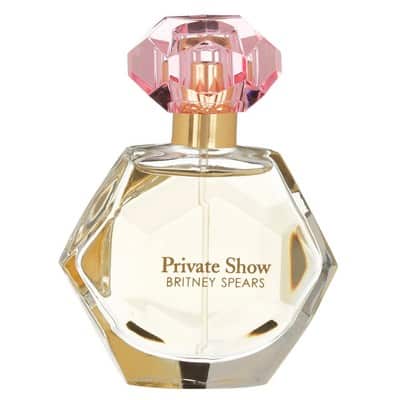 Caroline Sabas captured the essence of Britney's passion for dancing with the enticingly sweet fragrance of Private Show. Launched in 2016, Private Show was billed as a floral fruity gourmand scent that electrified the audience with its complex undertones.
Refreshingly complex scents of nectarine, coffee, clementine, and whipped cream pique people's attention before the deliciously sultry heart notes of dulce de leche, jasmine, and orange blossom capture the senses. Warm and comforting musk and amber base notes round out the beautiful scent.
Private Show is perfect for the fall and winter, as the captivating scent electrifies anyone who notices the fragrance.
---
Cosmic Radiance
Brilliantly Fresh & Fruity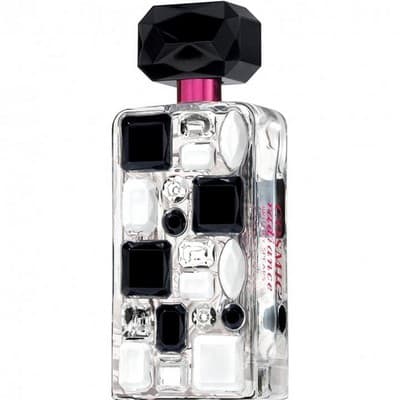 Harry Fremont and Honorine Blanc collaborated to develop Britney Spears' Cosmic Radiance scent in 2011. The scent was described as a fruity floral fragrance inspired by a star twinkling brighter than other stars, which Spears was during that time.
Refreshing and exotic lychee pairs with Mandarin orange and pear as the top notes. Intoxicating jasmine, tuberose, peony, and gardenia come together as sweet middle notes. Finally, the charming and clean undertones of amber, vanilla, sandalwood, and musk create a wonderful scent that appeals to most people.
A perfect scent during the spring, summer, and fall as the fragrance lingers and captures the senses throughout the day.
---
Curious by Britney Spears
Lively & Energetic
Curious by Britney captured the essence of the star's interest in expanding her empire as she introduced the fragrance in 2004. The scent was billed as a lively and energetic floral fragrance characteristic of youthful women. Claude Dir came up with the popular fragrance for Spears.
Fresh, top notes of magnolia, pear, and lotus open the scent and capture people's attention. Next, it morphs into an intense floral bouquet of tuberose, cyclamen, and jasmine. Finally, the delectable undertones of white wood, sandalwood, vanilla, and musk kick in as the base.
Perfect for daytime activities during the spring, the beautifully intense fragrance lasts long enough.
---
Fantasy EDP by Britney Spears
Sensually Beautiful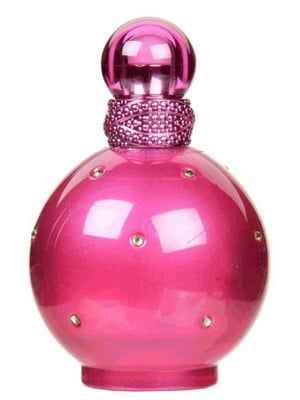 James Krivda came up with Spears' second fragrance, launched in 2005. A sensual fragrance envelops the wearer and ensures she receives compliments throughout the day. Ensconced in a beautiful bottle with Swarovski crystals, the presentation underscored the scent's understated allure and charisma.
Refreshing red lychee, kiwi, and quince comprise the top notes. Next, the scent moves on to the heart notes with a provocative blend of white chocolate, orchid, and jasmine. Finally, complex but welcome undertones of orris root, woodsy notes, and musk take over during the drydown.
Best for fall, winter, and spring, nighttime romps as the scent captivates and creates a nuanced mystique.
---
Hidden Fantasy EDP
Sensually Sweet
Women who like gourmand scents were enthralled when Rodrigo Flores-Roux came up with Britney's Hidden Fantasy EDP in 2008. The deep red bottle with crystals accentuates the scent's sensuality and vibrancy, making it a popular choice.
Citrus accords dominate the top notes as tangerine, sweet oranges, neroli, and verbena combine for a heavenly smell. Next, the scent moves to a spicy sultry blend of jasmine sambac, cloves, and stargazer lily before settling on the comfortingly clean fragrance of vanilla, jacaranda wood, sandalwood, and amber.
An amazing fragrance for the winter and fall seasons, as it refreshes and energizes anyone who catches a whiff of it.
---
In Control Curious
Romantically Sexy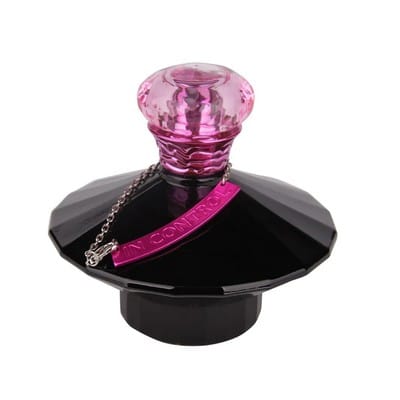 Women who wanted to project an alluring mystique loved it when Claude Dir developed the In Control Curious fragrance for the Spears' line in 2006. Housed in a sharp black bottle with pink accents, it exudes class and sexiness, which the fragrance captured in spades.
Fruity notes sparkle as the scent's topmost offering and capture people's attention. Next, the fragrance moves on to its heart notes with intoxicating silky undertones of tonka bean, orchid, and vanilla. Finally, the crisp base notes of musk and sandalwood finish the scent and continue to appeal after the drydown.
It's great for the fall and winter as the seductive scent attracts compliments.
---
Island Fantasy EDT
Tropical Remembrance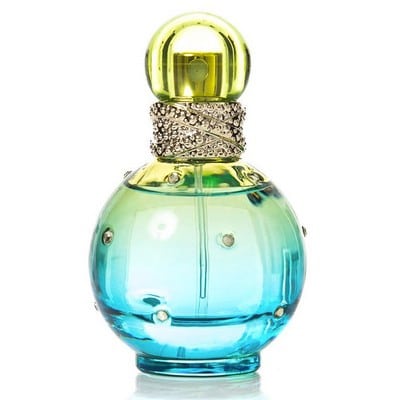 Women who love hints of tropical scents fell in love with Britney Spear's Island fantasy fragrance, launched in 2013. The scent was part of a long line of sweet perfumes known as fresh and revitalizing. Island Fantasy came in a rather playful gradient bottle which captured the scent's vivacity.
A fresh cocktail of red berries, watermelon, and citruses captured attention as the top notes. Next, sultry scents of violet, jasmine, and freesia dominate the heart notes and seduce the audience before settling for the sweet and warm base notes of sugar cane and musk.
Best used during the summer as the scent invigorates throughout the day.
---
Midnight Fantasy EDP
Mysteriously Appealing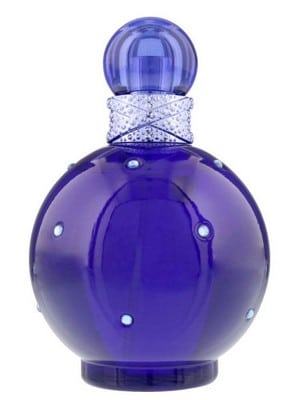 The dark-hued bottle of Midnight Fantasy perfectly captured the scent's floral fruity essence when it was launched in 2006. Caroline Sabas crafted the perfume, which appealed to the younger audience as it showcased seductive allure.
Exotic framboise, plum, and black cherry captivate as the fragrance's top notes, giving way to sultry and seductive undertones of freesia, jasmine, and orchid. Finally, the scent morphs into luscious hints of amber, vanilla, and musk to perfectly capture a woman's mystique.
Midnight Fantasy is a great scent for nights out with friends and someone special, as the fragrance appeals and captivates.
---
Radiance EDP
Radiantly Captivating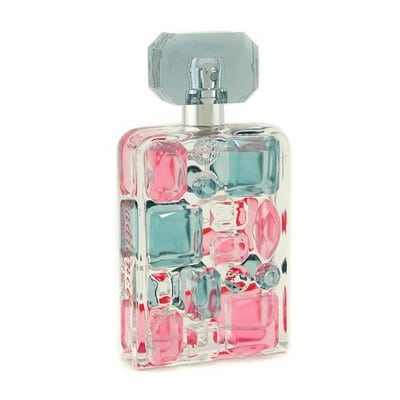 Presented in a girly pink and light blue bottle dazzled with several fake rhinestones, Radiance lived up to its name as the fragrance was light and floral fruity. It was launched in 2010 and quickly became one of her most sought-after fragrances.
Hints of delicate red berries comprise the top note before morphing into a captivating blend of tuberose, iris, jasmine, and African orange flower. The scent's cashmere wood, amber, and musk base notes present a clean and powdery drydown aroma that envelops the wearer nicely.
Radiance is recommended for spring and summer as the scent lingers and results in compliments.
---
Sunset Fantasy EDT
Seductive & Romantic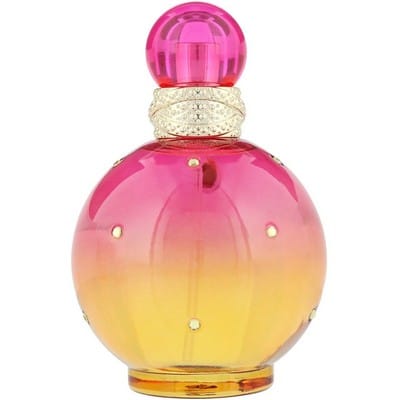 The gradient-colored glass perfectly captures the sultry and seductive fragrance of Sunset Fantasy. It was released in 2017 and featured a refreshing floral fruity scent that captivated women worldwide.
A crisp blend of apple, Italian mandarin, and blood grapefruit enthrall people as the top notes. The scent then morphs into a fruity bouquet of raspberries and peaches with hints of orange blossom. Finally, the scent's fresh sandalwood, mousse, vanilla, and amber base notes present a delicious and seductive scent during the drydown.
Sunset Fantasy is recommended for summer, spring, and fall, as the pleasantly seductive aroma will capture people's attention