Donna Karan New York is an American fashion house founded by Donna Karan and her husband, Stephan Weiss. This fashion brand started to operate in 1984. The designer has established her brand in the fashion industry thanks to her women's collection. Her style is simple, interchangeable, and dedicated to everyday use.
The fashion brand extended its venture by changing its name to the DKNY label, which is easier to remember. The rebranding was done to attract younger audiences. From there, DKNY offered a wider selection of products like DKNY Jeans, DKNY Men, DKNY Active, and even clothes for children.
As part of their business expansion, Donna Karan started to explore the perfume industry. As a result, DKNY collaborated with Estee Lauder in launching its first-ever perfume in 1992. It was a big hit for the company as its fragrances became popular. Even though the conglomerate LVMH acquired the company, perfume production continued in the name of DKNY.
---
DKNY Be Delicious
Most Sensual DKNY Fragrance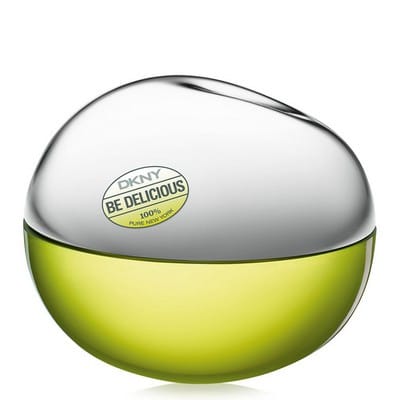 DKNY Be Delicious was created under the nose of Maurice Roucel and was launched in 2004.
The name says it all; DKNY Be Delicious will make you smell delicious and irresistible. Its opening is sweet, fresh, and a little citrusy. You'll be greeted by the burst of mouth-watering fruit scent, followed by the gradual ascend of woody notes. Although not thick, the woody notes create a perfect balance for the perfume. The overall scent is sensual and alluring.
It is perfect for date nights. Its sillage and longevity are decent but not that impressive, so make sure to spray this minutes before you walk out that door.
---
DKNY Be Delicious Fresh Blossom
Perfect for Nature Lovers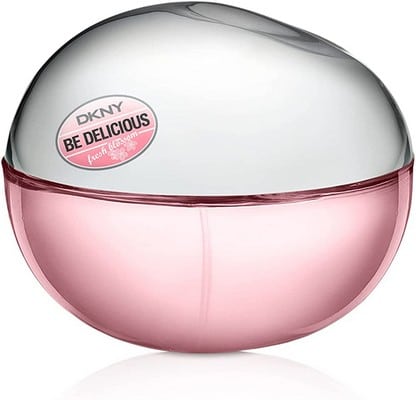 Donna Karan launched Be Delicious Fresh Blossom as a new fragrance in the Be Delicious line of DKNY. It was introduced in the market in 2009.
DKNY Be Delicious Fresh Blossom is warm, fresh, and nurturing. Smelling it feels like being hugged by mother nature. The subtle and sweet floral scent will remind you of the first day of spring when flowers are just starting to bloom. It also has a surprising hint of grapefruit. Overall, Be Delicious Fresh Blossom has a flirty and playful aura suited for nature lovers.
Its longevity and sillage are impressive. It can stay with you for up to 16 hours.
---
Cashmere Mist Eau de Toilette
Leathery and Powdery Fragrance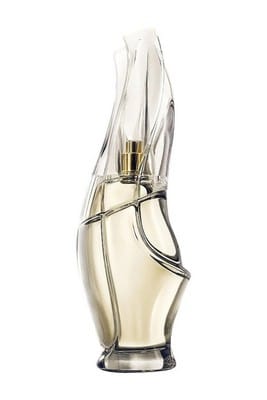 Cashmere Mist Eau de Toilette was created under the nose of Nicholas Calderone and was officially released in the market in 1994.
Hugging the softest cashmere shawl is the same as smelling a few spritzes of DKNY's Cashmere Mist Eau de Toilette. This perfume has a calming and relaxing scent. The first few seconds after spraying will give you a suede fragrance that may remind you of new leather shoes. However, the intensity of the smell will fade away as the perfume dries down into a mild and powdery scent.
Cashmere Mist is more suited for women aged 35 and above.
---
DKNY Delicious Night
Top Choice for Oriental Lovers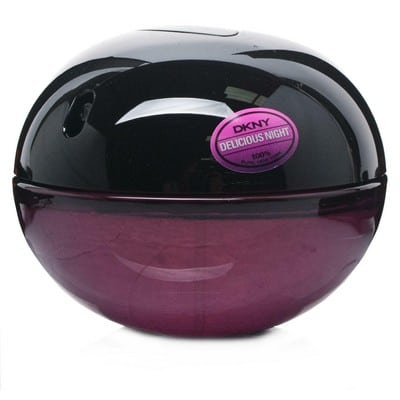 DKNY Delicious Night was the third apple-shaped perfume of DKNY. It was created with the collaboration of IFF perfumers and was launched in 2007.
The scent of DKNY Delicious Night is sweet and very oriental. It will transport you to the majestic botanical gardens in the mountains of China. You will instantly recognize the distinct ginger scent that makes this perfume stand out. Although strong, the ginger is inoffensive, making it a good complement to Delicious Night's alluring floral fragrance.
Its name suggests that it is best worn during the night. But its sweetness can also pull off during the day.
---
Black Cashmere by Donna Karan
Top Choice for Winter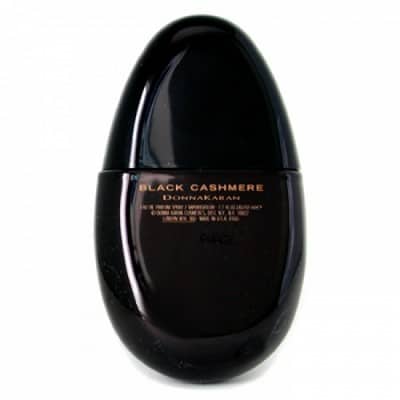 In 2002, Black Cashmere was launched by Donna Karan. This was formulated under the nose of the amazing perfumer Rodrigo Flores-Roux.
Imagine you are enjoying the night, sipping a glass of wine while watching the fire burning on your fireplace. Cozy, right? Black Cashmere can give you the same experience. It opens with the warm scent of saffron, nutmeg, and olibanum, followed by the spicy aroma of pepper and cloves. It ends with some woody notes and a little medicinal scent.
This perfume is perfect for holidays, vacations, and winter. The scent of cashmere and nutmeg will make you feel nice and warm.
---
DKNY Red Delicious
Top Pick for Teenage Girls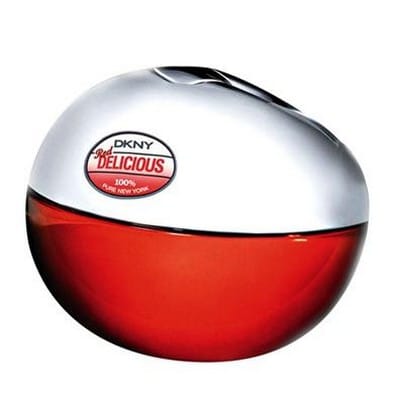 The DKNY Red Delicious was a limited edition perfume launched in 2006. This masterpiece was created under the nose of Maurice Roucel.
Red Delicious gives you the illusion that a ripe, juicy apple, ready to be eaten, is in front of you. It is dominated by the sweet and sour scent of apple, surrounded by a subtle hint of violet leaves. Aside from the obvious apple and violet notes, Red Delicious also highlights the beautiful blend of musk, rose, amber, champagne, raspberry, lychee, and vanilla. It's beautiful, delightful, playful, and delicious at the same time.
This perfume is a perfect daily wear for students ad teenagers.
---
DKNY Nectar Love
Top Scent for Quick Getaways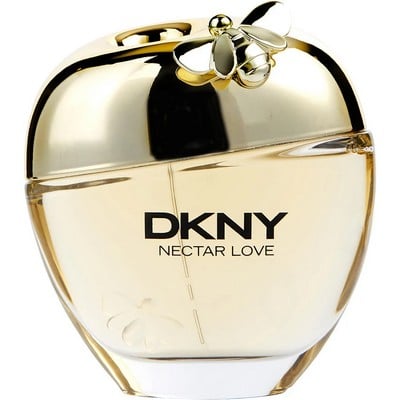 In 2017, DKNY released its DKNY Nectar Love perfume. It was labeled as its amber and floral fragrance.
Nectar Love is one of a kind. It opens with a slightly floral and strong citrusy scent. After a few sprays, you can quickly catch the freesia, nectarine, orange, grapefruit, and solar notes. Then, Nectar Love becomes more interesting as more floral scents kick in. After a while, it dries down to the unique scent of cedar, neroli, vanilla, musk, and beeswax.
The blast of sugar is perfect for getaways, gatherings, and picnics. A few spritzes of Nectar Love will uplift everyone's mood.
---
Donna Karan Gold
Top Perfume for Working Women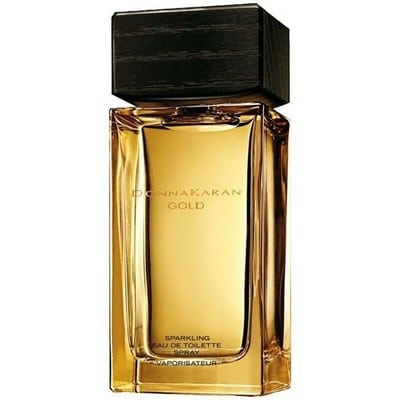 Donna Karan Gold was officially released to the market in 2006. This perfume was created by a group of renowned perfumers: Yann Vasnier, Rodrigo Flores-Roux, and Calice Becker.
The passion, prestige, and power that gold represents in the society inspired Donna Karan to create this perfume. Donna Karan Gold can boost anyone's morale and self-esteem. It opens with the intoxicating scent of lily followed by the warm notes of amber. The floral blend of jasmine, black locust, and violet leaf tones down the strong start. Overall, this perfume is powerful, warm, and alluring.
The Donna Karan Gold is suited for a lady who wants to make a strong impression while conquering the business world.
---
DKNY Be Tempted
Most Seductive Scent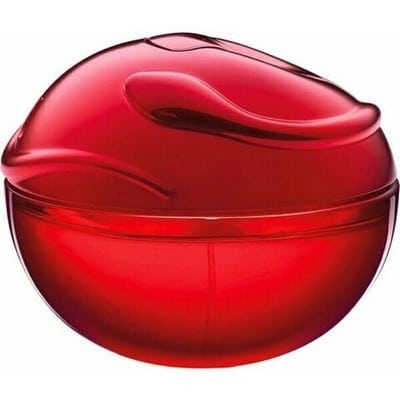 The DKNY Be Tempted was another best-seller produced by Donna Karan. This perfume has been rocking the perfume industry since 2016.
If you are looking for a sexy and seductive scent, DKNY Be Tempted will not disappoint you. It opens with sinful notes of devil licorice, red fruit, black currant, and lemon. It starts as exciting, playful, and luminous. But then, the heart notes come in, and the perfume becomes more passionate and feminine. After highlighting its floral scents, Be Tempted dries down to a calmer blend of resin and vanilla cream.
This perfume is romantic and extremely sexy. Best suited for romantic getaways, weddings, and honeymoons.
---
DKNY My NY
Most Vibrant DKNY Perfume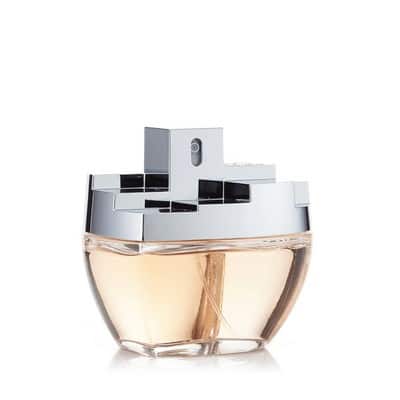 DKNY My NY is the creation of the perfumers from IFF. The popular singer and actress Rita Ora advertised My NY in 2014.
My NY perfectly embodies the energy of New York. Like the dynamic of NY's busy streets and majestic skyscrapers, this perfume is loud, strong, and vibrant. It first provides a cheery blend of pink pepper, raspberry, and galbanum, accompanied by jasmine, orris, and freesia. Its mellow floral scents give My NY a soft and feminine touch.
My NY is versatile, so it is suited for work meetings, parties, family gatherings, and romantic dates.
---
DKNY Stories
Sweetest DKNY Perfume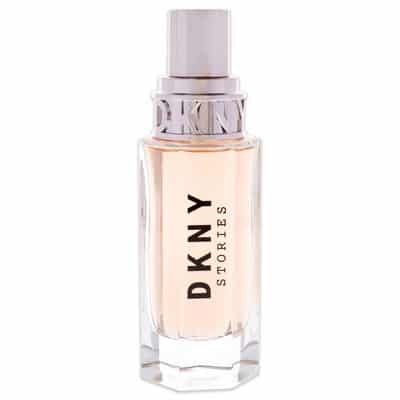 The DKNY Stories was launched in 2018. It was formulated under the nose of Stephen Nilsen.
The DKNY Stories is another perfume inspired by the busy streets of New York. Its amber and floral combination mimics the energetic aura of the city. It has a unique and unusual combination of spices and pink guava. A hint of sweet vanilla will greet you as it dries down. It has very impressive sillage and moderate longevity.
This scent is good for winter. It gives a nice depth in the cold weather. It is perfect for women in their 20s and 30s.
---
DKNY Sweet Delicious Creamy Meringue
For Sweet & Elegant Ladies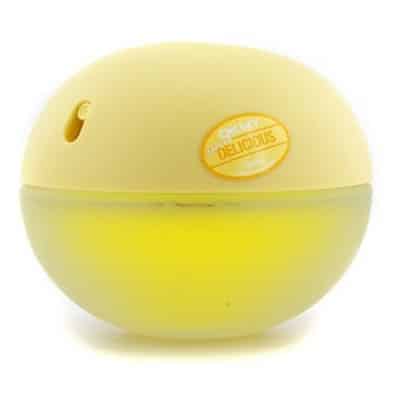 Creamy Meringue is another delightful addition to DKNY's Sweet Delicious perfume line. The fashion house introduced it in 2012, and many people fell in love with its scent.
Creamy Meringue is your ticket to Candyland. Its scent is sweet but not overpowering and headache-inducing. It is a rare perfume that uses sweet candy notes but doesn't smell cheap. Creamy Meringue has an interesting delicateness that embodies the image of an elegant and graceful lady.
It can make a statement but is not offensive, even to those with sensitive noses. Creamy Meringue is a scent you can wear any day of the year.