The renowned Italian fashion designer Giorgio Armani founded his company in 1975, and it became synonymous with elegance and high-quality evening gowns. Known for his minimalist and yet androgynous attires, Armani became popular with A-list celebrities who loved showing off his creations. Over the years, Armani released other products such as fragrances, jeans, and accessories and even created a sportswear line known as Emporio Armani, another reputable brand.
Armani began dabbling in perfumery in the early 1980s and launched his first offering, Giorgio by Giorgio Beverly Hills, in 1981. He has since launched 216 different fragrances, which appealed to different audiences, evoking great memories with their brilliant compositions. His scents ranged from the seductive Armani Mania to the sporty Armani Code Sport and everything in between.
Armani has created a following for his beautiful clothing and ever-expanding fragrance collection, using only the best ingredients to create wonderful scents.
---
Armani Prive Pivoine Suzhou Soie de Nacre
Irresistible Silkiness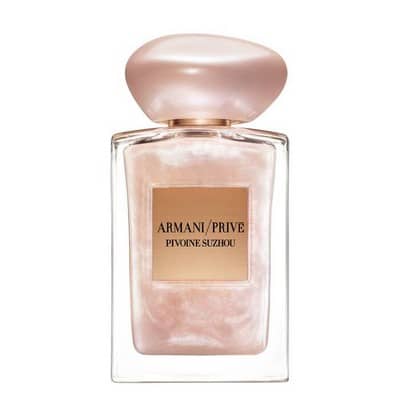 Armani Prive Pivione Suzhou Soie de Nacre was released in 2016. It was an improved version of the original scent. The limited edition was made by Julie Masse and Cecile Matton and had a fruity floral composition but with the irresistible addition of nacre flakes.
The scent opens with radiant top notes of Mandarin orange, pink peppers, and raspberry, which make people immediately think of a beautiful day. Next, the scent of peonies and roses comprise the heart notes. Finally, the delicate blend of patchouli, amber, and musk leaves a soft enchanting trail.
It is perfect for daytime activities during the summer and fall as the scent reinvigorates and inspires.
---
Armani My Way Eau de Parfum
Sparklingly Beautiful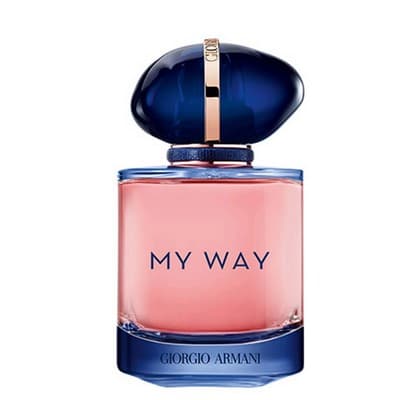 Bruno Jovanovic and Carlos Benaim came up with Giorgio Armani My Way in 2020. The design house billed the scent as evocative of romantic walks on beautiful summer days.
The scent opens with crisp and fresh hints of bergamot and Mandarin orange. Exotic Indian jasmine and tuberose kick in an alluring fragrance that keeps people interested. The refreshing and comforting tones of Virginia cedar, white musk, and Madagascar vanilla bring up the end and make for a beautiful trail.
It is terrific to use during the warm weather months as the gorgeous blend elevates any ensemble and promises a romantic, soft yet sparkling dynamic.
---
Giorgio Armani Code for Women Eau De Parfum Spray
Seductively Sweet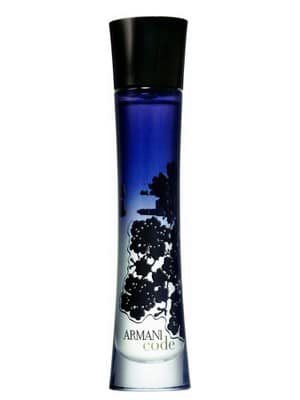 Dominique Ropion, Carlos Benaim, and Olivier Polge collaborated to create the Giorgio Armani Code for Women, and the company launched it in 2006. The scent promised to be floral-sweet, and it succeeded in enchanting the target audience. The fragrance is housed in a tall, elegant glass bottle that exudes the scent's sensuality.
An intoxicating orange head note turns into the fruity essence of jasmine sambac and orange blossoms. Hints of ginger work well with the seductive blend of honey, vanilla and sandalwood base notes. The fragrance evokes feelings of passion and sexiness.
The scent's ideal for classy, romantic evening romps with a special someone.
---
Giorgio Armani Acqua Di Gioia Eau De Parfum Spray for Women
Refreshingly Aquatic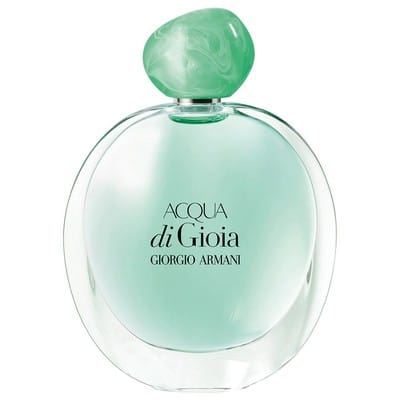 Anne Flipo, Loc Dong, and Dominique Ropion lent their talents to create the fresh floral aquatic fragrance of Armani Acqua Di Gioia. The scent was launched in 2010 and captivated the clientele with its alluring aroma painting beautiful walks by the seashore.
Beautifully crisp mint and Amalfi lemons represent the first whiff of the scent and bring beautiful summer memories. It then transforms into a vibrantly tranquil water jasmine heart which inspires happiness. Finally, the sweet, powdery scent of French labdanum, brown sugar, and cedar evoke vibrancy that stays on your skin for quite a long time.
The longevity is perfect for summer, and the sillage evokes confidence.
---
Giorgio Armani Si Eau de Parfum Spray for Women
Simple but Elegant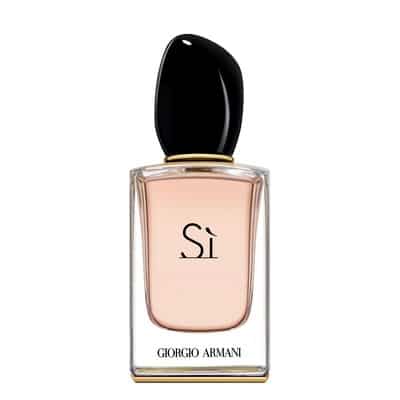 Packaged in a clear monochromatic bottle, Armani's Si was introduced in 2013, and the simple packaging belied the scent's sophistication. Christine Nagel crafted the charismatic woody fruity fragrance, which screamed elegance and perfection.
Fresh and crisp bergamot combines the sexiness of liqueur de cassis and mandarin oil as the scent's headnotes. Then, it evolves into the heady scent of neroli, rose may, and Egyptian jasmine, which exudes a sexy vibe. Seductive undertones of vanilla, amber, patchouli oil, orcanox, and blond woods round out the scent.
Si's longevity and sillage are exceptional, and the fragrance is suitable for day-to-nighttime use.
---
Armani Code Cashmere Eau de Parfum
Long-Lasting Sophistication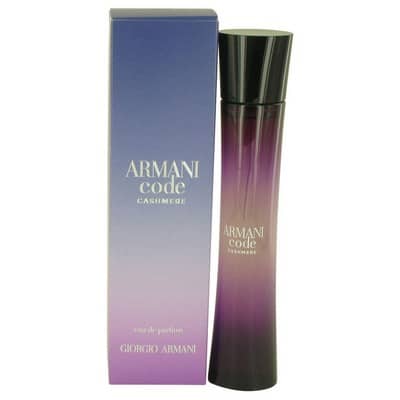 One of the company's popular perfumes debuted in 2016 and promised a long-lasting fruity-sweet fragrance. Carlos Benaim, Dominique Ropion, and International Flavors and Fragrances are the minds behind this scent. The fragrance evokes feelings of trust, love, and comfort.
Sweet top notes of exotic jasmine and orange blossom immediately appeal to whoever catches a sniff of the fragrance. Next, it morphs into powdery fragrant hints of heliotrope, iris, and almond milk in the heart and then gives way to relaxing and familiar suede, leather, incense, and patchouli base notes.
The fragrance is best suited for summer evenings and outdoor events as the scent lingers long enough.
---
Giorgio Armani Sky Di Gioia Eau De Parfum Spray
Excellent Fruity-Floral Fragrance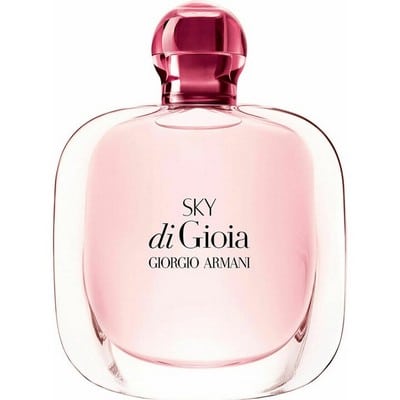 Marie Salamagne lent her skills as a perfumer when she crafted Sky Di Gioia. The design house introduced the scent in 2017 and described it as an exceptional fruity-floral fragrance. The bottle underscores the fragrance's femininity as it lets the pink liquid shine through.
Exotic hints of lychee and pear start the fragrance before it becomes a beautiful floral bouquet of pink peonies and roses. Next, a combination of relaxing white musk, blackberry, and cedar creates a terrific trail that doesn't fail to appeal to people.
Sky di Gioia is perfect for everyday wear, as the scent evokes summer and spring vibes because of its lightness and fruitiness.
---
Emporio Armani Because It's You Eau De Parfum
Charming & Delicate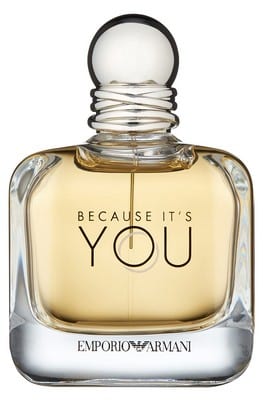 Anne Flipo collaborated with International Flavors and Fragrances to create Armani's Because It's You fragrance. The design house launched the scent in 2017, and its clientele loved the charming fruity-sweet fragrance as it embodied modern-day true love.
Crisp, fruity raspberry, and neroli comprise the scent's top notes and appeal to people quickly. Next, the fragrance moves on to a beautiful floral rose absolute middle note. Warm, sultry, and comforting base notes of patchouli, amber, and vanilla round out the scent.
It's perfect for spring and fall daily wear, as the scent creates a nice trail that evokes lightheartedness and attraction.
---
Armani Mania By Giorgio Armani For Women
Wonderfully Seductive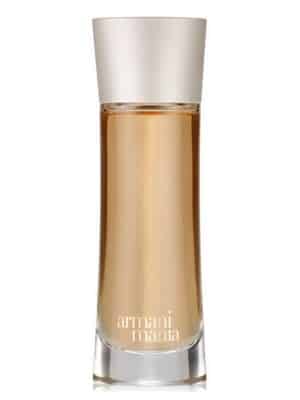 Armani released Mania to the public in 2004. Dominique Ropion was the perfumer behind the floral woody musk fragrance, which underscored the wearer's elegant and refined aura. The sleek glass bottle emphasizes the scent's refreshingly vibrant composition.
Refreshingly crisp and spicy notes of pink peppers, bay leaf, black currant, and oranges serve as the scent's top notes. Then, it evolves into a terrific floral blend of peonies, magnolias, lily-of-the-valley, and iris combination that appeals to many people. Comforting and sensuous vanilla, amber, musk, cedar, and sandalwood base notes create a familiar warmth.
It is an excellent scent for the fall and spring months, as an alluring scent doesn't fail to impress.
---
Diamonds Eau de Parfum
Glamorous Daily Scent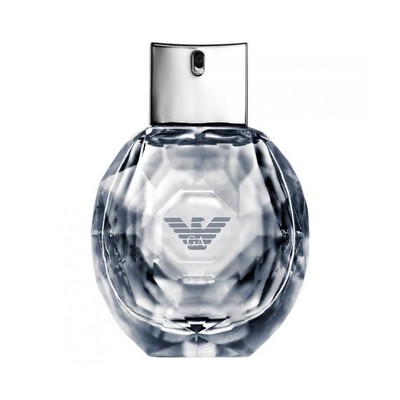 Thierry Wasser crafted and developed the scent, and the company introduced Diamonds in 2007. Boasting a fruity-sweet bouquet housed in an eye-catching, multifaceted bottle, the fragrance promises delicately feminine glamor and sophistication.
Luscious hints of raspberry and lychee bring people in, as the head notes are crisp and fruity. Before long, the fragrant mid-notes of intoxicating freesia rose, and lily-of-the-valley are complemented by patchouli's earthy notes. Seductive and creamy vanilla, amber, and vetiver round out the fragrance and evoke familiar warmth.
Diamonds is great for regular use, and its versatility allows it to be used in the day and nighttime.