French luxury cosmetics and skincare brand Guerlain is one of the world's longest-running beauty and cosmetic brands. The "Guerlinade" is a characteristic olfactory composition found in many classic Guerlain perfumes. In 1828, perfumer Pierre-François Pascal Guerlain established the firm in Paris.
Guerlain's scents and famous inventions have enthralled people for decades. The Maison's characteristic scent is a complex amalgam of rose, iris, vanilla, Tonka bean, bergamot, and jasmine, all of which are perennial favorites of the house's perfumers. Artistic masterpieces of scent, conjured up from chance encounters, far-flung excursions, and literary works, are bottled in exquisite packaging to inspire the creation of a personal narrative rich with aspirations and emotions.
Step into a world where a reverence for the past and an eye for the future meet to produce works of art. Over the course of over two centuries and five generations, Guerlain perfumers have honed their craft to the point that they can offer you beautiful fragrances that have set the standard for the industry.
---
Insolence
Best for Casual Gatherings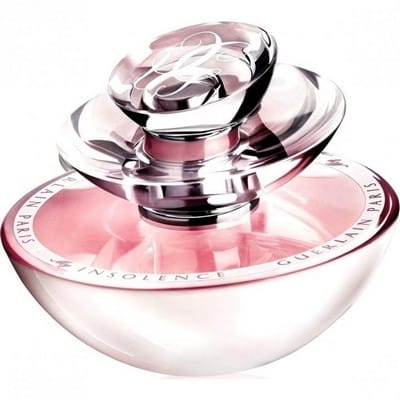 A joint effort by perfumers Maurice Roucel and Sylvaine Delacourt, Insolence Eau de Parfum was first released in 2006. The aroma has a perfume that is reminiscent of fruit and flowers together.
Fragrant top notes of violet and raspberry add a sugary touch. The heart notes are alluring rose, orange blossom, and violet tones. The lively berry undertones come from raspberry and other berries. A hint of musk and a rich sandalwood undertone appear in the last stages.
To inhale this fragrance is to be transported to a world where you can be bold and free.
---
Mon Guerlain
Most Popular Feminine Pick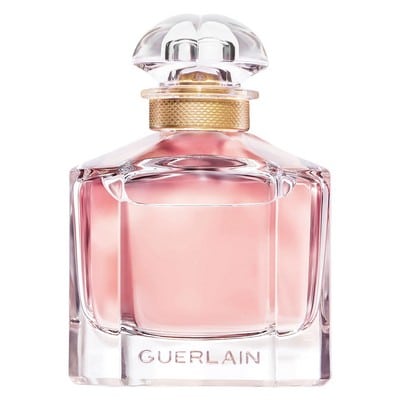 Mon Guerlain Bloom of Rose was introduced in 2019 as part of the Mon Guerlain line. Thierry Wasser was moved by what he called the "notes of a woman," which he defined as "the choices, feelings, and aspirations that represent contemporary femininity."
The fragrance was developed to smell like a bouquet of fresh flowers and fruit. The original perfume's essential ingredients—Carla lavender, sambac jasmine, Tahitian vanilla, and sandalwood—are all still there. The addition of Bulgarian rose and neroli creates a fresh personality.
The widespread acclaim for Mon Guerlain attests to the fragrance's versatility and widespread appeal. The perfume is great for daily wear, in the office, parks, or a visit to the mall.
---
Shalimar
The Timeless Scent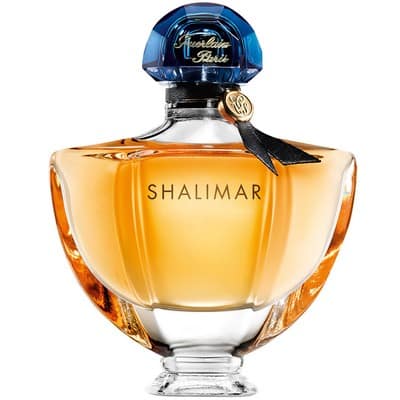 The fabled love story of Emperor Shah Jahan and his wife Mumtaz Mahal, whose love was embodied by the Taj Mahal for centuries, is the inspiration for Jacques Guerlain's Shalimar Eau de Parfum. It is part of the Shalimar line of fragrances developed by Guerlain.
Citrus notes like bergamot and lemon are combined with floral and woodsy scents like may rose, opoponax, jasmine, vanilla, iris, Peru balsam, Tonka bean, and gray amber. Citrus top notes are refreshing, and they lead to a flowery center that develops into a warm, opulent dry-down.
It is best to wear during formal events in the winter and fall, where the citrusy, floral scent can capture the night.
---
Aqua Allegoria Nerolia Bianca
A Fruity Orange Scent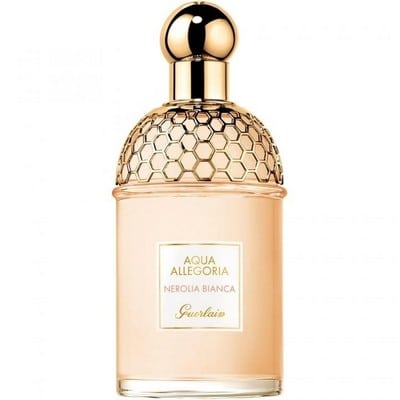 Nerolia Bianca is one of the newer fragrances released by Guerlain. This scent was created by Thierry Wasser and is part of the Guerlain Aqua Allegoria collection.
The perfume was created to recreate the whole bitter orange tree in all its parts, from blossoms and fruit to branches and foliage. The aroma is bright and reminiscent of citrus. It has orange, bitter orange, orange bloom, neroli, orange twigs and leaves, petitgrain, and neroli accords.
The scent is perfect to wear during warm summer days. The orange scent enacts a fresh carefree sensation that is perfect for every activity.
---
Samsara
Classic & Enticing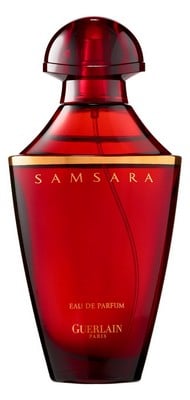 The Guerlain Samsara Eau de Parfum bears an amber woody scent. The famous fragrance was created by Jean-Paul Guerlain and introduced in 1989.
The top notes of lemon, bergamot, peach, and ylang-ylang provide vibrancy, while the base notes of vanilla, musk, amber, and sandalwood provide depth and richness. Exclusive flowers like woodsy iris, jasmine, and rose produce a gentle scent. Aromatically enticing, the combination of jasmine and iris yields a soft fragrance with a lingering, nutty afternote.
This classy scent is perfect for those rare, once-in-a-lifetime moments, whether you're going on a casual outing or a romantic dinner for two.
---
La Petite Robe Noire
Evolving& Elegant for Any Occasion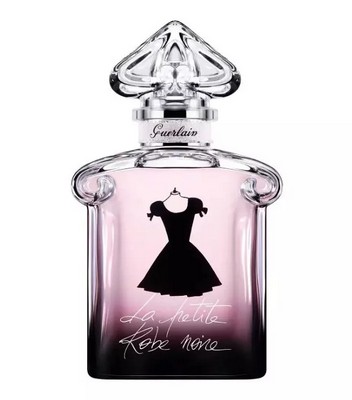 La Petite Robe Noire by Guerlain, which debuted in 2009, was created by perfumer Thiery Wasser. Since then, it has been reimagined in various ways, proving that it is a scent that matures gracefully alongside its wearer.
Black cherry, almond, red berries, and bergamot make up the scent's enticing top notes. Infused with smoky black tea and licorice, the heart notes bloom with a profusion of Turkish and Bulgarian flowers. Tonka bean, iris, vanilla, anise, and patchouli make the aromatic base notes.
This classy fragrance is perfect for a night out on the town or a day at the office.
---
Imperiale
Sovereign Freshness from the Past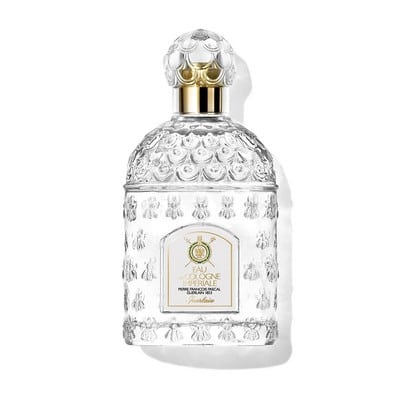 The original by Pierre-François-Pascal Guerlain, Eau de Cologne Imperiale, was created in 1853. It was written primarily for Napoleon III's wife, Empress Eugénie.
The sour end is taken by correctly dosed mild aromatic orange, while the lemon is pushed slightly but obviously from the bergamot-lemon line to the (light) lemon. It's impossible to imagine a more gorgeous basis than the Mayberry-like Tonka bean in the soft spring wind from the cedar forest, with a dash of bitterness from the lemon verbena.
Imperiale is suitable for summer's hottest days. All-inclusive, discreet, and historically interesting.
---
Mitsouko
Modernized Woodsy Vintage Scent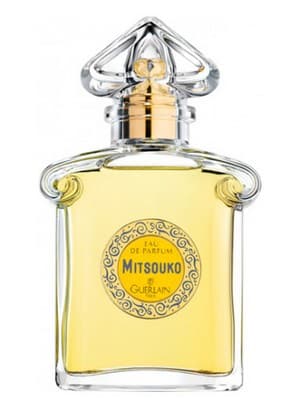 Jacques Guerlain introduced the woodsy aroma of Mitsouko Eau de Parfum in 1919. The story of Mitsouko and her unrequited love in a novel served as inspiration.
The top notes of this fragrance feature bergamot, peach, and citrus. Notes of lilac, jasmine, rose, and ylang-ylang in the fragrance's core will leave you feeling euphoric. Warm, woody, and spicy components like amber, cinnamon, and sandalwood form a fantastic blend in the fragrance's base notes.
This perfume has a strong sillage and is perfect for those times when you want to make a lasting impression.
---
L'instant de Guerlain
Amber Floral Scent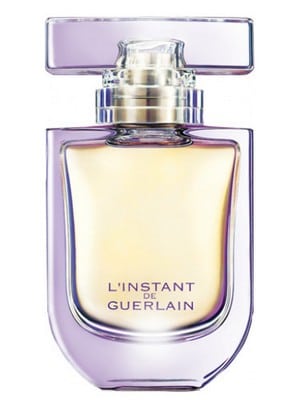 In 2003, Guerlain released a new scent called L'Instant de Guerlain. The fragrance was created by nose expert Maurice Roucel.
The perfume's opening is a bright citrus accord of mandarin and bergamot, while the heart is a radiant white flower accord of magnolia, ylang-ylang, and Sambac jasmine. Afterward, sensuality is added with vanilla, benzoin, and musk, which all leave a mystical, personal impression. The extract is rich, delicate, and powdery, with iris and spice undertones.
It's a light, sophisticated scent, perfect for the transition between spring and fall, that evokes the feeling of a woman's newfound confidence in her femininity.
---
L'Heure Bleue
Elegant Powdery Scent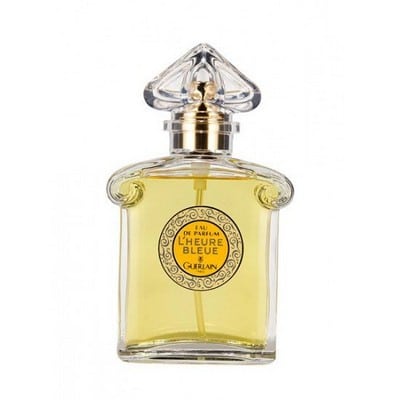 L'heure Bleue of Guerlain was released in 1912, and Jacques Guerlain introduced his groundbreaking perfume. Another timeless favorite, this one has a smooth, velvety aroma.
Spiced-sweet aniseed and zesty bergamot set the tone for the floral heart notes of carnation, violet, tuberose, rose, and neroli. Floral notes that are light and fluffy sit on a base of vanilla, Tonka bean, iris, and benzoin, creating an intriguing, exquisite, and ageless smell.
Mitsouko will remain niche wear for those who aren't acclimated to the previous fashions, despite the fact that it has been modernized.
---
Champs Elysées
The Everyday Pick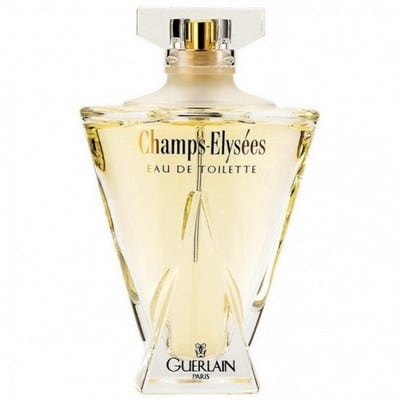 In 1996, Jacques Guerlain and Jean-Paul Guerlain launched a perfume called Champs Elysées, which was the first fragrance to include the mimosa to such a significant effect.
It begins with a scent of soft, sweet fruits with a hint of almond. Subsequently, lilac is the most prominent of the emerging floral notes. Following the lily of the valley comes the mimosa, and everything melts together into this beautiful unity. Though fragrant, it has enough balance to enjoy the fruit overtones.
Champs Elysees has had several versions, but this one has been popular for over 20 years.