Hugo Ferdinand Boss founded Hugo Boss AG in 1924. It is a luxury brand that produces many products, including footwear, clothing, accessories, and fragrances. It is one of the largest German brands, which started by making military uniforms and then settled on making formal suits and other products.
The company started making perfume in 1985 and came out with Boss No. 1, a hugely successful scent that easily captured a lot of people. The success spawned other men's fragrances, and in 1997, they came up with their first perfume, Hugo Women, which started another successful foray into the business. Currently, the brand has 126 fragrances for the Hugo and Boss brands.
Hugo Boss has a huge following because of its variety of scents that evoke youthfulness, confidence, and femininity. The line uses top-notch ingredients to create scents with varying intensities, sillage, and projection.
---
Hugo Boss Deep Red
Fruity Sweet Freshness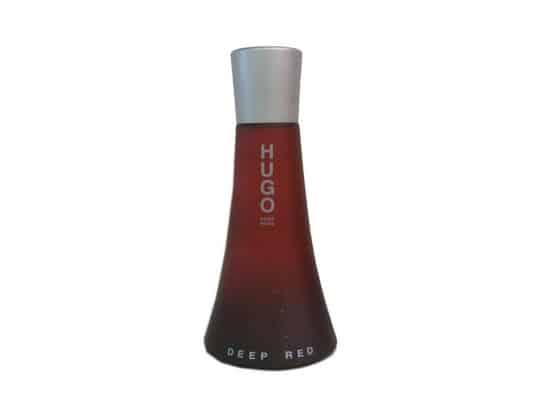 Beatrice Piquet and Alain Astori collaborated to create Hugo Boss Deep Red, and the company released the fragrance in 2001. The scent was described as a fruity sweet concoction reminiscent of feminine strength and allure. Housed in a strikingly red bottle, it underscores the scent's vitality and freshness.
Deep Red opens with citrusy undertones of clementine, black currant, blood orange, pear, and Mandarin orange. The scent evolves as the floral heart notes of freesia, tuberose, hibiscus, ginger, and ginger flower linger before the embracing blend of cedarwood, sandalwood, musk, and vanilla brings comforting warmth.
Deep Red is suitable for nighttime romps during the winter and fall months.
---
Hugo Boss Orange Sunset
Beautifully Mesmerizing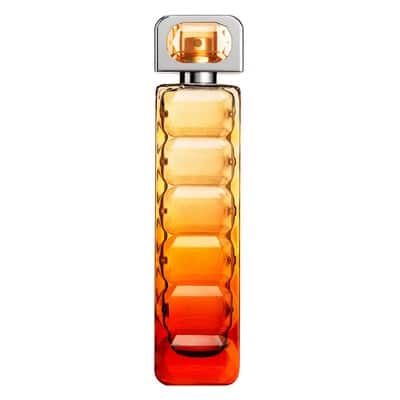 Hugo Boss captured the essence of a sweet fruity floral bouquet in Orange Sunset, which they introduced in 2010. It promised to project elegance and sophistication once the scient is used, and it didn't fail as the fragrance helped exude class and confidence.
Cheerful citrusy notes of bergamot and Mandarin orange greet one who smells the fragrance. Orange Sunset then morphs into a fragrant bouquet of white flowers and hints of rose before the luscious and relaxing undertones of vanilla and sandalwood crop up during the drydown.
It is suitable for summer and spring as the refreshingly floral scent leaves a heady mesmerizing trail.
---
Hugo Boss Femme
Strikingly Feminine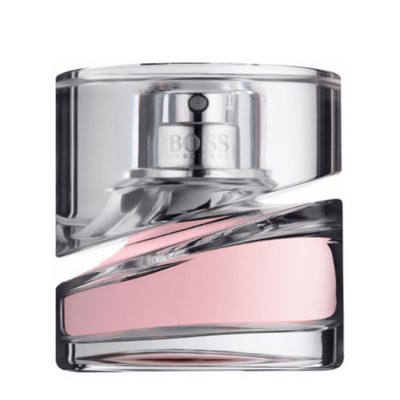 Hugo Boss crafted an ode to the modern woman in 2006 with Femme. Packaged in a strikingly pink glass bottle, Femme captured the essence of femininity which is bright and joyful.
Zesty tangerines, freesia, and blackcurrants mesmerize as the top notes. The scent's heart is comprised of a luscious blend of bridal flowers with lily, jasmine and Bulgarian rose captivating the senses. Finally, the base notes of refreshingly clean lemon tree, apricot, and amber envelop the wearer with a beautiful aura that lasts through the day.
An ideal scent for summer and spring, Femme evokes feelings of joy, as the aroma is quite long-lasting.
---
Boss Intense
Exotic and Sexy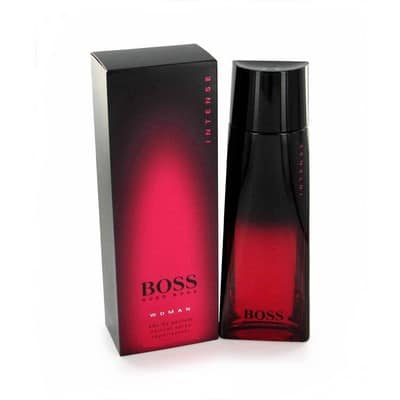 Upon seeing the two-toned glass bottle, women think of sexiness and exotic vibes. Hugo Boss successfully captured the charisma of a confidently sexy woman when Ursula Wandel crafted Intense. The company released it in 2003, and the spicy-sweet aroma captivated audiences worldwide.
Exotic kumquat, heady spices, and refreshing orange blossom perk the senses as the top notes. Lusciously silky vanilla and rose comprise the heart and captivate those who sniff the scent. Crisp, clean, warm undertones of patchouli, amber, and sandalwood round out the perfume.
Perfect for the fall and winter seasons, Boss Intense creates a terrific aura that mesmerizes from day to night.
---
Hugo Boss Hugo XX EDP
Magnetically Attractive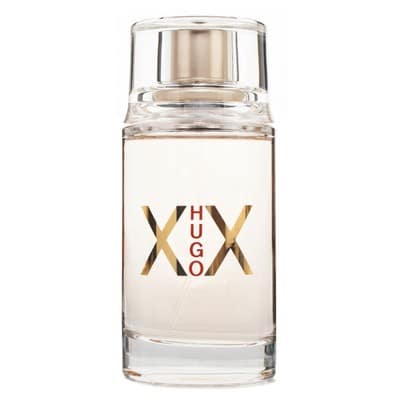 Daphne Bugey came up with the fruity floral fragrance of Hugo XX. The company launched the perfume in 2007 and promised intense magnetism and attraction.
Luscious lychee, blackcurrant, and mandarin oranges open the fragrance and immediately make a good impression. Creamy undertones of jasmine, basmati rice, and roses combine well to enthrall the senses. The crisp base notes of musk, sandalwood, and amber help project a comforting and familiar warmth that appeals to most people.
A terrific scent for spring and summer, Hugo XX is best for daytime wear as it helps exude confidence and sophistication, that's a surefire way to get compliments.
---
Hugo Boss Ma Vie EDP
Beautifully Refreshing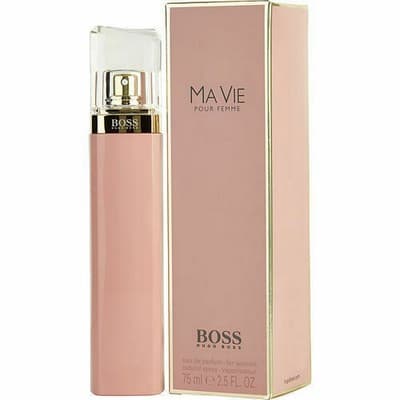 Hugo Boss Ma Vie captured the essence of an independent and confident career woman. The company released the fragrance in 2014 and was part of the lineup that produced Boss Nuit, Boss Jour, and Boss Nuit Intense.
Ma Vie EDP opens with a sweet and refreshing scent of a cactus flower. Then, the fragrance's heart notes of indulgent jasmine, freesia, and rose kick in and continue to seduce those who sniff the scent. Clean and crisp cedar and wood notes mix well with the sweet floral scents and ground the fragrance.
It's a terrific choice for daytime activities during the spring and summer months as the scent refreshes and invigorates.
---
BOSS Nuit Pour Femme
Effortless Sophistication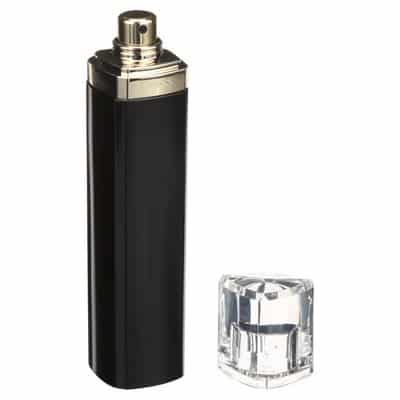 Hugo Boss struck the right chord when they released Nuit Pour Femme, capturing the essence of sophisticated little black dresses and romantic evenings. The company billed the fragrance as a sensual floral scent, and it captivated the audience.
Luscious peaches and aldehydes immediately capture attention as the scent's top notes. Next, sultry jasmine, violets, and white blossoms continue to seduce with their terrific scent. Finally, the fragrance's moss and sandalwood base notes create a sultry warm drydown that appeals to the senses.
Nuit Pour Femme is a terrific scent recommended for day and nighttime romps, especially during the spring and fall months.
---
Hugo Boss The Scent Private Accord for Her
Sweetly Alluring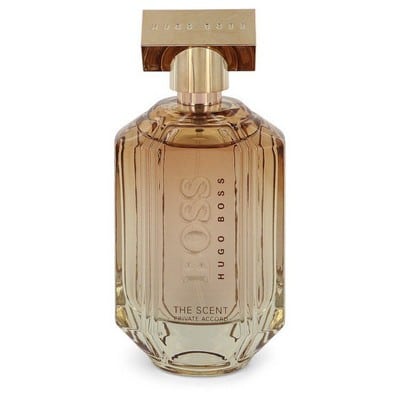 The design house launched Hugo Boss The Scent Private Accord for Her in 2018 alongside the For Him counterpart. Louise Turner was the perfumer who came up with the scent described as sweet gourmand.
The scent opens with Mandarin orange, which is quite refreshing. Then, it eases into middle notes of Osmanthus flower and coffee, revitalizing the senses. Finally, the fragrance finishes with the sweet, smooth, chocolatey blend of roasted tonka bean and cocoa absolute that lingers and leaves a delicious trail.
With the intensely alluring fragrance, this is perfect for autumn and winter and is ideal for day and nighttime wear.
---
Hugo Boss Orange EDP
Brilliantly Versatile
Hugo Boss Orange EDP came in a slender pink-orange-tinged glass flacon, underscoring its youthful brilliance. The design house launched the scent in 2013, and it succeeded in capturing the women with its vibrant versatility.
Sweet and fresh apples and a touch of bergamot start the fragrance before settling into the middle notes of fragrant florals dominated by the delicate smell of white flowers. The base notes of crème brulee, vanilla, sandalwood, and olive tree are a complex but light blend that captivates.
Its versatile and youthful fragrance is suitable for all seasons, although the sillage and projection are quite moderate.
---
Hugo Boss Alive EDP
Aromatically Balanced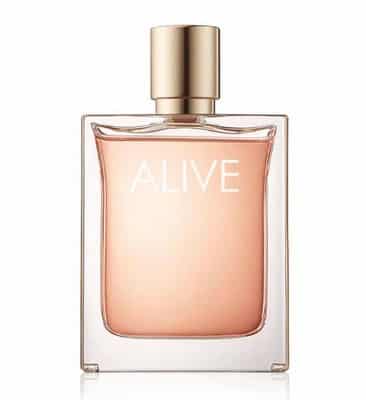 Annick Menardo came up with the aromatically balanced fragrance of Hugo Boss Alive. The scent was introduced in 2020, and it was a huge hit with women who love a beautiful blend of sweetness, comforting warmth, and sharpness. Evoking feelings of confidence, Alive is also rich in magnetism, strength, and femininity.
It starts with crisp undertones of apple coupled with cinnamon, plum, and blackcurrant. Next, the scent eases into notes of jasmine sambac, vanilla, and thyme before settling into the comforting scents of cedarwood, sandalwood, and olivewood.
It is ideal for autumn, spring, and winter days, as the scent, is charming but not dominating.