American singer Katy Perry continues to put out hit after hit, winning fans worldwide. Like other singers and celebrities, she endorsed various products, from fashion to cosmetics to perfumes, food, accessories, and more. Taking off from the success of her product endorsements, she entered the world of perfumes, first collaborating with Firmenich in 2010 before signing a deal with Coty in 2012.
Some celebrities stopped creating perfumes after a few releases. But Katy Perry continues to launch perfumes regularly, proof that she found success in this business, partly due to her worldwide success. Her perfumes are extensions of her vibrant energy and unique style, defining her femininity and passion with a range of sweet and quirky fragrances with the right combination of woods, exotic florals, and luscious fruits.
Katy Perry has a fragrance for her diverse audiences. She has fragrances for the younger market and a list of brands for the more mature audience, satisfying them with sophisticated, eccentric, and alluring scents.
---
Purr Eau de Parfum
Popular & Versatile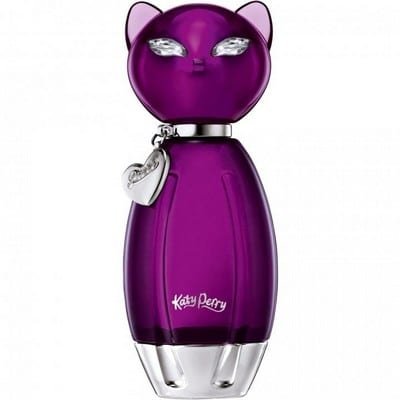 Purr Eau de Parfum, launched in 2010, is Katy Perry's debut scent. The fragrance starts with the aromas of apple, peach, gardenia, and jasmine, along with bamboo, coconut, and vanilla.
The scent is light and clean, perfect for its younger audience, just like Meow. You first smell the aroma of apple, but peach becomes the more dominant scent later. During dry down, the scents that linger are creamy coconut and vanilla.
It is a bit mature, but the vibe is youthful. It's good for daytime and casual wear from fall to spring.
---
Meow Eau De Parfum
Sweet and Citrusy Fragrance for the Younger Set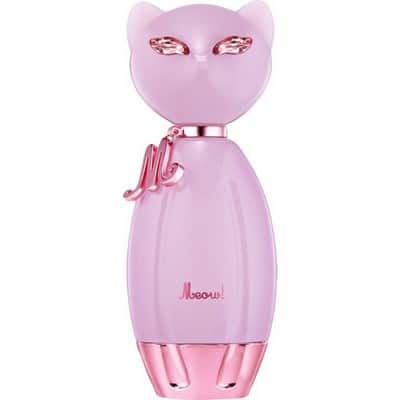 Meow Eau de Parfum smells of tangerine and pear before releasing the aroma of vanilla. The fragrance is sweet and youthful with a touch of musk. It hit the market in 2011.
Vanilla dominates the fragrance, but you can get a whiff of gardenia, jasmine, orange flower, and honeysuckle at different times. The perfume lasts for about six hours, which is a good performance.
Meow Eau de Parfum is a light fragrance, which you can easily wear any day, but will particularly smell great on warmer days.
---
Mad Love Eau de Parfum
A Fruity Floral Summer Fragrance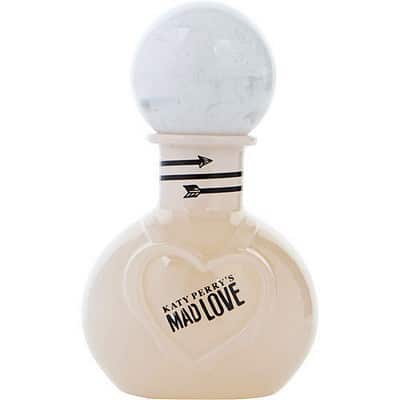 Mad Love Eau de Parfum is a fruity gourmand perfume with the delicious smell of coconut, grapefruit, and strawberry. The scent transforms into apple sorbet with nuances of floral notes from peony and jasmine on the dry down.
Katy Perry launched Mad Love Eau de Parfum in 2016. It is a romantic and girly fragrance with a hint of seductiveness in coconut and musk scents.
Mad Love is a summer fragrance lasting about four to five hours. Wearing it evokes a feeling of being on a tropical beach.
---
Killer Queen Eau de Parfum
Good Enough to Eat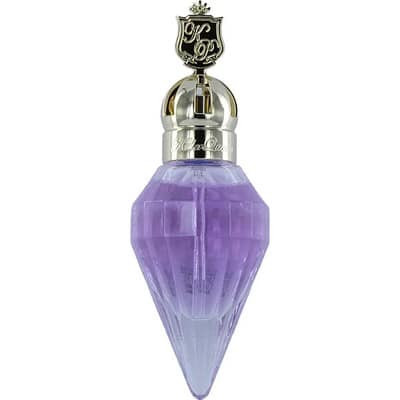 Katy Perry's Killer Queen Eau de Parfum is a gourmet blend of berries and other fruits, praline, and bergamot. Killer Queen is a sweet fragrance, but patchouli gives it a bit of maturity.
The floral notes in Killer Queen are lighter but sensual, with the blend of berries and the edgy scent of exotic flowers, and the complexity of cashmeran.
Killer Queen is a luxurious fragrance suitable for cold weather but more apt for daytime wear. However, the scent only stays on the skin for about three hours.
---
Royal Revolution Eau de Parfum
Underrated Yet Unique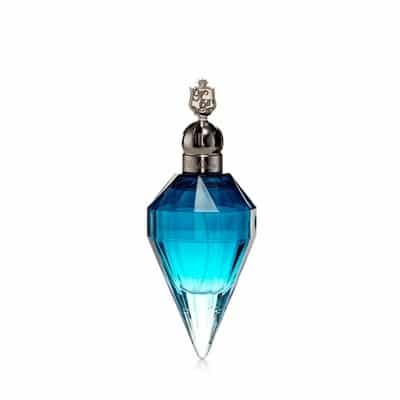 Royal Revolution Eau de Parfum is the third in the Killer Queen series. It carries the theme of royalty and majesty. Light and casual, it has the enticing aromas of delicate freesia with the soft tartness and sweetness of pomegranate, making the perfume very feminine.
The unique scents of sandalwood, jasmine, and orange flower dry down to the scent of vanilla orchid and blackthorn for a smooth-as-velvet finish.
Royal Revolution Eau de Parfum is not long-lasting. However, it is suitable for daytime wear at any time of the year.
---
Indivisible Eau de Parfum
Flexible Enough for Most Occasions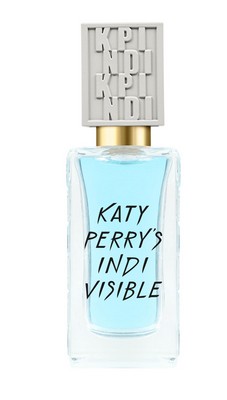 Katy Perry released Indivisible Eau de Parfum in 2018. The perfume is a unique fragrance with invigorating freshness.
The aromas of rum, purple plum, and pink pepper give Indivisible an exhilarating and warming smell that greets you softly before it transitions to the soothing blend of vanilla, coconut, gardenia, and tonka bean. Finally, musk, patchouli, and sandalwood end the gourmand notes.
The overall scent takes you to romantic sunsets at tropical beaches. It is perfect for summer and autumn afternoon gatherings with friends that could lead to unplanned early evening dinners.
---
Indi Eau de Parfum
Project Your Individuality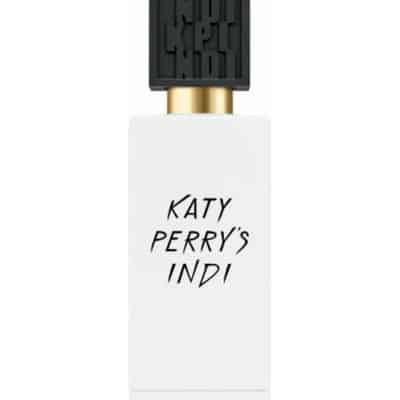 Indi Eau de Parfum, launched in 2017, put Katy Perry in the league of honored perfumers. The fragrance is luscious, sweet, and deep.
It combines the aromas of Italian bergamot, white tea, and oriental plum, followed by white cedarwood, cyclamen, and muguet. Various musks round up the fragrance that envelopes the wearer in a sensual and dreamy feeling that is airy and clean.
You can wear Indi Eau de Parfum day or night throughout the year, but it is a perfect fragrance to wear in autumn when the weather is often pleasantly cool.
---
Killer Queen Oh So Sheer Eau de Parfum
Fabulous & Uplifting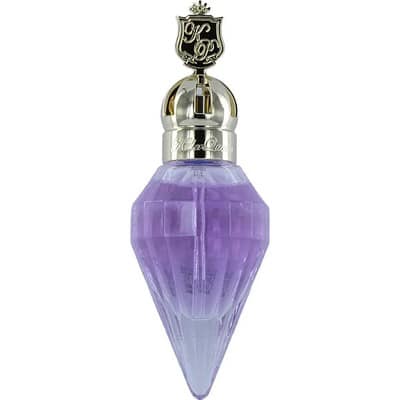 Killer Queen Oh So Sheer is a floral, fruity gourmand fragrance Laurent Le Guernec created for Katy Perry in 2014. It opens with the aromas of juicy berries, turns floral, then leaves the lingering and lasting scent of caramel elements for a sweet, musky fragrance.
Killer Queen Oh So Sheer was a limited edition for the spring and summer seasons of 2014, but you can still find it in stores today.
Wear it during the day in spring and summer to keep you in a good mood.
---
Mad Potion Eau de Parfum
Exotic Vanilla Fiesta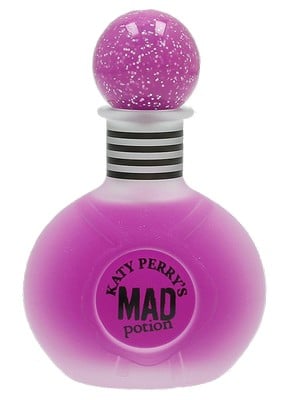 Perfumers Stephen Nilsen and Natasha Côté created Katy Perry's Mad Potion Eau de Parfum in 2015. It is a gourmand fragrance with an overall vanilla aroma, giving off a warm, comfortable, yet seductive feeling.
The exotic aromas of vanilla from Mexico, Tahiti, and Madagascar dominate in Mad Potion, carefully blended with white peony, apple musk, and jasmine scents.
Its longevity is about two to three hours, so you must re-apply it often or extend the fragrance by layering. Mad Potion is a good scent to wear during the colder months.
---
Spring Reign Eau de Parfum
Feminine & Classy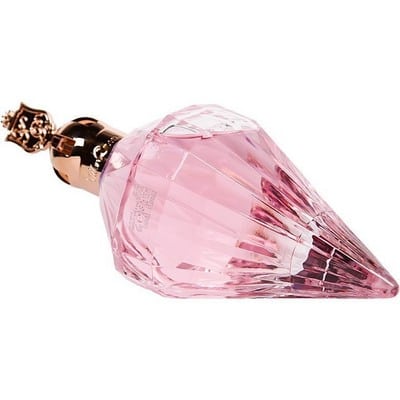 In 2015, Katy Perry launched Spring Reign, a romantic floral perfume celebrating spring flowers. The fragrance is delicate and fresh, and the floral ingredients give it an oriental aroma.
Spring Reign is a fragrance for all ages because it smells playful, fruity, and powdery. The scent gives off the feeling of rebirth and the burst of fragrance from spring flowers.
The classy perfume is bright and revitalizing and works well for daytime use on warm days. It has enough sexy notes to make it a good fragrance to wear on romantic lunch dates.