Mariah Carey is a world-famous diva renowned for her ability to hit high notes and captivate audiences with her lyrics and aura. She has received numerous awards and recognition for her talent as she was named Artist of the Decade in the 1990s and Top-Selling Female Artist of the Millennium. She started her perfume line in 2007 with the scent M in collaboration with Elizabeth Arden.
Mariah Carey's diverse lineup of products reflects her interests and advocacies. Her fragrances evoke good memories as the smells are a beautiful combination of fruits, florals, and other gorgeous notes that complement the wearer. Some consider her initial offering, M with Elizabeth Arden, as her best fragrance, but her scents keep evolving.
Her fragrances are distinctly feminine, refreshingly fruity, and floral and tend to revitalize the wearer. It also captivates anyone who smells the sillage, and the longevity is more than acceptable.
---
Forever
Opulent Sensuality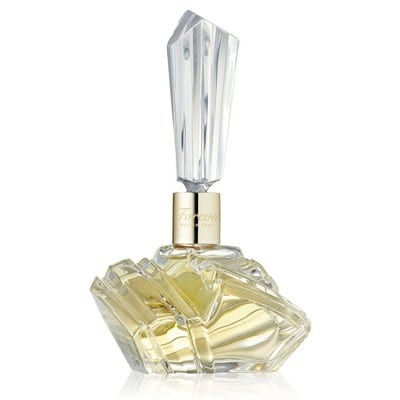 A scent introduced in 2009, Forever was billed as a floral fragrance evoking happy memories. Created in connection with Olivier Gillotin, the fragrance is housed in an art deco-style clear bottle with a beautiful cap and golden bottleneck, which underscored the perfume's sophistication.
Its top notes of granny smith apples, lotus, and neroli uplift the wearer's spirit as it provides an immediate refreshing scent. Its heart notes evoke a sensual feeling as it's comprised of tuberose, gardenia, and lily of the valley. The musk, patchouli, and sandalwood base notes evoke calmness and comfort.
Perfect for everyday use as its sensual and energetic vibe captures attention.
---
Dreams
Great for the Office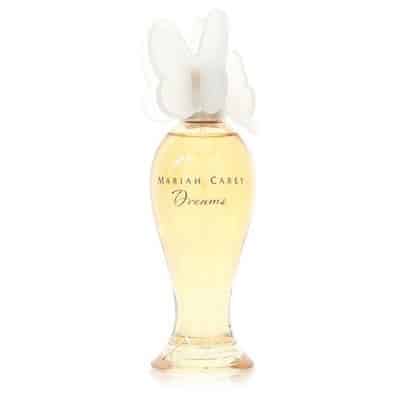 Released in 2013, Dreams by Mariah Carey promised a sensual floral scent that reminds people of highlights in their lives. Presented in a bottle designed to look like a champagne flute with butterflies entwined on its cap, this exuded the fragrance's decadence and unforgettability.
The scent's head of floral gourmand envelops the wearer with comfortable warmth and sensuality. The beautiful heady scents of honeysuckle, freesia, and lily of the valley comprise the heart, and the sweet base of vanilla, tonka bean, patchouli, and musk are perfect to end the day.
It is ideal for office and after-office use as its longevity and sillage are exceptional.
---
Lollipop Bling Honey
Best for Casual Romps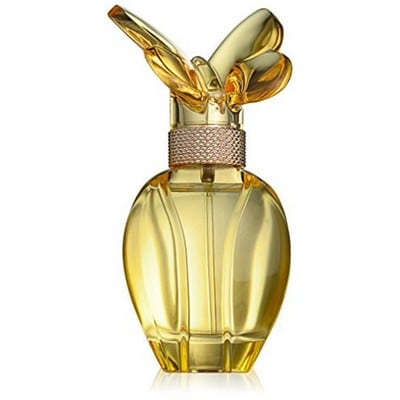 Lollipop Bling Honey was released in 2010 and was the creation of Laurent Le Guernec. It was touted as a bright and sunny fragrance that evoked happy memories. Housed in a delicate-looking bottle designed by Jean Antretter, it underscored the fragrance's terrific balance.
The fresh, crisp head notes of pineapple, Amalfi lemon, and passionfruit draw attention. The middle notes of lily, freesia, and ginger evoke aromatic softness and sweetness. Base notes of honey, musk, and lime blossom ring out the bright scent at day's end.
It is perfect to use during spring and summer and for friendly, casual date nights with friends.
---
Lollipop Bling Ribbon
Great for Leisurely Activities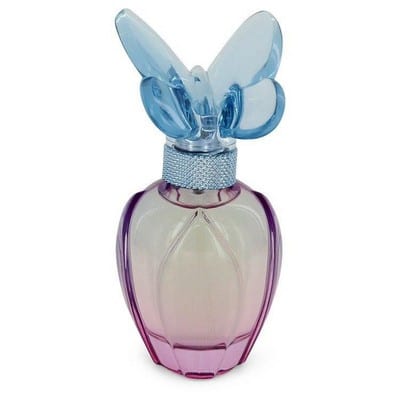 Introduced in 2010, Lollipop Bling Ribbon was billed as a fruity floral fragrance and was created by Carey herself. Beautifully presented in a blue raspberry-inspired bottle with a butterfly top, it evoked fun and youthfulness.
The scent opens with sweet fragrant head notes of fresh cucumbers, melons, and raspberries. It evolves into a sultry blend of hortensia, jasmine, and lotus, which evokes freshness and resilience. The fragrance's base notes of sugar, woodsy notes, and musk envelop the wearer with a rich elegance.
It is suitable for spring and summer and leisurely activities with friends and family.
---
Luscious Pink
Vibrant Sophistication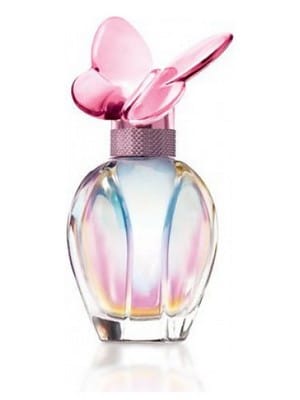 Released in 2008, Luscious Pink was touted as a modern take on a vintage and classic fragrance. Created by Loc Dong and Carlos Benaim, it's presented in a Jean Antretter-designed bottle with a single butterfly atop the cap giving it a youthful sophistication that underscores its floral scent.
The scent begins with the pleasurably complex head notes of Bellini, sea notes, and bergamot. It continues to impress with the floral blend of lily of the valley, tiare flower, and peony. Base notes of sandalwood, white musk, and other woody notes provide warmth and comfort.
It is best used for spring and summer time as well as for casual gatherings.
---
Lollipop Bling Mine Again
Sweet & Fruity Blend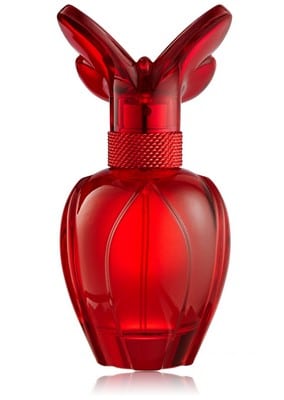 Mariah Carey released Lollipop Bling Mine Again in 2010, and the scent was described as sweet and fruity. They presented the fragrance in a red cotton candy-inspired bottle with the iconic butterfly top, which underscored its sweet loveliness.
It starts with a sweet, complex blend of heliotrope, red currants, and blood orange. Next, it moves to provide luscious scents of chocolate, raspberry, cotton candy, and magnolia as the heart notes. Finally, the musk, vanilla, and tonka bean base notes remind people of comfortable and relaxing warmth.
Spray it during the fall and spring months, as it's sure to energize and attract with its pleasant sillage.
---
Lollipop Splash Inseparable
Great for Daily Use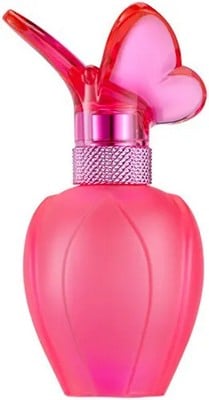 Released in 2011 and described as a gorgeous fruity-floral fragrance, Lollipop Splash Inseparable was created by Mariah Carey herself. It is presented in a pink bottle with the signature butterfly cap, and its simplicity belied the fragrance's complexity.
Inseparable begins with lush, crisp, and fragrant head notes comprised of mango, raspberry, and pear. The heart notes are a heady floral mix of jasmine, African orange flower, and plum blossoms, cutting a clean baby-like scent. The base notes of sandalwood, praline, and vanilla exude a syrupy, rich, and comforting warmth.
It is a great daily scent for summer and spring, as its complexity is sure to be uniquely appealing.
---
Lollipop Splash Never Forget You
Intense Fragrance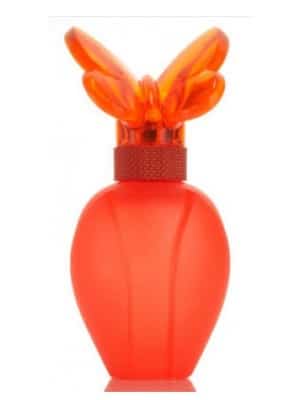 A citrusy floral fragrance released in 2011 and was a collaboration between Claude Dir and Marypierre Julien, Lollipop Splash Never Forget You was considered an amazing daily wear scent. It is housed in a simple red-orange bottle, underscoring the scent's understated sophistication.
It starts with citrusy tones of raspberry, pineapple, mandarin orange, and other sweet notes. Next, it moves to a heady floral fragrance dominated by notes of lily of the valley, wisteria, and peony. Base notes of musk, vanilla, sugar, and other woodsy notes captivate after the dry down.
It is suitable for regular use during the spring and summer as its scent dominates the air.
---
M by Mariah Carey Gold Deluxe Edition
Best for Winter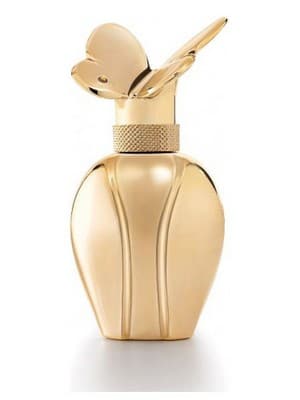 M by Mariah Carey Gold Deluxe Edition was created by Carlos Benaim and Loc Dong and launched in 2008. It was billed to be a more sensual fragrance than the first perfume, and its concentration was much higher. Presented in a gold-colored glass bottle similar to the first fragrance, its appearance underscored its opulence.
It opens with hints of seawater and marshmallow before captivating with its heart notes of gardenia and tiare flower. It ends with the clean scent of amber, musk, and patchouli, which reminds people of comforting warmth.
It is best suited for winter months as the temperature enhances the fragrance.
---
M Ultra Pink
Versatile Summer Scent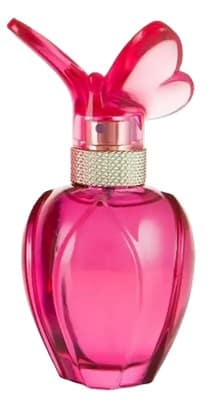 Another fragrance launched in 2009 and was touted to be a flirtatious fragrance, M Ultra Pink, succeeded in captivating people. Presented in an ultra-pink bottle with the brand's signature cap, it was a terrific successor to perfume M.
Hints of sea notes, black currant, and wild berries mix well as the scent's top notes and captures people's attention. The scent's heart notes are a beautiful combination of tiare flower, pink peony, and cherry blossoms. It ends with the clean and crisp base notes of amber, woodsy notes, and white musk.
It is perfect for the summer months as the scent fills the air with a terrific sillage that refreshes.