Nicki Minaj has been a household name since she skyrocketed to fame as a rapper in 2010. Since then, she's branched out into other areas, such as fashion and beauty, and released her fragrance line in 2012.
Nicki Minaj's signature scents are often inspired by her music, performance, and bold style. Each fragrance is composed of an array of captivating ingredients, carefully selected to reflect her lovely personality. From juicy tropical fruits used to recreate summery notes to sensual exotic flowers that create hypnotic overtones and sweet sugary notes for a unique texture, these fragrances present a complex olfactory journey. The bottles reflect glamorous yet daring designs, making them objects of desire.
Her perfumes are highly sought after for their unapologetically feminine vibe. With such a wide array of alluring fragrances available, there is sure to be something for everyone searching for a special scent to add to their collection.
---
Minajesty Eau de Parfum
Easy to Wear Fruity Fragrance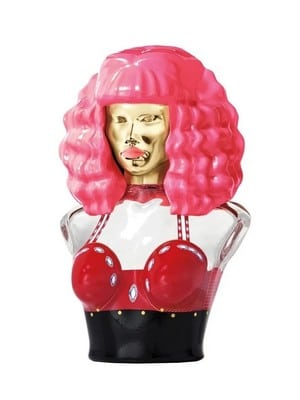 Launched in 2013, Minajesty is a delicate yet classy perfume composed of various fruity and woody scents.
Providing an exciting olfactive journey, it opens with top notes of red berries, lemon, and peach, followed by middle notes of frangipani, orchid, and magnolia. The base consists of tonka bean, vanilla, and musk to give an overall musky and citrusy scent.
Perfect for a spring day, Minajesty combines these vibrant notes to create an enchanting fragrance with powdery undertones. This is an excellent blind buy. Fans of light, clean, and crisp perfumes are sure to love this blend of sweet and woody aromas.
---
Minajesty Exotic Edition
Summer Vacation in a Bottle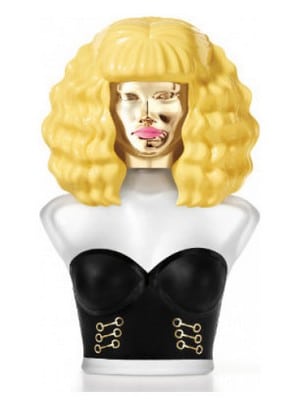 Minajesty Exotic Edition, launched in 2014, is an exquisite blend of mango and orange notes with hints of lavender and tiger lily that develops into a dreamy base of musk and cedar.
Its fun, summery scent adds an exciting twist to the Minajesty fragrance family. The syrupy sweet open notes of mango give way to a lighter, more playful take on the classic scent.
While the initial aroma may be sharp, over time, it mellows out to create a pleasant fruity palette that is soft and not too offensive, making it a great choice for anyone who prefers lighter fragrances.
---
Onika
Feminine & Flirty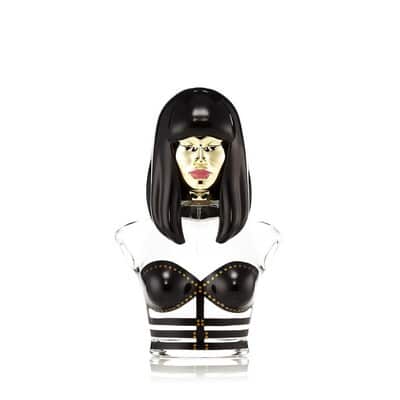 Launched in 2014, Nicki Minaj's Onika perfume is an alluring scent that transports the wearer to a mystical garden.
Citrusy top notes and base notes of sugar cane, white musk, and cedar make this scent truly remarkable. Described by Nicki herself as smelling "like angels in the garden of perfection," wearers encounter a huge blast of juicy, sweet pear leading to a delightful ending of sugary musk.
The elegant bottle's black and gold detailing adds to the sophisticated feel. Perfect for everyday wearability but with just enough excitement to make it stand out from the crowd, Onika will always be noticed.
---
Pink Friday
Sultry Floral Scent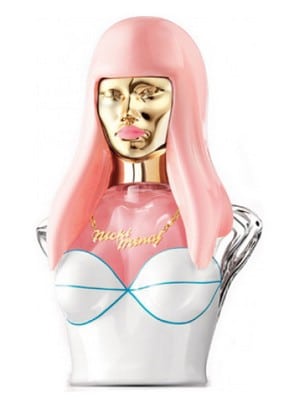 Pink Friday was released in 2012 and created by perfumery house Firmenich.
It draws influence from the floral and musky palette, featuring top notes of star fruit, Italian mandarin, and boysenberry, a hybrid of blackberry and raspberry. The heart adds lotus and jasmine petals, while the base consists of caramelized pear, vanilla, musk, and woody notes.
Complimented with an impressive lifespan and affordability, this gourmand scent is easy to wear in any season, day or night. It expertly balances fruity sweetness with soft hints of florals and woods; Pink Friday is sure to enamor your senses with its unforgettable aroma.
---
Pink Friday Deluxe Edition
Strong & Sexy Fragrance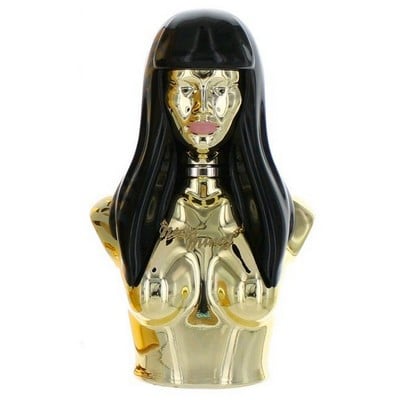 Nicki Minaj's Pink Friday Deluxe Edition was released in 2013, featuring luxurious ingredients that remain mostly unchanged from the original version.
These include notes of star fruit, mandarin, boysenberry hybrid, lotus, jasmine, and caramelized pear. Musk and woody notes unite for a special scent in this deluxe edition. Upon the first spritz, you'll notice a sweet yet sophisticated woodsy and caramel aroma instead of juvenile or fruity floral celebrity fragrances.
The strongest characterizing scents of Nicki Minaj's Pink Friday Deluxe Edition are the caramel notes, musk, and the prominent woodsy note. Together they create a distinctly modern fragrance for women.
---
Pink Friday Special Edition
Gourmand Extraordinaire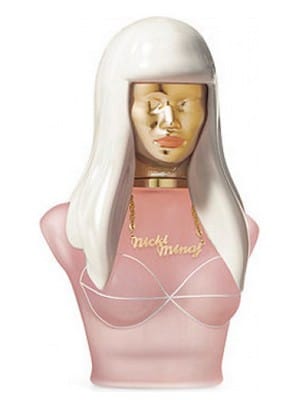 Pink Friday Special Edition is a green apple-scented eau de toilette, expressing white raspberry with vibrant sharpness.
It features a complex composition of fruity and floral notes; top notes of grapefruit and apple; middle notes of jasmine, water lily, and honeysuckle; and base notes of caramel, pear, and musk. Pink Friday Special Edition is the only eau de toilette from the collection, making it more special.
The aroma is fruity gourmand combined with woody accords, while the sweetness is toned down from the original Pink Friday. If you're looking for a majestic fragrance with remarkable qualities, Pink Friday Special Edition is worth considering.
---
Queen
Majestic Pear Candy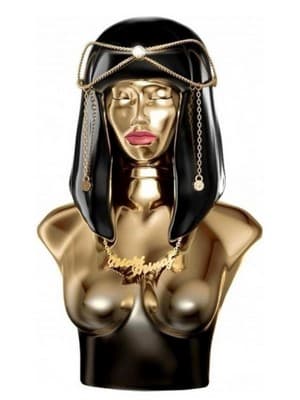 Queen is a luxurious blend of floral and gourmand scents that would be perfect for any woman of any age.
The combination of pear and bergamot at the top notes is a real treat for your nose, while the floral notes in the middle create an elegant yet subdued scent. As you move down to the base notes, musk and praline add an indulgent finish, creating a sophisticated and memorable scent.
Queen has an impressive sillage and performance. While it might be suitable for spring and summer, its spicy woody tones make it more fitting for those colder fall and winter days.
---
The Pinkprint
'Straight Out of the Shower' Fragrance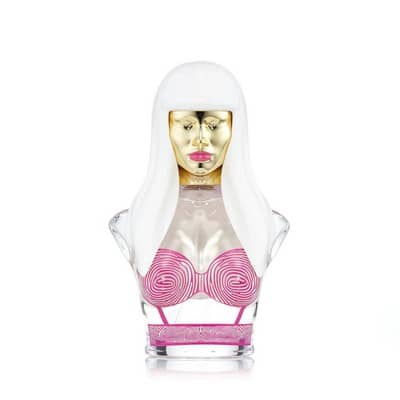 The Pinkprint by Nicki Minaj was launched in 2015 and is aptly named after her album and tour of that year.
Packaged in an iconic doll-shaped bottle, The Pinkprint opens with an inspiring mix of bergamot, pink grapefruit, and passion fruit. A bouquet of sweet florals forms the heart as frangipani, heliotrope, nectarine, orange blossom, and rose are blended. Hints of warm and woodsy notes peak with driftwood accord, patchouli, coconut, sandalwood, and skin musk on the dry down.
On the first spray, it has a soapy sweetness that dries to a light tropical coconut scent—the perfect accompaniment to your summer wardrobe.
---
Trini Girl
Juicy Magic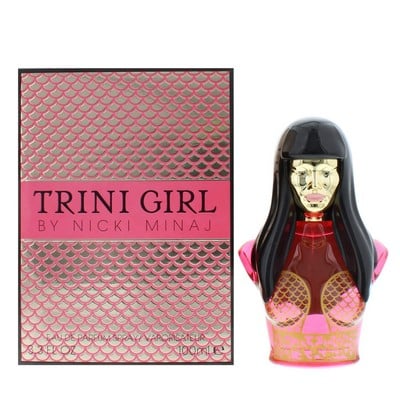 Trini Girl was launched in 2016, paying homage to the Trinidadian origins of Nicki Minaj. Produced by Elizabeth Arden, this floral-fruity blend is bound to make a lasting impression.
The top notes create a light and happy floral effect. The heart notes of apple blossom, dewy leaves, and Trinidadian Chaconia flower come through before finally being rounded off by white musk and coconut cream.
This sweet fruity combination is perfect for summertime wear and creates an olfactory experience that is pleasing and subdued. Trini Girl captures what it means to be Trinidadian—fun, vibrant, and daring without ever crossing into the ostentatious territory.