Maison Martin Margiela is a high-end fashion and fragrance house, with its earliest edition of perfumes released in 2010. In 2022, the newest edition of their cult-loved line, Replica, was launched. The Replica range shows the brand's venture into a new market while utilizing exquisite craftsmanship.
Replica fragrances feature natural notes that evoke nostalgia and comfort. The scents for men, in particular, have been crafted to be an ode to the modern man's sense of style. Each scent has a unique personality that can be seen from its visual design and scent profile. For example, Beach Walk was inspired by long walks on the beach with notes of bergamot, coconut milk, lemon, and musk, while By The Fireplace captures the warmth of family gatherings with jasmine tea leaves, chestnut cream, and smoky wood.
Maison Margiela's Replica fragrance range is truly one-of-a-kind, as it offers superior quality fragrances at an affordable price.
---
Bubble Bath Fragrance
Simple, Fresh & Clean Vibes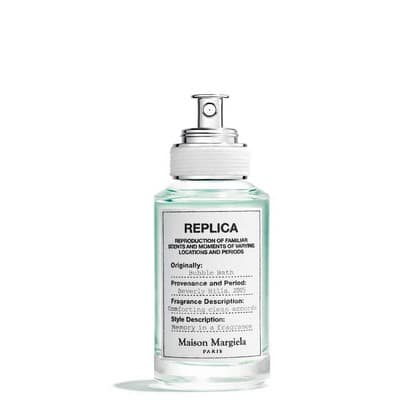 Replica Bubble Bath is a gentle, stunning fragrance that combines top notes of soap and bergamot with the middle notes of lavender, jasmine, and rose.
The base notes of this light, luxurious and clean cologne consist of coconut, white musk, and patchouli to add a unique dimension. It opens with an initial soft burst of sweet coconut, musk, and rose. Then, the scent transitions into a combination of the soapy top note intertwined with the gentle florals of lavender and jasmine.
Comforting yet sophisticated in its simplicity, Replica Bubble Bath is the perfect everyday scent, pleasingly light yet long-lasting throughout the day.
---
Jazz Club
Tranquil Sweetness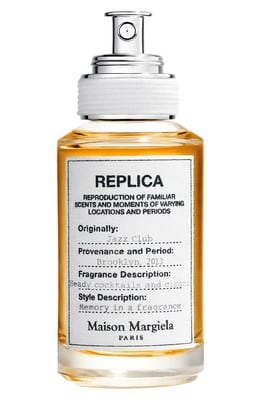 Jazz Club is an incredibly nice fragrance with a very sweet tobacco scent.
Its opening is quite fresh but quickly transitions to a more sweet, boozy version, invoking the atmosphere of a jazz club. The dry down is remarkable, with a beautiful mix of tobacco, vanilla, and spice. The notes included in this fascinating blend are neroli, Spanish lemon, clary sage, vetiver, rum, tobacco leaves, vanilla, and styrax at the base.
Maison Margiela Replica Jazz Club is perfect for cold weather as it envelops you in its intoxicating smell, making any evening feel like a night at a jazz club.
---
By the Fireplace
Toasted Vanilla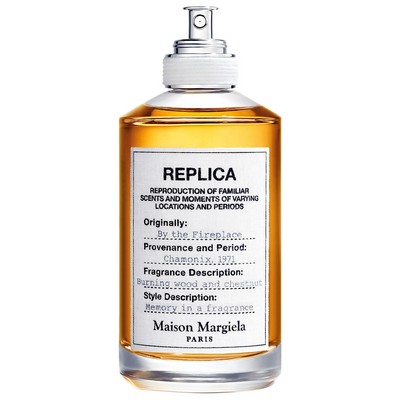 By the Fireplace was released in 2015, masterfully crafted by the perfumer Marie Salamagne.
During winter, when the cold air carries that unmistakably smoky and woody aroma, this fragrance will stand out with its remarkable sweetness, nutty tones, and syrupy feel. A true lover of gourmand scents will savor its vanilla dry down reminiscent of a toasted marshmallow.
Nevertheless, Replica By the Fireplace gives unparalleled warmth for those looking for comfort during colder months, making it a great purchase. In terms of sillage and longevity, one can expect moderate projection for 3 to 4 hours while its endurance runs roughly 6 to 8 hours.
---
Autumn Vibes
Fresh Fallen Leaves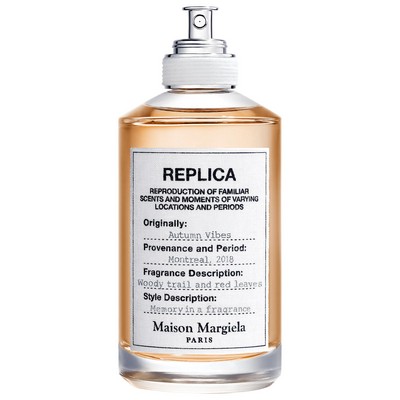 The acclaimed perfumer Fanny Bal is the creative mind behind the Autumn Vibes fragrance, launched in 2021.
Developed and crafted with great care, this crisp, woody scent expertly combines spicy cardamom alongside warm notes of cedarwood and moss accord to construct a composition that richly captures the essence of a perfect autumn day. Heady and hypnotic from the start, this fragrance slowly transitions from its initial spiciness to a fresher, woodier drydown that sits close to the skin.
With its decent longevity and interesting evolution on the skin, it's no surprise that Autumn Vibes has become a favorite among scent connoisseurs.
---
At The Barber's
Quintessential Everyday Fragrance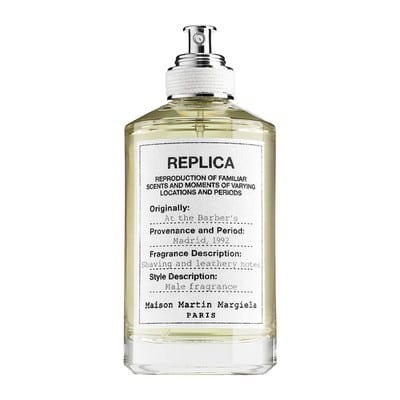 At The Barber's, launched in 2014 with veteran perfumer Louise Turner at the helm, is a modern take on traditional fougère perfumery.
Expect a spicy, green aromatic blend of basil, lavender, orange, and rosemary, which is perfect for a morning stroll in spring as it's quite clean and fresh without overpowering. On the skin, you'll experience an invigorating bitter orange opening which settles into a soapy lavender midpoint with subtle hints of leather developing during the drydown phase.
Men can expect the sophisticated scent of At The Barber's to last up to eight hours with moderate projection for one to two hours.
---
Whispers In The Library
Powdery Vanilla Kick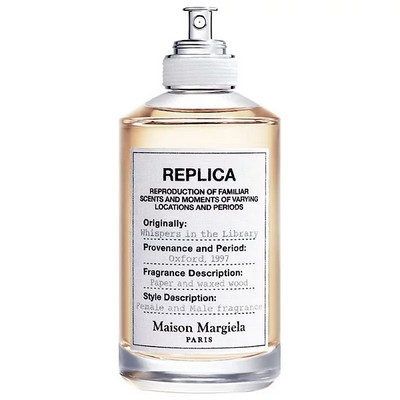 Whispers In The Library was launched in 2019 and is a low-key, well-blended, balanced everyday vanilla scent.
It features top notes of pepper, middle notes of precious woods, and bottom notes of cedar. It creates a warm, sweet, peppery aroma that is the ideal autumn scent for those wanting to feel cozy. In addition, it has a soft projection that lasts up to eight hours, making it highly suitable for autumn.
The appeal comes from its high-quality nature and mass appeal. It changes throughout the day, making it wearable with a fresh peppery smell at first that dries down to something powdery.
---
Lazy Sunday Morning
Delicate Perfection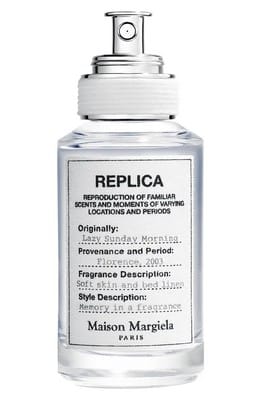 Lazy Sunday Morning, launched in 2013 and crafted by the nose of Louise Turner, is a very soft and light scent with a fresh laundry aroma.
Its gentle, seductive qualities make it ideal for both summer and winter wear, providing the right subtlety for work settings. Upon the first spray, notes of powdery fresh linen and flowers dominate with endnotes of rose, pear, and orange blossom, creating a warm and inviting dryer sheet-type smell – not too musky but just enough to keep it refreshingly crisp.
Lazy Sunday Morning is captivating and sure to leave a lasting impression wherever it goes.
---
Sailing Day
Pleasant Aquatic Scent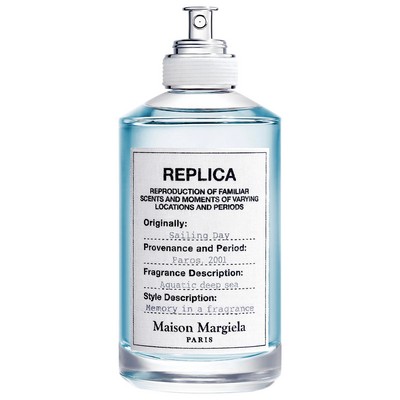 Sailing Day is a captivating scent that is sure to invigorate and refresh. Combining aquatic and aldehydes notes, the aroma of the sea flows throughout.
Delicate hints of coriander and absolute iris bring this fragrance together, leaving wearers feeling connected to the vast and deep blue expanse of an unending horizon. The drydown encases wearers in an aromatic blend of woody notes and cucumber, suitable for warm springs and sultry summer days.
Through this combination of complex flavors, Sailing Day showers the senses with a salty sweetness, just like a moment on the waves before calming down with its well-rounded base notes.
---
Music Festival
Patchouli Explosion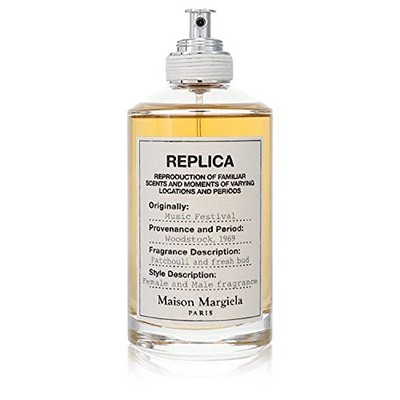 Maison Margiela has truly outdone itself with the 2017 release of Music Festival. The fragrance perfectly recreates the natural, funky, and casual ambience at music festivals.
It begins with a blend of sharp cannabis and crisp apple aromas and moves through a warm, woody patchouli base. Rum, tobacco, and amber play off the strong wood notes to provide an unmistakably unique scent.
With moderate longevity that is best worn during the daytime, Music Festival will set the tone for your next outdoor adventure or live event experience. This captivating fragrance promises to leave a lasting impression on those around you.
---
Flying
Smells Like Heaven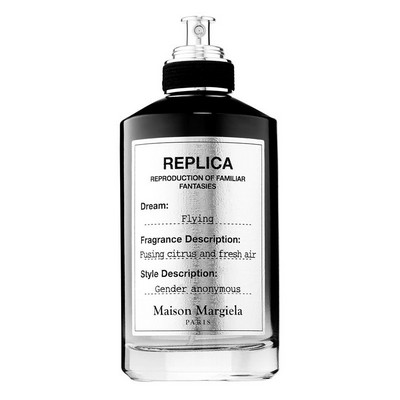 Flying was launched in 2016, providing a unique and inviting aroma with an expert blend of top notes, including bergamot, orange blossom, and petitgrain; middle notes of almond blossom, neroli, and ylang-ylang, and ozonic baste notes of moss and musk.
These components work together to provide a luxurious and safe scent. For those looking for a more distinctive fragrance, the almond blossom and ozonic notes add a subtle edge to provide a light yet powerful scent.
Flying is unique with its delightfully clean neroli aroma, bright aldehyde crispness, sweet floral, and subtle spicy undertone, making it the perfect choice for daily wear.
---
Under The Lemon Tree
The Perfect Citrus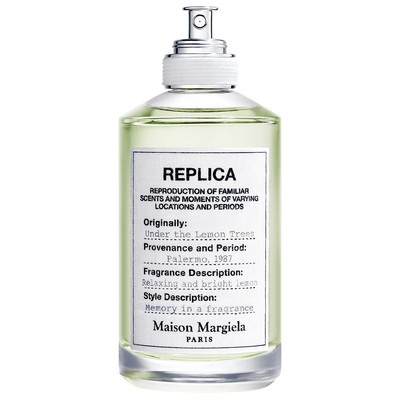 Under The Lemon Tree is a summer and spring fragrance that provides a pleasant scent experience.
This vivid citrus-based scent envelops the user with a sharp lime and orange aroma that concludes with an herbal dry down. Its complexity lies within the addition of petitgrain, lending a woody note and cardamom amplifying the smell of trees. Green tea and coriander soften the citrus notes, while white musk and cedar provide a subtle base to conclude this enchanting fragrance.
An excellent choice for those seeking compliments, Under The Lemon Tree is sure to tantalize the senses of all who encounter its lovely aroma.
---
Wicked Love
Romantic Rose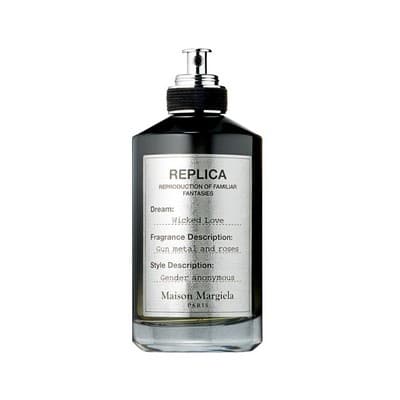 Wicked Love, launched in 2017, evokes a fresh and aromatic experience through its gunmetal and roses aroma.
Its top notes of basil, green pepper, and water hyacinth offer a slightly spicy and herb-filled opening. It is followed by centifolia, Egyptian jasmine, rose essence, and centifolia rose absolute heart notes reminiscent of an early morning walk through a rose garden in summer after a heavy rain. Finally, the base notes of cedarwood, vetiver and white musk provide robust depth, which helps amplify the fragrance's mature longevity.
With an average sillage of 10 to 12 hour's Wicked Love is sure to make an impression.