Salvatore Ferragamo started his business in 1927 in Naples, Italy, and quickly made a name for himself with his patent shoemaking craftsmanship. Currently synonymous with one of the most reputable luxury brands worldwide, the Ferragamo brand is known for its ingenious style and top-notch quality. Although he died in 1960, his family continued his legacy.
While the company is popular for its selection of items such as handbags, shoes, and other accessories, its perfume line started in 1998. Their scents are carefully crafted and have a great quality that underscores the brand's luxury. Although considered eccentric, Ferragamo's perfumes evoke elegant sophistication with hints of playful and sometimes mysterious vibes.
Ferragamo's lineup of perfumes for women ranges from playfully vibrant to mysteriously appealing. Using top-notch ingredients, their fragrances equate to allure and sophistication, which doesn't fail to seduce anyone who smells them. With varying intensity, sillage, and longevity, there's a Ferragamo suitable for everyone's preference.
---
Signorina Misteriosa
Mysteriously Dark Vibe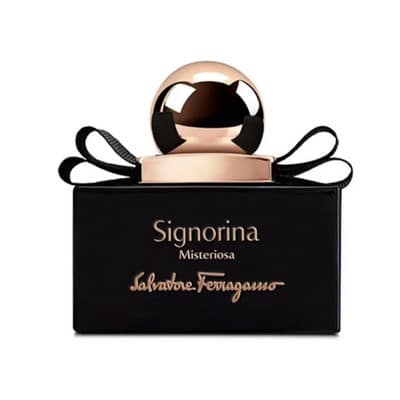 Created by Sophie Labbe, Juliette Karagueuzoglou, and Nicolas Beaulieu, Signorina Misteriosa was released in 2016 and promised a sexy, mysterious fragrance. Presented in a black bottle with the signature Vera bows, this underscored the scent's darkly sexy vibes.
Fresh and citrusy blackberry and neroli headnotes make the fragrance appealing before giving way to exotic yet baby-like notes of orange blossom and neroli. Black vanilla husk, patchouli, and milk mousse base notes evoke a feeling of sensual, enveloping warmth that screams sophistication.
The fragrance is perfect for winter and fall evenings as it completes the mysterious yet alluring aura a woman possesses.
---
Emozione Dolce Fiore
Delicate & Vibrant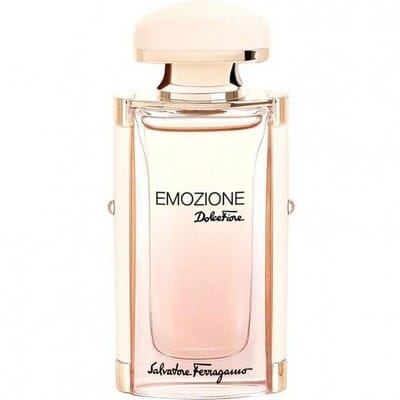 Released in 2016 and boasting an outstandingly delicate floral-fresh scent, Emozione Dolce Fiore is one of Ferragamo's popular creations. Presented in a clear bottle with a dome top and chain accent, it underscores the fragrance's charm and delicateness.
Headnotes of white peach, grapefruit, and bergamot open the fragrance and attract people. The beautiful scent of Damask rose, and peony comprises the heart notes and keeps people enthralled. Finally, the combination of iris, white musk, suede, and vanilla base notes reminds people of comforting and relaxing warmth.
It is ideal for everyday activities during spring and summer as the scent evokes freshness and vibrancy.
---
Signorina Eleganza Limited Edition
Well-Crafted Sophistication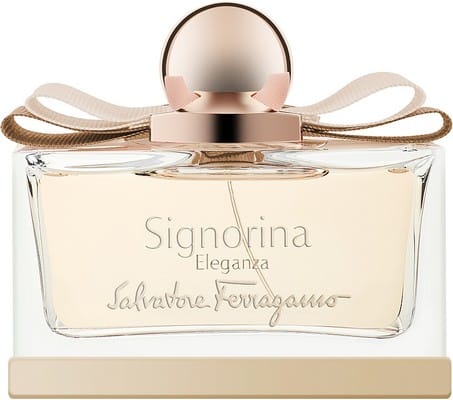 Released in 2014 and billed as having a chypre floral scent, the Signorina Eleganza Limited Edition promised elegance and delivered tremendously. Presented in a crafted crystal bottle with gold and diamond embellishments, it underscores the scent's luxury and sophistication.
Grapefruit and pear headnotes appeal to the senses with their crispness and freshness. Next, it gives way to sensually delicious middle notes of Osmanthus and almond before finishing with the comforting patchouli and leather base notes that evoke an enveloping and comforting warmth that people are so fond of.
Suitable for special evening events, especially during the fall and winter, because of the elegantly engulfing sillage and aroma.
---
Amo Ferragamo Eau de Parfum
Mystifying & Sophisticated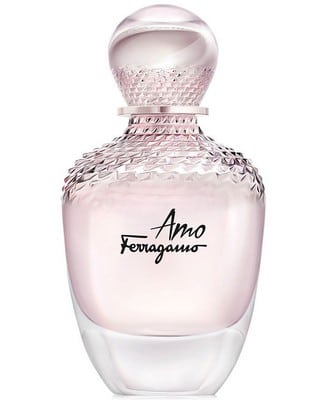 A fragrance released in 2018, Amo Ferragamo is one of the line's popular scents and is billed as a sweet-fruity perfume that promises sophistication. Presented in a bottle with prismatic accents, it underscores the brand's love for layering textures and beautiful materials into its scents.
Amo starts with the gorgeous fragrance of Campari coupled with rosemary and blackcurrant notes and gives way to seductive heart notes of rhubarb, Sambac jasmine, and mate absolute. The end notes of vanilla, ambrox, and sandalwood create a warm and relaxing sensation.
Suited for summer, spring, and fall as the scent lingers and creates a mysterious mist that appeals to whoever smells it.
---
Signorina Ribelle Eau de Parfum
Tantalizingly Fragrant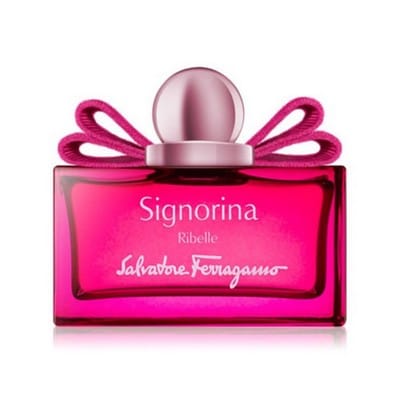 Introduced in 2019, Signorina Ribelle was billed as a sweet-gourmand scent that's fragrant and appealing. Crafted by Sophia Labbe and presented in a vibrant pink bottle with the signature Vera bow, the scent's sophisticated composition shines through.
Hints of pink pepper and Mandarin orange comprise the head notes and casually draw people with their spicy yet appealing scent. Its middle notes of frangipani and ylang-ylang are lush and exotic, which continues to captivate. Finally, ice cream, vanilla, and coconut base notes evoke a sweet luscious vibe that seduces.
It is perfect for fall, spring, and winter night outs as the scent tantalizes with its great sillage.
---
Incanto Shine by Salvatore Ferragamo
Best for Summer & Spring Daywear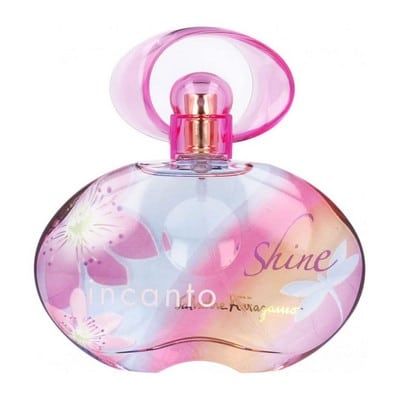 Released by Ferragamo in 2007, Incanto Shine was created by Karine Dubreuil-Sereni and boasted a fruity floral scent. The scent is refreshing with its freshness.
It starts with beautiful bergamot, passionfruit, and pineapple headnotes, which evoke a tropical, fun vibe. Next, it gives way to the fresh powdery scent of freesia, peony, and peach. Finally, the musk, cedar, and amber base notes remind people of home's comfortable warmth and sweetness.
Best used during summer and spring and can be used for regular day wear as the scent lingers and creates a beautiful trail.
---
F for Fascinating Crystal Edition by Salvatore Ferragamo
Refreshingly Brilliant Scent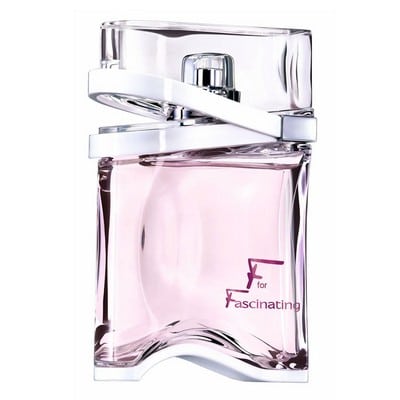 A fragrance launched in 2011 and a part of the F for Fascinating series, the scent's described as a floral-fruity bouquet. Created by Olivier Polge, it fascinated with its terrific blend of notes, which underscores the scent's brilliance and vibrancy.
Sweet and refreshing orange and sugar dominate the head notes and gives way to sultry jasmine at its heart. With intense patchouli base notes, it reminds people of the freshness of rain on a beautiful spring day.
The perfume's perfect for fall and winter as the musky patchouli base makes for a fantastic sillage.
---
Salvatore Ferragamo Pour Femme
Effortless Sophistication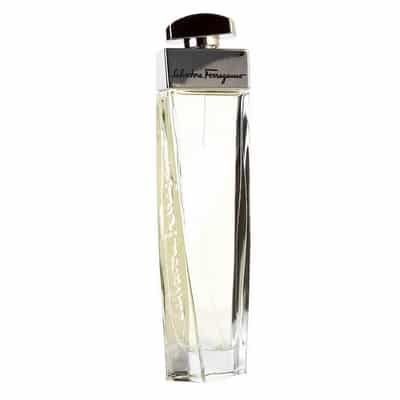 Introduced in 1998, Salvatore Ferragamo Pour Femme promised a floral-fresh fragrance that captures the essence of classic sophistication. Created by Jacques Cavallier and housed in a clear bottle, the scent is a terrific blend of beautiful notes that captivates people who smell it.
Opening with mild and spicy headnotes of neroli, apricot, and star anise, the scent immediately turns heads. Next, it moves to the playful yet warm heart notes of peony, rose, lily-of-the-valley, nutmeg, and other spices. Its base notes of exotic woods, musk, and raspberries continue to charm.
Use it for summer and spring, as the perfume will captivate with its beautiful composition.
---
Signorina in Fiore
Innocently Feminine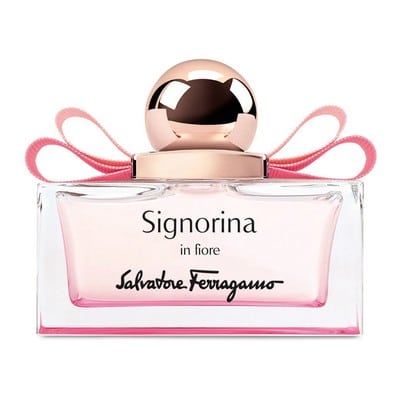 Introduced in 2017 and created by perfumer Emilie Bevierre Coppermann promised a scent that evoked the freshness of spring. The scent was housed in a clear bottle with a Vera bow accent that allowed the pink liquid to shine through and showcase the femininity of its fragrance.
Sweet notes of pear and bergamot coupled with the tart crispness of pineapple are the fragrance's head notes. Sultry jasmine and cherry blossom make up the heart notes and give way to the comforting smells of white musk and sandalwood.
This charming fragrance is suitable for summer and spring activities as it provides hints of innocent femininity.
---
Bianco di Carrara
Pure Elegance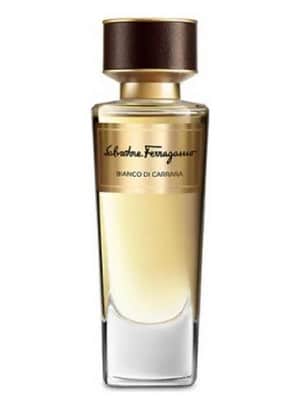 Launched in 2013, Bianco di Carrara promised a woody floral musk scent that suits women and men. Crafted for Ferragamo by Lucas Sieuzac, the scent reminded people of pure elegance as it provided a beautiful lasting fragrance.
It starts with the fresh and spicy top notes of white pepper and neroli, which is quite refreshing to the senses. Then, it evolves into the gentle but pleasant middle notes of vetiver and figs before giving way to luscious tonka bean and white musk base notes that remind people of comforting warmth.
The powdery freshness is truly captivating for spring and summer daily wear.