Ferragamo is an established and iconic brand known for luxury products such as bags, accessories, watches, eyewear, and much more. Of course, the brand eventually came to be known for fragrances as well, but it would take time.
It started with Salvatore Ferragamo, who started making his first pair of shoes when he was 9. He moved to the United States in 1914 and worked there before being enamored by the film industry. He started to design footwear for those in the film industry and made a name for himself.
That said, it would take a very long time (long after Ferragamo passed away in 1960) when the brand would give fragrances a shot. The very first fragrance, Salvatore Ferragamo for Women, was launched in 1998, though the brand had been dabbling in scents before then. These days, Ferragamo is just as known for its fragrances as it is known for various accessories.
---
F by Ferragamo Black
Fresh & Elegant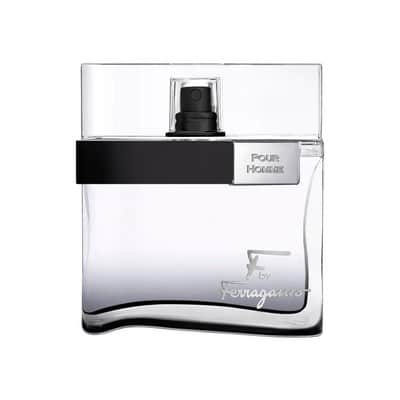 Sometimes, the most magical compositions are simple in nature. In the case of fragrances, F by Ferragamo Black is known for its subtle impact as a scent and its overall simplicity. It's meant to be an elegant, intense version of the original F by Ferragamo scent.
As far as F by Ferragamo Black is concerned, only a few ingredients are needed to create greatness. Lavender, apple, black pepper, coriander, tonka bean, and labdanum. It's a simple yet elegant concoction that creates a sublime scent.
F by Ferragamo Black is the kind of scent one would wear in a romantic evening for two.
---
Uomo Salvatore Ferragamo
Sweet & Alluring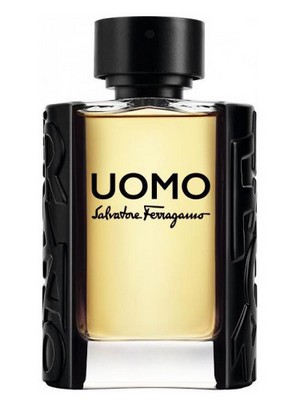 Salvatore Ferragamo has a distinct method of developing fragrances, specifically when it comes to the masculine audience. When developing a masculine fragrance, it's not just about pushing for as many leathery notes as possible. For Uomo Salvatore Ferragamo, it's about using sweet and unorthodox notes to create a masculine scent.
Helping to balance out the many sweet notes of Uomo Salvatore Ferragamo, the notes are paired with ambroxan, orange blossom, cardamom, black pepper, and bergamot. It also has tonka bean and sandalwood as the base.
Uomo Salvatore Ferragamo is a sweet and alluring combination that's perfect for luxury events.
---
Acqua Essenziale Blu
Aromatic Force of Nature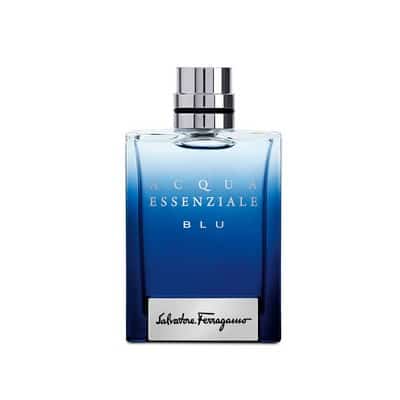 Launched in 2014, Acqua Essenziale Blu is an iconic fragrance of Salvatore Ferragamo that focuses on the force of nature, specifically the lapping waves. It explores sea water aromas, crafting a delicate balance through a variety of inspired notes.
The notes of Acqua Essenziale Blu include lemon, Calabrian bergamot, lavender, and cypriol oil as the primary notes. It also has atlas cedar, cardamom, benzoin, patchouli, ambroxan and tonka bean to help balance things out. The result is a fragrance that attracts and seduces.
Refreshing yet powerful, Acqua Essenziale Blu is a fantastic scent for the adventurous spirit.
---
F by Ferragamo Pour Homme
Refreshingly Spicy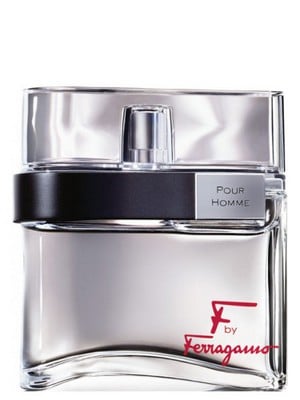 The F by Ferragamo line from the Salvatore Ferragamo brand is famous for taking simple notes and turning it into something so much more, and F by Ferragamo Pour Homme is no exception. It's meant to be a masculine scent, but there is something feminine and refined about the combination of notes.
The notes of F by Ferragamo Pour Homme include black pepper, lavender, and apple as the primary notes. The base notes are labdanum, leather, and amber. It's a relatively simple combination, but one that gets the job done.
This refreshingly spicy combination of notes is great for everyday activities.
---
Acqua Essenziale Colonia
Aquatic & Free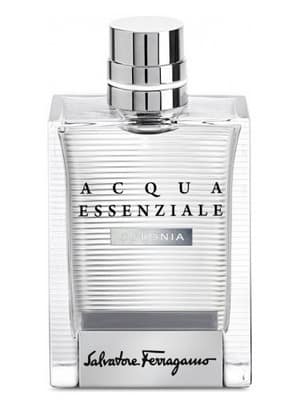 The Acqua Essenziale line seeks to take water notes and elevate it in a number of ways. It's an expression of nature in its truest form, and one that has garnered praise from most people who had a chance to wear the Acqua Essenziale line. Acqua Essenziale Colonia focuses on sophisticated citruses while tackling water notes.
Aside from the water notes that gently elevate the rest of the fragrance, Acqua Essenziale Colonia has bergamot, clary sage, lavender, orange blossom, Ambroxan, vetiver, and tonka bean.
Acqua Essenziale Colonia is a great scent for a beach party, or any event near the water.
---
Uomo Salvatore Ferragamo Urban Feel
Relaxing Yet Passionate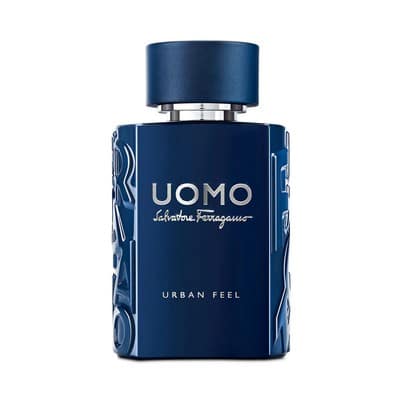 Uomo Salvatore Ferragamo Urban Feel is all about the busy life of a man in an urban environment; someone who knows what he wants. It's hectic and adventurous, but at the same time relaxing and uplifting. Uomo Salvatore Ferragamo Urban Feel pushes for amber, woody notes.
Uomo Salvatore Ferragamo Urban Feel is a composition of ozonic notes mixed with bergamot, clary sage, driftwood, coffee, cedar, cumin, incense, patchouli, cumin, and labdanum. It's meant to be an intense fragrance, but it's not overwhelming.
Uomo Salvatore Ferragamo Urban Feel is perfect for any urban environment.
---
Tuscan Soul
A Citrus Dream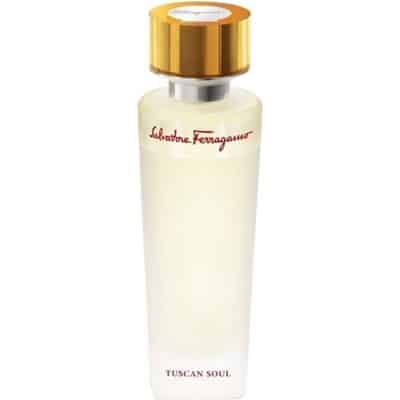 The scent of an orchard or garden just as the sun kisses the plowed land can be intoxicating, which is what Tuscan Soul by Salvatore Ferragamo seeks to achieve. It has a relatively simple composition of notes, but similar to many other Salvatore Ferragamo fragrances, it takes full advantage of simplicity to create something majestic.
Tuscan Soul is a combination of bergamot, petitgrain, orange blossom, magnolia, fig tree, and iris flower. It's a citrusy, floral dream.
The Tuscan Soul is one of those scents that are perfect for an afternoon break with friends over hot coffee or tea.
---
Ferragamo Intense Leather
Powerful & Masculine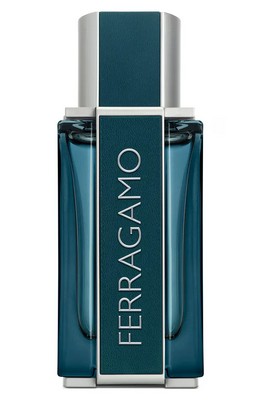 There's no denying that leather notes are some of the most popular scents that make up masculine fragrances. Salvatore Ferragamo tries to steer clear of leather notes when trying to make masculine fragrances, but now and again it makes an exception. Ferragamo Intense Leather is the exception to the rule.
That said, aside from the leather, Ferragamo Intense Leather ups the ante by adding notes such as red apple, iris, lily-of-the-valley, oakmoss, musk, mandarin orange, pink pepper, and clary sage.
The result is a down-to-earth fragrance that is still wonderfully sublime. It's a great scent for everyday use.
---
F by Ferragamo Free Time
Deliciously Refreshing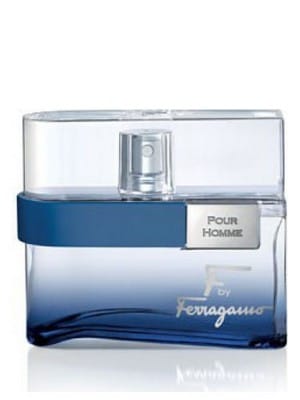 F by Ferragamo continues to make waves with its iconic lineup of fragrances. F by Ferragamo Free Time is more than the sum of its parts, and it impresses by going through layer after layer of wonderful scents.
F by Ferragamo Free Time has a combination of lemon and ginger that's sure to make you smile, but it also has a pairing of pink pepper and cardamom. You have a deliciously refreshing winner when combined with the base notes of vetiver, musk, and Virginia cedar.
F by Ferragamo Free Time is a great scent for pretty much any occasion.
---
Subtil Pour Homme
Delicate & Masculine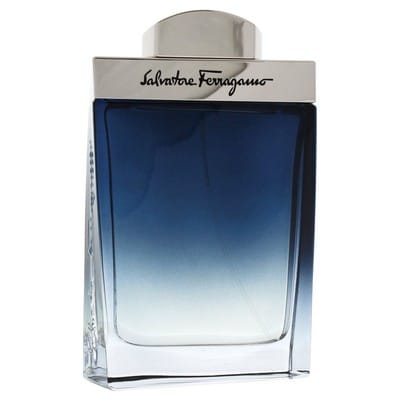 When it comes to the more modern masculine scents, sensuality is just as important as ruggedness. In fact, sensuality is likely at the top of the list as far as modern fragrances go. Subtil Pour Homme was launched in 2003, which shows how much foresight Salvatore Ferragamo had when developing fragrances.
Subtil Pour Homme is mostly warm and spicy, with notes including ginger, mandarin orange, lotus leaf, cardamom, coriander, pink pepper, violet, and artemisia. There's also amber and musk to act as the base notes.
Subtil Pour Homme is the ideal fragrance to represent modern masculinity.
---
Ferragamo Oud
Intense & Aromatic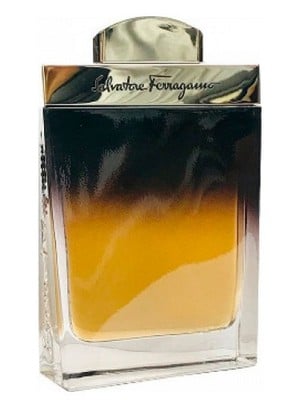 Ferragamo Oud is a callback to classic masculine tastes and is a scent that can take your nose on a trip down memory lane. It's powerful, intense, and aromatic, which is partly the reason why Ferragamo Oud is so popular. The simplicity of the notes also adds to their charm.
Ferragamo Oud has rum, tobacco, and spicy notes as primary tones. It has iris, leather, and tuberose to keep everything together. It also has benzoin, guaiac wood, and tonka bean to balance it out.
Ferragamo Oud is perfect for those who enjoy intense and passionate scents.
---
Incense Suede
A Smoky Amber Masterpiece
When it comes to masculine fragrances overall, one of the best parts about developing colognes is the fact that there is so much potential for unorthodox notes. For example, Incense Suede by Salvatore Ferragamo uses incense as the star of the show, which is something you don't usually see with most fragrances.
Incense Suede, aside from the incense, also has pink pepper, leather, saffron, styrax, and mate notes. It works surprisingly well together, developing an amber, smoky masterpiece of a fragrance.
If you want to wow the people around you with a new scent, Incense Suede can get the job done.