Friends Edoardo Mantelli, Marianne Oudejan, and Gordon Finkelstein founded Tocca in the winter of 1994 and have created a business empire that offers a diverse range of products that appeal to different people. The three founders named the company after the Italian word for touch, as they were enamored with the intricacies of fabric and embroidery. The company combined romantic and exotic elements to distinguish its products.
Tocca began expanding more into the perfumery business in 2006 with the release of Stella, although the company debuted with Tocca Eau de Touch in 1998. Tocca has several sought-after fragrances, including Stella, Cleopatra, and Florence. Their scents are all bottled in whimsical glass bottles that highlight their fabulous smells.
Tocca has enlisted the talents of Sonia Constant, James Bell, and Ellen Mollner to craft their vibrant and playful scents. Known for its use of top-notch ingredients to come up with floral and fruity combinations, Tocca prides itself in providing clients with fragrances that capture joie de vivre while highlighting sophistication and elegance.
---
Belle EDP
Stunningly Floral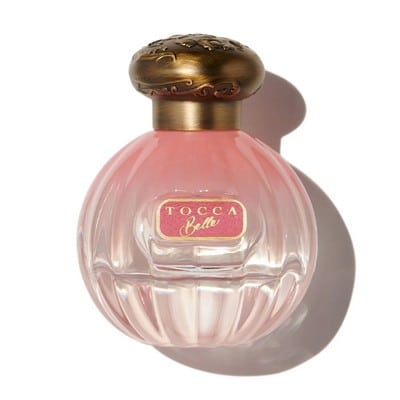 One of Tocca's newer releases, Belle EDP, is touted as a floral fragrance designed for women. They packaged the scent in a round glass bottle, allowing the pink-tinged liquid to shine through and emphasizing its femininity and delicateness.
Zesty Italian bergamot and petitgrain open the scent and instantly turn heads because of their freshness. The scent then moves on to the strong undertone of radiant freesia, which continues to captivate the audience. Finally, the warm and comforting musk base note embraces the wearer during the drydown.
Perfect for spring as the fresh and feminine scent will attract compliments and attention.
---
Bianca EDP
Freshly Aromatic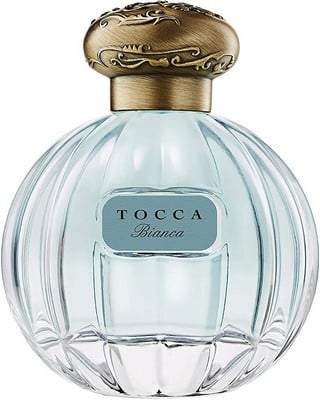 Tocca released Biance EDP in 2008, and they billed the scent as a fresh and citrusy aromatic fragrance. Inspired by the Roman tea time, Bianca is a perfectly blended composition that is alluring and seductive.
Bianca opens with the sultry notes of lavender and the citrusy freshness of bergamot, Mandarin orange, and lemon. The scent continues to please with a fresh and floral combination of green tea, rose, and jasmine before the sweet and comfortingly sharp musk and sugar base notes take over.
It is ideal for daily use, especially during the spring and summer, as the zesty aroma revitalizes and inspires.
---
Cleopatra EDP
Gorgeously Floral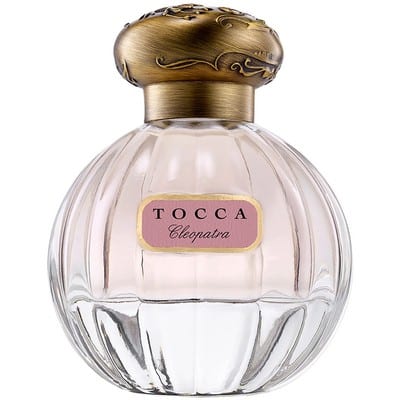 Tocca drew inspiration from Cleopatra, considered one of the shrewdest women in history. They released the fragrance in 2007, and the amber floral scent captivated their target audience worldwide.
A beautiful blend of floral cassis, green notes, black currant, and grapefruit embraces anyone who catches a whiff of the scent. The fragrance then morphs into a sultry and seductive blend of jasmine, tuberose, and peach before the clean and calming vanilla, amber, patchouli, and musk base notes evoke familiar powdery warmth and comfort.
Cleopatra is best suited for spring, summer, and fall, as the fruity floral blend creates a mysterious trail.
---
Colette EDP
Sensual & Fresh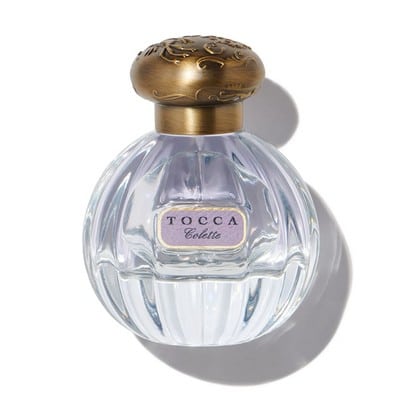 Women who want to wear an aura of mystery loved the release of Tocca's Colette. The fragrance was billed as amber floral and was inspired by the poets of the 1940s, as it evoked hazy afternoons spent with a cup of steaming coffee and a well-read book.
The scent opens with a fresh and brilliant blend of Mandarin orange, bergamot, Amalfi lemon, and juniper berries. It then evolves into sultry heart notes of jasmine, cyclamen, violet, and pink pepper. Base notes of smooth vanilla, incense, and other earthy, woodsy elements round out the scent.
It is best used for fall and spring, as the scent creates a sensual and charismatic trail.
---
Florence EDP
Surprisingly Sensual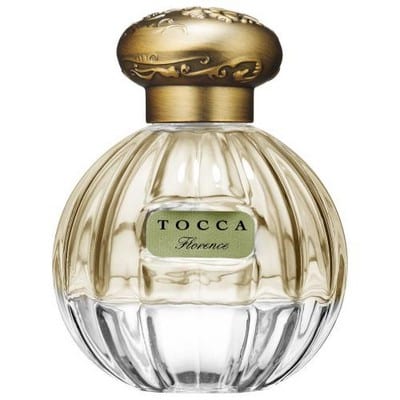 Tocca collaborated with Ellen Molner to come up with Florence EDP in 2006. Described as a green floral fragrance, it captivated the audience with its beautiful composition.
Refreshing and crisp apple, bergamot, pear, and grapefruit leaves comprise the top notes and seduce anyone who smells the fragrance. Next, the scent evolves into a floral bouquet of sultry tuberose, jasmine, violet leaf, iris, and gardenia. Finally, the musk and white wood base notes kick in and finish the fragrance.
It is ideal for use during the day, especially for spring and summer, as the floral bouquet creates an enchanting allure that guarantees compliments and appreciative stares.
---
Gia EDP
Radiantly Sultry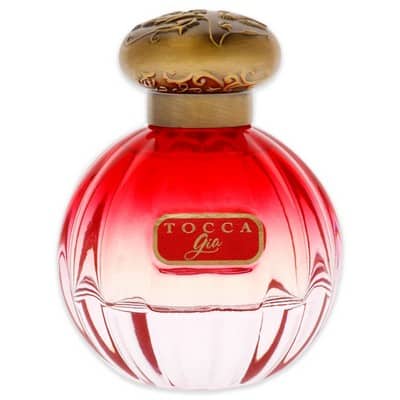 Gia EDP was released in 2019, and the target audience appreciated the fragrance's radiance and freshness. The scent was packaged in a signature clear round bottle that allowed the liquid's color to shine through.
Hints of spicy pink peppers and refreshing tangerine comprise the top notes and radiate freshness. Next, the scent transforms into an indulgent Turkish rose fragrance that envelops the wearer with its brilliant yet light scent. Amber, sandalwood, and vanilla base notes round out the scent and evoke a warm and bracing feeling.
Gia is recommended for summer and spring as the sultry scent gives positive vibes.
---
Giulietta EDP
Romantic & Fruity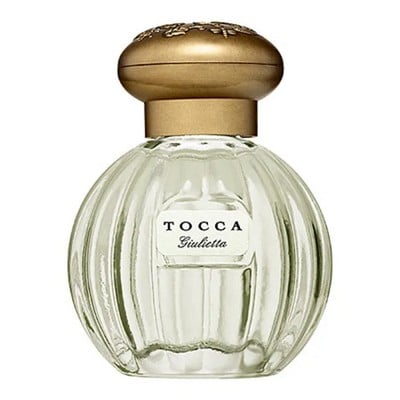 Tocca drew inspiration from the romance between Giulietta Masina and Federico Fellini, renowned actors who journeyed to Corsica. The scent is floral and fruity and embodies the freshness and radiance of the actors' love.
Tart Granny Smith apple notes work well with exotic ylang-ylang and pink tulips as the top notes. Next, a glorious blend of lilac, iris, orchid, rose, and lily-of-the-valley appeal to the audience before the combination of warm and silky musk, amber, sandalwood, and cedar combine with heliotrope undertones to finish the scent.
The brilliant fragrance is recommended for springtime romps as its freshness resonates for a long time.
---
Maya EDP
Seductively Floral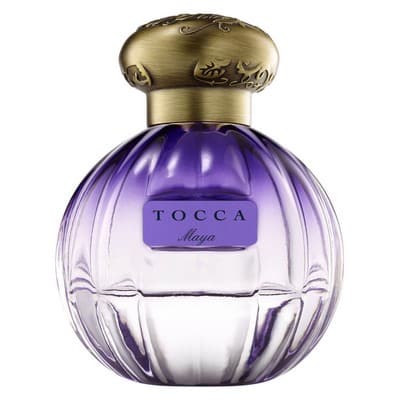 Women who love a spicy, sharp but floral fragrance enjoyed Tocca's Maya when it debuted in 2018. The scent was feminine but packed a wallop of complex notes which underscored feminine strength.
The refreshing blend of violet leaves, black currant, and bitter orange opens the fragrance and evolves into a seductively welcoming heart of sultry jasmine, iris, and damask rose. The scent then relies on the warm and comforting undertones of sandalwood, patchouli, and oakmoss to capture other people's attention after the drydown.
Maya's complex blend makes it a perfect daily wear scent as it intrigues, refreshes, and seduces throughout the day.
---
Simone EDP
Fruity & Floral Embrace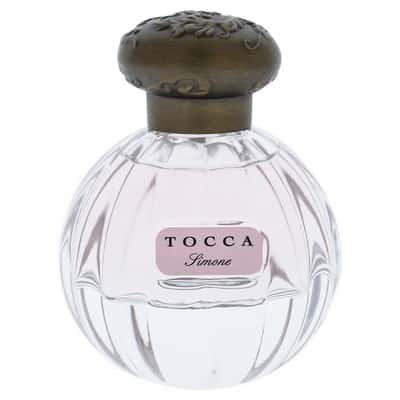 Those who prefer a fruity and floral scent rejoiced when Tocca introduced Simone EDP in 2014. The refreshing scent boosts confidence and appeals to the target market because of its freshness that energizes throughout the day.
Refreshingly cool watermelon, lemon, and apple comprise the top notes and appeal immediately to the senses. It then transforms into heart notes of heady and exotic frangipani, freesia, rose, and ylang-ylang which evokes warm summer afternoon garden walks. Finally, clean, warm notes of amber, musk, and woody undertones cap the scent.
Best used during the spring and summer months, Simone's sweet floral fruity scent turns heads and guarantees compliments.
---
Stella EDP
Sensual Feast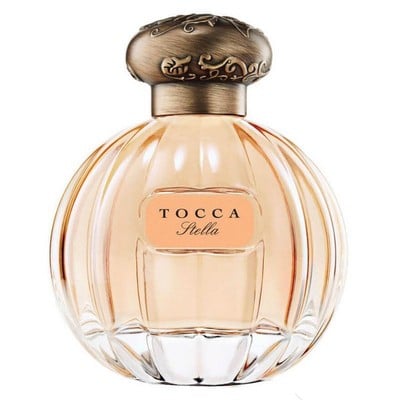 Tocca hit a home run when they released Stella in 2006. The scent was brilliantly complex and appealed to their target demographic, who were looking for something new for the senses.
Tangy top notes of bitter orange, water notes, and blood orange envelop the wearer and instantly demand attention. Next, a sultry and terrific blend of freesia, wild orchid, and lily comprise the scent's heart notes and continue to enchant the audience. Finally, musk and sandalwood base notes evoke a relaxed and comforting warmth to end the scent.
Ideal for spring and summer wear as the terrific blend creates an alluring trail throughout the day.