Tommy Hilfiger is a well-known American fashion label that also produces footwear, accessories, perfumes, and even furniture. The firm, which has been around since 1985, has over 2000 stand-alone storefronts and is stocked in department stores throughout 100 nations.
The perfumes of Tommy Hilfiger are made in collaboration with Estee Lauder. In 1995, the first fragrance, Tommy for Men, was released. An equivalent for women, Tommy Girl, debuted in 1996. Both fragrances are trendy and have spawned several remakes. Other perfumes have been produced for the Tommy Hilfiger brand, many of which play off of the "preppy" and "Americana" connotations of the original scents.
The American heritage carries on. The Tommy Hilfiger fragrance house is recognized across the globe for vibrant perfumes for men and women. Fragrances are available for every season and occasion. The wide range of fragrances available makes Tommy Hilfiger one of the top competitors in the market.
---
Tommy Girl
The Most Popular Pick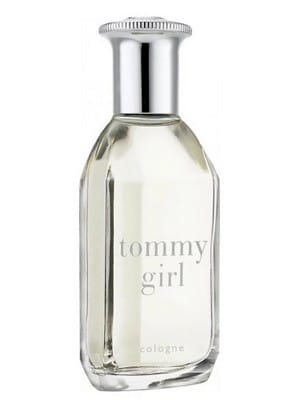 In the line of Tommy Hilfiger perfumes, Tommy Girl Eau de Toilette is promoted as the best seller. In 1996, it was produced by Calice Becker.
Blackcurrant and citrus give the scent an upfront tang, but the flowery undertones of camelia and apple blossom quickly mellow it down. Honeysuckle is the lead player in the floral center, which also features roses, lilies, and violet. As the perfume winds down, the citrus flowery notes fade, and a pleasant woody aroma emerges in their place.
The fresh, joyful, fruity, and flowery notes of Tommy Girl provide a lasting first impression.
---
Dreaming
For a Spiced Floral Fragrance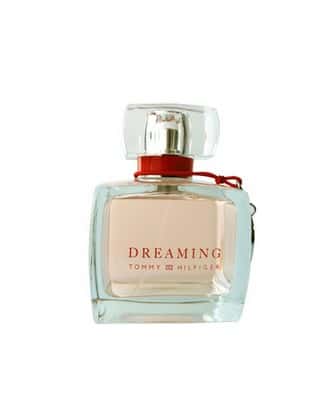 The aroma of Tommy Hilfiger's 2007 iconic perfume, Dreaming Eau de Parfum, evokes the glitz and glitter of vintage Hollywood. Trudi Loren is the nose behind the perfume.
Sweet peach and blackcurrant provide an initial burst of fresh, rich juiciness to the fragrance. It gradually fades into its woody and musky base notes, which nicely complement the perfume with a spicy hint of pink pepper.
Its magical aroma lingers on the fabric for hours, giving you a touch of mystery even in broad daylight. The fragrance of Dreaming will follow you from the realm of dreams into the real world.
---
Tommy Girl 10
The Marriage of Fruity, Floral, and Spicy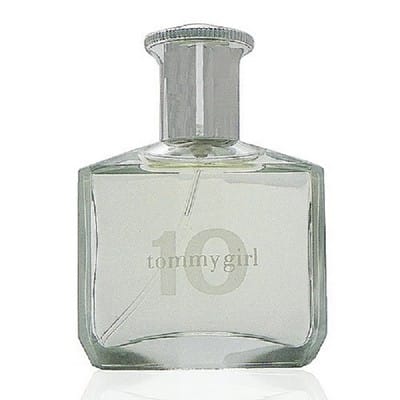 To celebrate the 10th anniversary of the Tommy Hilfiger perfume line, the company released a new fragrance called Tommy Girl 10, inspired by the American experience. It was developed by Stephen Nilsen and Calice Becker and launched in 2006.
Notes of fresh grapefruit, pear, tangerine, and wild cranberries make up the scent. Magnolia from Mississippi tops off the bouquet, followed by honeysuckle from California and lotus from Virginia. Toffee's sweet, honeyed gourmand undertones pair nicely with birch's smokey, woodsy aroma to create a satisfying base.
This scent will leave you with a long-lasting sense of adventure and vitality.
---
Pear Blossom
For a Delicate yet Complex Scent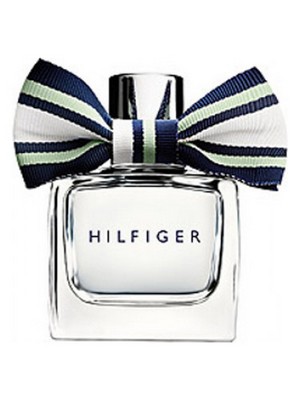 Pear Blossom Eau de Parfum was introduced in 2012 with a beautiful striped bow around the bottle's neck.
The primary notes of the fragrance are pear flower, neroli, and raspberry, and they create a fruity-floral-oriental scent. Together, sandalwood and cedar form the composition's heart, giving it power and dynamism. Tonka beans, davana, cinnamon, and whipped cream round out the fragrance with a warm, sensitive, and beautiful softness that is ideal for the base notes.
Any woman who wishes to make a subtle but undeniable statement would do well to adopt Pear Blossom as her trademark perfume.
---
Tommy T Girl
Best Feminine Scent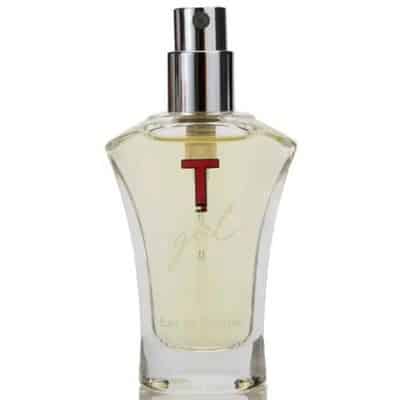 T Girl was introduced as a floral aldehyde fragrance for ladies in 2001. Annie Buzantian created it in her own style.
The top notes of bergamot and mandarin provide a piercing introduction. After that comes the heart notes of narcissus, rose, and lily. The fragrance's base notes consist of vetiver, amber, musk, and exotic wood, which settle in towards the base, creating a perfume with boundless vitality.
T Girl is a fragrance that encourages vibrant and young femininity, and it would be enjoyed by any girl who likes zesty and fresh aldehyde fragrances.
---
Tommy Girl Jeans
The Most Elegant and Softest Scent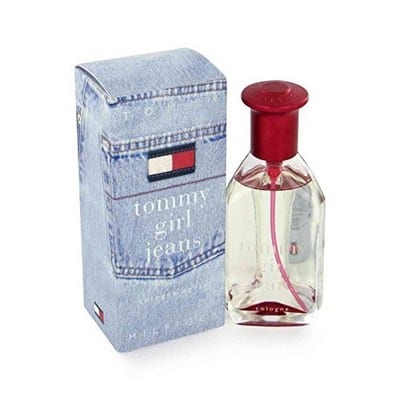 Developed by perfumer Steve DeMercado and released in 2003, Tommy Girl Jeans is a floral aldehyde scent for ladies.
Each spray of this long-lasting scent is a burst of blueberry, apple tree, tangerine, and camellia. A burst of citrus and freshness opens things up before drying into a fruity and green core and finishing with a mix of sweet and spicy accents.
It's another simple scent that doesn't build on itself endlessly with different notes. It's a sophisticated fragrance that works well in the business world and smells amazing on a young woman with a refined, kind demeanor.
---
Tommy Girl Eau de Prep
For a Sporty yet Elegant Vibe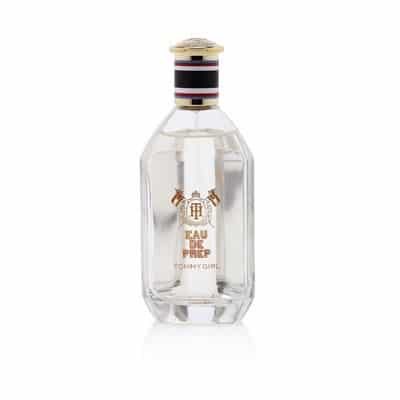 Tommy Girl Eau de Prep is a fragrance exclusive to the label, described as "sports meets elegance." Aurelien Guichard composed it and debuted in 2011.
It has the aroma of a sweet and juicy apple tone, which gets preppy with peppery and violet powdery notes. Pink peppercorns, green apples, and violet leaves serve as the opening notes. White roses provide the fragrance for the composition's heart, and sandalwood, hawthorn, and musk round out the base and finish.
Whether on the tennis court or the dance floor, it's the finishing touch to any outfit and guarantees a lasting, unforgettable impression.
---
Tommy Girl Now
The Best Spring and Summer Pick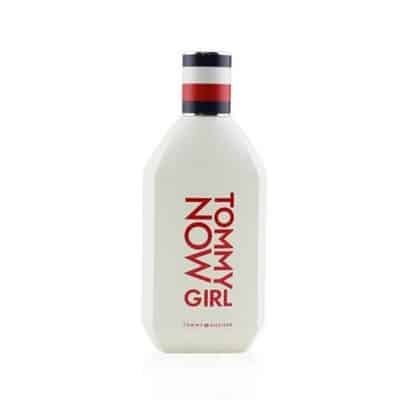 Tommy Hilfiger's Tommy Girl Now is a Floral Woody Musk fragrance for ladies. It came out just recently in 2018.
At first, the vitality appears as a tangy, refreshing blend of bergamot and mandarin. A lemony flowery perfume with traces of mint is provided by the mahonia and magnolia at the fragrance's core. The cashmeran provides a soothing woody tone with a fruity, flowery, and clean musk aroma to calm the tension.
When you wish to beat the heat with green freshness, it's the finest spring or summer scent. It's light and inoffensive when worn outdoors.
---
Peach Blossom
The Scent for All Seasons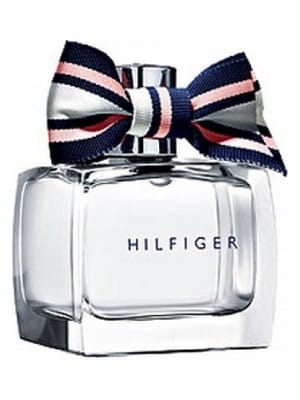 The release of Peach Blossom in 2011 piqued the interest of perfume enthusiasts. It is part of the lineup of Hilfiger Woman.
The scent of fresh peach mixed with blackberry, cassis, and bergamot notes is immediately noticed upon opening. The perfect combination of Tonka and coconut serves as the base notes for the perfume. The combination of peaches and coconuts is aesthetically pleasing, sweet, and effortlessly sophisticated. Iris flowers provide a soft powdery transition that is pleasing.
Peach blossom is perfect for any occasion and season, a trip to the beach, or a laidback movie night. This perfume can really set the mood.
---
Loud for Her
The Vibrant Rock and Roll Choice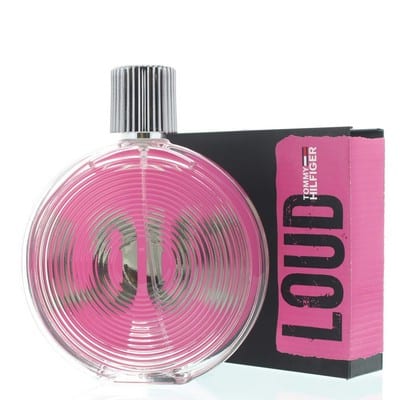 Loud for Her is part of a fragrance duo called Loud, which caters to young men and women who buy Hilfiger jeans. The scent aims to depict authentic rock and roll. Loud for Her was created by Aurelien Guichard and Yann Vasnier in 2010.
An energizing scent that marches to the rhythm of its own beat, litchi and rose provide a sweet yet warm smell at the top. The addition of patchouli gives it a sweet musky base that provides the perfume's beat.
It is perfect to wear during the daytime, where the energizing scent of litchi and rose can work wonders.