Regarding designer brands, Tory Burch is one of the most well-known. The brand has been around since 2004 in New York City and beyond and offers a wide range of products, including shoes, handbags, clothing, and more. In addition, Tory Burch perfumes are just as stylish as the rest of their products, making them an ideal choice for any woman who wants to smell great while looking fabulous.
Tory Burch is one of the most renowned brands in fashion, and their perfume collection has been a hit for over a decade. The brand is known for its unique blend of modernity and feminine elegance, which comes across in all its fragrances.
Whether you want to wear it on a night out with friends or just want something light to help you wake up in the morning, there's a Tory Burch perfume that will suit your needs perfectly. Here are our top picks.
---
Sublime Rose
A Hint of Rosy Heaven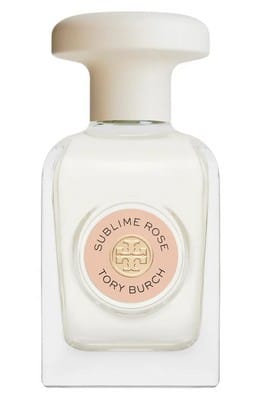 The world-renowned fashion designer launched Sublime Rose in 2022 as part of her Floral Collection—a series of floral scents with ingredients like rose water and black currant to create the perfect spring-like scent. This perfume is marketed toward women of all ages who want something light and fresh.
As its name suggests, it's made up of rosy notes like white tea leaves and bergamot blended with jasmine to create an unexpected yet stunning floral scent without overpowering.
The result is a perfume that smells sweet but not too sweet, feminine but not old-fashioned, and clean without being dull or boring.
---
Electric Sky
Limitless Garden Freshness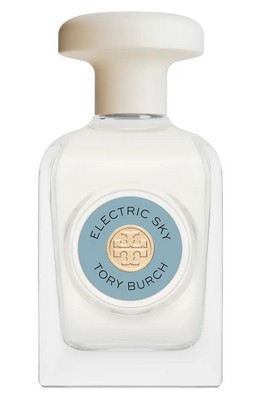 Electric Sky is a floral perfume launched in 2022. As one of the newest fragrance lines of the brand, this perfume is great for anyone who wants to smell like a springtime garden.
It features violet and blue sage, two of the most popular Tory Burch notes for women. The violet note gives this fragrance an airy quality that's not cloying or overpowering. It's just enough to make you feel energized and ready for anything.
Electric Sky is your best bet if you're impressed by smelling like flowers and other complimentary sweet scents but want something more sophisticated than a heady bouquet.
---
Tory Burch
Classy & Citrusy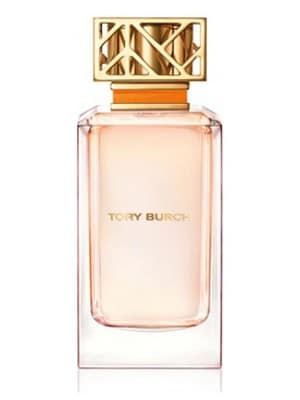 This perfume features mandarin orange and grapefruit. It was launched in 2013 to be a scent that evokes the spirit of New York and its skyscrapers.
The notes are mandarin orange, bergamot, neroli blossom, lotus flower absolute, and tuberose absolute. This is a great choice for someone looking for something light and fruity.
If you want to smell like you're walking through Central Park on a sunny day, this may be right up your alley. This perfume is also perfect for people who are already fans of Tory Burch's other scents—it has the same girly vibe (but not too girly).
---
Divine Moon
Landing on a Luscious Sensation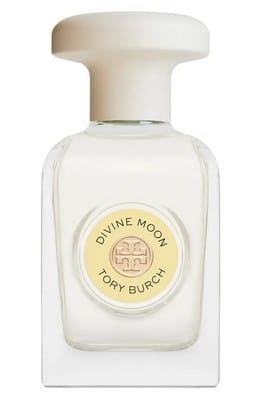 Divine Moon is the perfect choice if you're looking for a perfume that's more on the sweet side. The bottle design is super cute, with a milky white and gold color scheme.
It's youthful and fresh, with bergamot, rhubarb, and vanilla notes. This fragrance is great for women who prefer a light scent that doesn't compete with their style.
The fragrance isn't overpowering but leaves a nice subtle floral note after application. The scent can last all day, so it's best to spray it on when you get up rather than before bedtime because it might irritate those around you if you wear it on your clothes overnight.
---
Mystic Geranium
For the Confident & Curious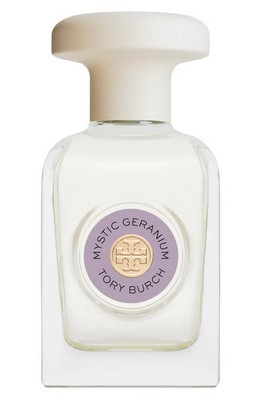 Launched in 2022, Mystic Geranium is a floral fragrance best suited for confident women. Its petroleum-free composition has notes of bergamot, geranium, and pink peppercorn to create a crisp and clean scent.
Mystic Geranium smells more like the feeling you get after using a bath bomb with rose petals and lavender oil. The citrusy bergamot mixed with gentle floral notes makes this perfume perfect for daytime wear or anytime you feel fresh and feminine.
Anyone who wants to feel empowered will love this fragrance from Tory Burch. With signature scents like cardamom and violet leaf mixed in, it's no wonder many women can't get enough of this unique perfume line.
---
Cosmic Wood
Mesmerizing Muskiness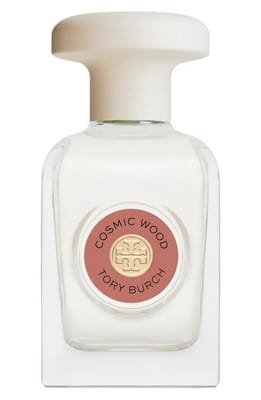 Cosmic Wood is a woody fragrance that the brand launched in 2022. As a relatively new fragrance, it's a great choice for the modern woman who wants to wear something unique in the musky perfume department.
The top notes include ambrette and cardamom, while the base notes are sandalwood and labdanum. These mixtures create a fragrance that's both sexy and spicy, making it an ideal choice for date night or a special occasion.
It's more masculine than other Tory Burch scents, so it's best for women who prefer to wear stronger scents daily. That said, Cosmic Wood is perfect for those who love outdoorsy fragrances with a hint of spice.
---
Love Relentlessly
For the Passionate One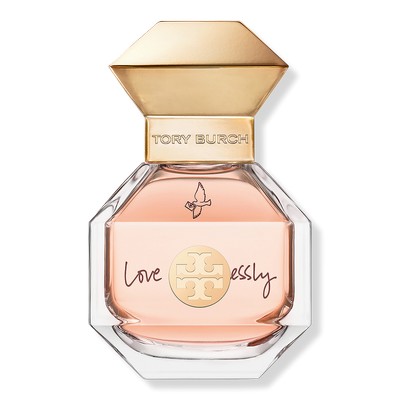 Love Relentlessly was released in 2016, an oriental floral perfume for women, and is inspired by the intense love between a mother and her children.
The scent opens with pink pepper and raspberry before moving into a heart of tuberose and gardenia, then finishing with a base of almond milk, sandalwood, vanilla bean, and musk. This fragrance is an all-around winner: it's sweet but not overly girly.
Love Relentlessly has a strong floral scent without being too overpowering, and it has rich undertones that make it appropriate for daytime wear and evening parties. This perfume is best suited for romantic dates or evenings out on the town with friends.
---
Jolie Fleur Rose
Into the Rose Heaven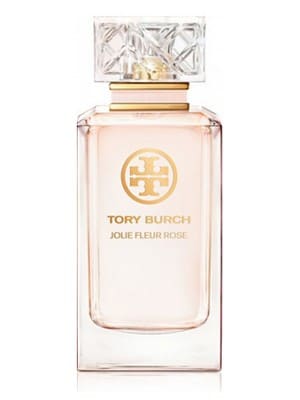 Jolie Fleur Rose is a floral fragrance that was launched in 2015. As the name suggests, this perfume has a strong floral scent best suited for romantic dates or evenings out on the town with friends.
The scent features rose, strawberry leaf, hyacinth blossom, and white amber making a light, fresh scent perfect for spring and summer. It's also long-lasting and has been known to last up to 12 hours on the skin.
Also, this is for women who want a new take on floral scents and will appreciate how this perfume combines familiar notes with something more complex and interesting.
---
Jolie Fleur Verte
For the Nature Lover
Jolie Fleur Verte is a floral scent that was launched in 2015. It's described as having a strong lily of the valley, peony, and green notes.
This bottle is for women looking for something very feminine, light, and flowery. You'll immediately notice a hint of woodiness when you spray it on, but after about 20 minutes, it settles down into a powdery floral scent with hints of green throughout.
This makes Jolie Fleur Verte so unique; it has that gorgeous powdery note that you'd expect from a Tory Burch fragrance but also has more than enough green to make it different from other scents with similar ingredients.
---
Knock on Wood Extrait
Rustic Goodness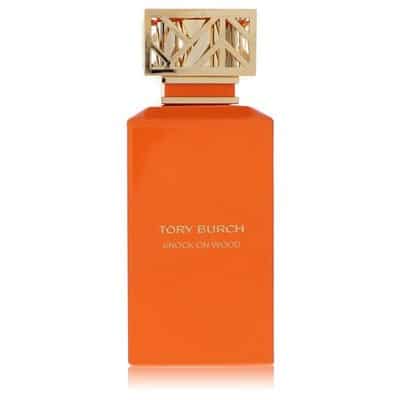 Knock on Wood Extrait is a new fragrance from Tory Burch that was launched in 2019. With its varnish-style design, the bottle is made from a beautiful, shiny brown material and has a gold cap.
It features blood orange and Turkish rose as its top notes, with sandalwood, jasmine, and vanilla adding depth to the scent. If you love warm florals that are sweet but not overly fruity, this perfume is for you.
This scent is aimed at women who want something floral but masculine-leaning. The addition of sandalwood makes it stand out from other similar scents.
---
Nuit Azur
Contrasting Airiness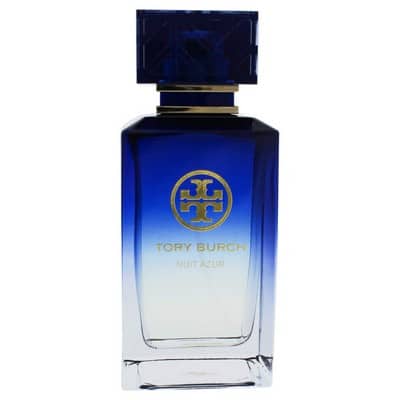 Nuit Azur is a classic perfume from 2018, which was released along with a special edition list of fragrances from the brand. Its inspiration was the French Riviera, designed to evoke the feeling of a hot summer night by the sea.
It features notes of Sicilian Mandarin, fig, and sheer musk, which makes it perfect for those who love aquatic scents. In addition, this perfume has a light, airy quality that makes it ideal for wearing during warm weather or when you want to feel like you're on vacation.
Those looking for something light but still sophisticated will enjoy Nuit Azur, like many other fragrances in this brand's collection.
---
Bel Azur
A Getaway of a Lifetime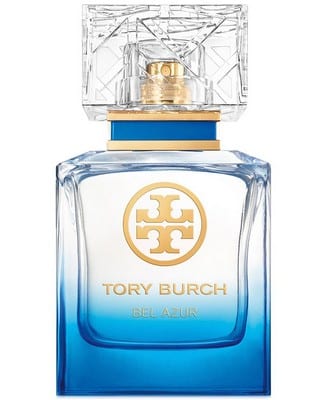 Bel Azur is a go-to fragrance in Tory Burch's collection. It was launched in 2017, and it has a light, fruity scent with notes of bergamot, neroli petals, and orange blossom petals. It is described as being inspired by the Mediterranean island of Corsica.
The notes are perfect for summertime, and the fragrance will help you feel like you're on vacation, even if you're not. In addition, the scent is long-lasting, so it won't fade away quickly.
This perfume is perfect for anyone who loves light floral scents that are not too overwhelming but still have enough personality to stand out from the crowd.