For those who know Banana Republic as an apparel company, it's easy to forget that they are also a major player in the fragrance market. It all started in 1995 when the unisex 'Classic' Banana Republic fragrance was released, leading to other successful themed collections.
Banana Republic currently has more than 48 fragrances for both men and women. They also offer unisex fragrances that both genders can enjoy and share. The ICON Collection is a niche-inspired line of fragrances that harkens back to Banana Republic's fashion heritage. Each scent is carefully crafted to capture the essence of an important moment in time.
The brand works closely with Inter Parfums, Inc., as well as master perfumers with the likes of Honorine Blanc, Harry Fremont, Beatrice Piquet, Irina Burlakova, Vincent Kuczinski, Jérôme Epinette, Laurice Rahmé, Jean Guichard, Christophe Raynaud, and Ann Gottlieb to create fragrances that evoke feelings of comfort, relaxation, and luxury.
---
Neroli Woods
Uplifting Summer Fragrance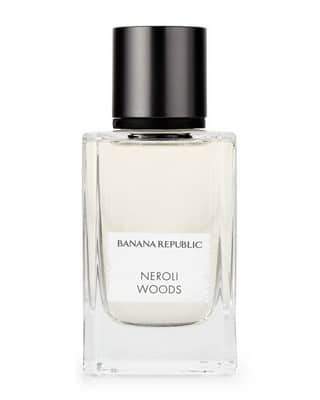 Neroli Woods is the perfect scent to don every day. Its fresh, sparkling top notes of coconut nectar, mandarin leaf, and neroli excite the senses immediately and provide lasting energy throughout the day.
Then, the heart notes of frangipani, orange blossom peony, and solar accord add an intriguing contrast of sweetness. This is followed by a woodsy base of amber, cedarwood ebony, and sandalwood that enhance the overall fragrance in an uplifting manner.
Neroli Woods is not too overpowering, making this aroma versatile. Wear this signature scent for any occasion throughout the day, and you're sure to feel empowered.
---
Tobacco & Tonka Bean
Sexy & Mysterious
Tobacco & Tonka Bean, the creation of Mane and Gino Percontino, is an olfactory adventure like no other.
The scent opens with an irresistible combination of vanilla and tonka bean before melting into the exquisite aroma of aged tobacco with a whisper of dark plum. It's sexy yet mysterious, perfect for making a statement on your big night out or tantalizing your date on a romantic evening.
However you choose to wear it, whether it be dramatic or subtle, make sure to spritz Tobacco & Tonka Bean. Dare to make an impression that will leave them wanting more.
---
Black Walnut
Intoxicating Tobacco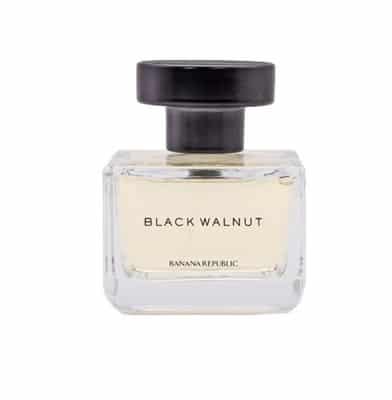 Black Walnut is truly a timeless classic. Launched in 2006 and created by the much-lauded Harry Fremont, the fragrance won the FiFi Award Fragrance of the Year Men's Private Label in 2007.
Notes of wet tobacco lend a dark, masculine edge, while its sweet, woody scent rounds it off nicely, making it perfect for casual settings.
The blend is quite smooth, making its presence known in close vicinity. It has a cognac note that adds to its subtle sophistication. Black Walnut has you covered if you're craving an understated aroma or need something with a little more punch for that special occasion.
---
Cordovan
Green Masculine
Cordovan is a classic scent for the grown man. It's simple but pleasant enough to work in any situation.
Fig leaves, vetiver, and nutmeg create a complex base that keeps things interesting. A light layer of iris adds an enchanting powdery touch, while juniper and bergamot ensure a freshness that further enhances this seductive scent.
As the drydown kicks in, the iris stands out amongst the leather and vetiver notes, creating a pleasant wood accord that lingers on the skin. Not to be limited in its appeal, Cordovan works well in the office or when kicking around casually on colder days.
---
Banana Republic of Men
Dark Floral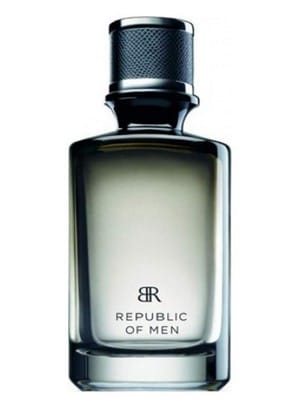 The 2009 launch of Republic of Men by Banana Republic unleashed a novel fragrance crafted with the expert nose of perfumer Laurent Le Guernec.
With its signature creamy, musky drydown, this cologne brings out the best in plum and clementine. It opens with a sharp, clean smell that subsides to reveal the woody aroma at its heart, while a lingering musk imbues it with the right amount of sweetness. Fig and sandalwood frame this impeccable scent with sophistication.
It's easy to see why this cologne has continued to draw praise even over a decade later, thanks to its combination of timeless ingredients.
---
Gardenia & Cardamom
Citrus Mood Booster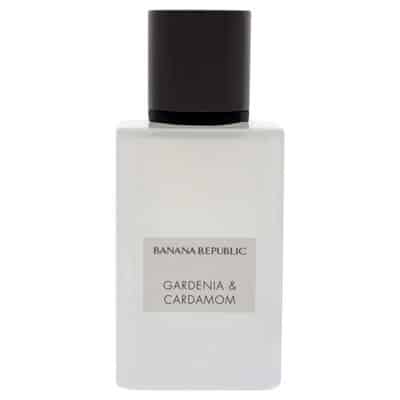 Gardenia & Cardamom is a fragrance to be reckoned with. Launched in 2019, the scent was conceived by Mane and Vincent Kuczinski.
It features gardenia and mandarin orange as top notes, cardamom, carnation, magnolia, rose, and tuberose as middle notes, with amber and driftwood as base notes. The cardamom brings it to life. Its spiciness adds depth alongside the prominent gardenia. At the same time, the rest of the florals blend in the background for a delicious concoction.
With average longevity and an almost coconut-y waft of gardenias, this signature scent from Banana Republic is meant to be savored.
---
Slate
Warm-Weather Cologne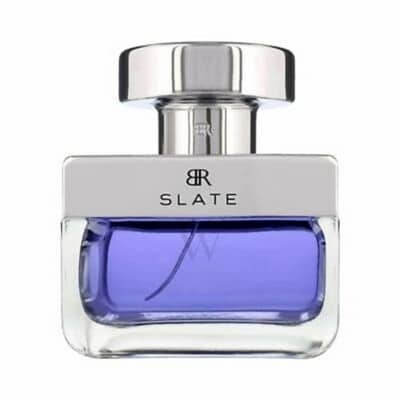 The Banana Republic Slate fragrance is a light and fresh scent that packs a lot of character into each spritz. Launched in 2006, the nose behind this fragrance is Jean-Marc Chaillan.
It features clary sage in the middle and ginger at the base. A citrusy opening develops quickly into a dominant herbal soapiness with tinges of sweetness that touch the senses.
Its moderate longevity and sillage make it ideal for hot summer days or any other occasion you'd like to feel effortlessly stylish. Slate is an ideal fragrance for any season for those who want to stand out without being too bold.
---
Classic
Freshly Laundered Linen Beast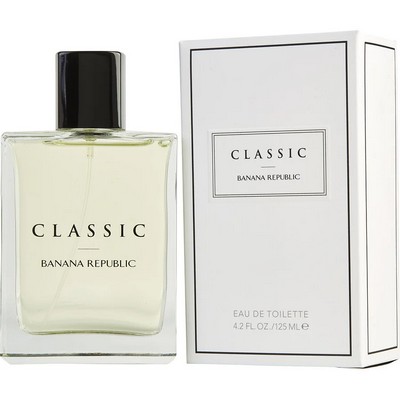 Banana Republic Classic is a fragrance that anyone would be proud to wear. Launched in 1995 and crafted by the expert nose of Jean Claude Delville, this fragrance has a delightful and refreshing mandarin smell with subtle hints of floral notes and ginger.
You will notice a gentle touch of wood notes rounding up the mixture as it dries down, making it the perfect fragrance for summertime outings.
It is also well-blended with a strong air of professionalism. Banana Republic Classic will give you an overall warm and upbeat feeling, perfect for those formal events at work or out for dinner.
---
90 Pure White
Sweet, Citrusy Musk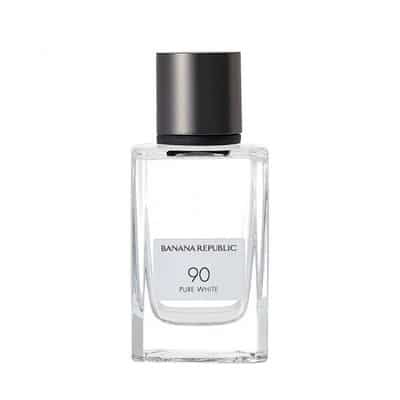 Banana Republic 90 Pure White is a fragrance to captivate all who smell it.
Released in 2017, this cologne is the perfect scent for any occasion, with bergamot, grapefruit, and green tea making up the top notes, jasmine, lavender, and violet leaf taking up residence in the middle, while amber, musk, and vetiver create the base. It's an intriguingly sharp yet natural green fragrance with captivating violet notes.
The tea note gives a creamy feel while hints of sweetness from the bergamot make Banana Republic 90 Pure White a year-round men's cologne with moderate longevity, ensuring nobody can resist its charm.
---
78 Vintage Green
Sophisticated Suburban Scent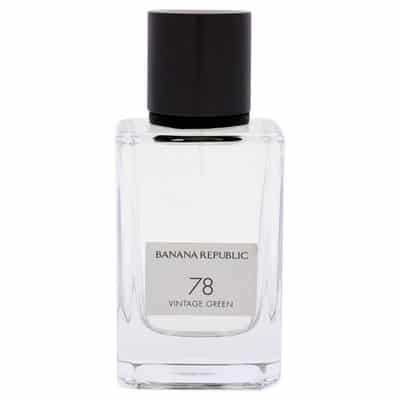 78 Vintage Green is a scent that truly captures the feeling of freedom, expression, and originality. Crafted in 2017 by Gino Percontino, this scent comprises an array of notes that beautifully play off each other.
Bergamot and mandarin give off a soft citrus aroma, quickly transforming into floral scents of leafy greens and magnolia. Then follows an underlying earthiness with jasmine, green tea, and fig to create a unique fragrance. Cedarwood adds sweetness before vetiver and musk bring it back to its woodsy roots.
This meticulous blend hits all the right notes for what has become a signature scent from Banana Republic.
---
Republic of Men Essence
For the Modern Sophisticate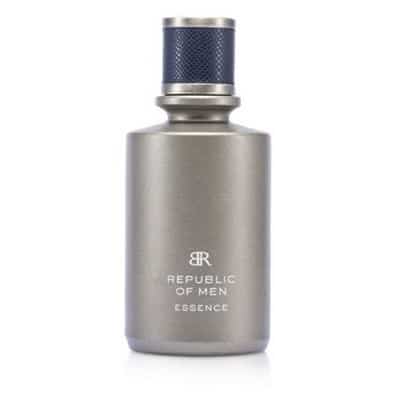 The Republic of Men Essence is the perfect fragrance for a night out with friends.
Its fresh citrusy-woody scent carries a hint of spiciness, ensuring you won't be left with cloying sensations when applied in the right amounts. The floral and plum notes mixed with pepper provide an interesting introduction to this complex fragrance, while the sweet hints of fig and plum make sure your scent trail is memorable.
Not only does it last long, but it also projects perfectly. With its youthful quality and modern allure, Republic of Men Essence has earned its place as a popular men's fragrance for casual gatherings.
---
Wildblue
Aquatic Powerhouse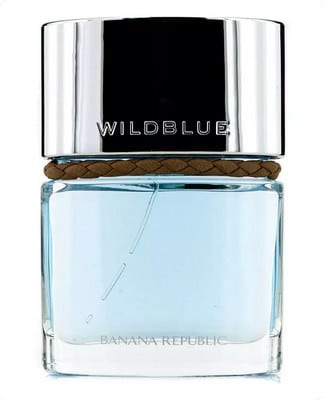 Banana Republic Wildblue is renowned for its unique blend of aromatic notes crafted by Jean Claude Delville.
At first spritz, you're hit by a vibrant yet comforting combination of sage, tea, and woodsy notes, intermingled with just a hint of musk and vetiver. Longevity and projection-wise, this highly successful fragrance will stay on your skin all day long, emitting freshness and a delectable aroma.
While it opens with a lovely fragrance that quickly fades upon application, the scent's core remains superior for hours. Wild Blue is celebrated for its uncomplicated scent profile, which is truly simple to enjoy for any occasion.