Demeter Fragrance Library, or The Library of Fragrance, was founded in 1993 by renowned perfumers Christopher Brosius and Christopher Gable. They envisioned it to be a place where everyday scents like snow, tobacco, mountain air, carrot, leather, and paperback are turned into perfumes and colognes. Their first store opened in a department store in New York, Henri Bendel, in 1996.
The first three fragrances they sold, namely Grass, Tomato, and Dirt, were loved by the public. So, they decided to add more. Baby Powder, Play-doh, and Gin & Tonic are some of the earliest addition to their cologne collection. In 2002, Demeter became more creative in their fragrances, adding Jelly Belly, Pure Soap, Egg Nog, and Crayon scents.
Today, Demeter has more than 200 fragrances in the market based on mundane scents. However, Demeter's products are slightly different from other brands because they contain 3% to 4% perfume oil, which keeps the scent longer.
---
Demeter Sunshine Cologne Spray
Warm & Clean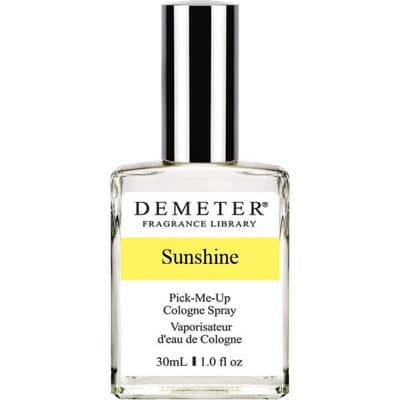 Sunshine by Demeter hit the shelves in 2013. The perfumers debated for more than a year to come up with the right combination of scents to represent Sunshine. Although the concept and execution were long and difficult, the product was worth their time and effort.
Imagine sniffing a clean cotton shirt after being warmed under the sun; that is what Sunshine by Demeter smells like. It is a sweet, warm, comfortable, and soft scent. In addition, you can smell a mild blend of vanilla, floral, and citrus notes.
Sunshine is best worn in outdoor events and intimate gatherings during the summer season.
---
Thunderstorm by Demeter Fragrance
Top Pick for Lazy Days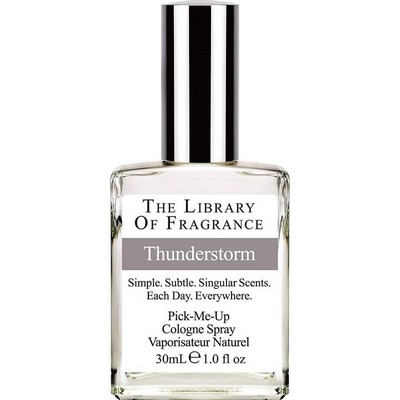 Demeter created Thunderstorm alongside its other colognes, Rain, and Holy Water. It hit the perfume market in April 2009 and became an instant crowd favorite.
Thunderstorm represents the rough and harsh side of nature. As soon as a bottle of Thunderstorm opens, you'll be hit by the scent of rain, grass, and dirt (in a good way), like how a garden would smell after a heavy rain or storm.
This scent is suited for those who love nature scent. Thunderstorm is perfect for a lazy, bed-weather day; smelling it would make you want to grab a thick blanket and read a book.
---
Pineapple by Demeter
Pineapple-Lover's Choice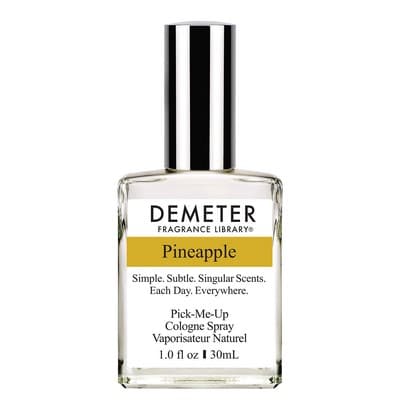 Pineapple is a unisex scent launched by Demeter. The natural pineapple scent positively appeals to the public that they use it to make body wash and other body care products.
Pineapple by Demeter has a fresh, fun, and fruity scent that is stimulating and soothing. It literally smells like a ripe pineapple! A few sprays of this cologne can transport you to a fun summer day on an exotic tropical island. Since the scent is mild and not too strong, you can wear it on its own or use it with other mild scents.
Lovers of pineapple and summertime will surely enjoy this natural scent.
---
Baby Powder by Demeter
A Nostalgic Scent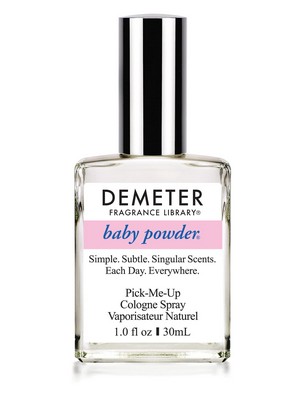 Demeter launched Baby Powder as a powdery musky scent for men and women. It hit the market and became a favorite casual scent.
Baby Powder is a fragrance that captures baby powder's fresh and clean scent. It will undoubtedly give you baby fever. It may even give you waves of nostalgia, reminding you of your childhood when everything was simpler and easier. However, this cologne is a bit sweeter and more playful than your normal baby powder; you'll catch hints of vanilla as it dries down.
This scent is soft, gentle, and innocent, perfect for a casual and uneventful day.
---
Petrichor by Demeter
The Rainy Day Pick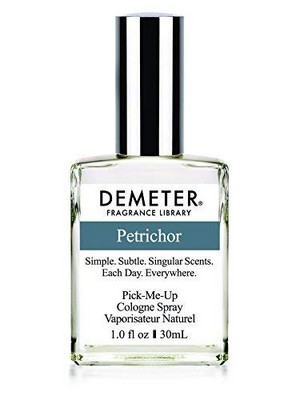 Demeter introduced Petrichor in 2017. An interesting trivia about this cologne is that an episode of Dr. Who (For the Girl Who is Tired of Waiting) inspired its composition. According to its creators, this cologne can let you travel in space and time.
Petrichor, the earthy smell of rain, came from the Greek word "petra," which means stone, and "ichor," which is the golden blood of gods and goddesses. This cologne by Demeter captures this particular scent. It is literally a rainy day in a bottle. It smells like wet grass, a cold breeze, and damp soil.
A few sprays of this cologne can make everyone around you feel cozy and relaxed.
---
Pumpkin Pie by Demeter
Top Pick for Fall Season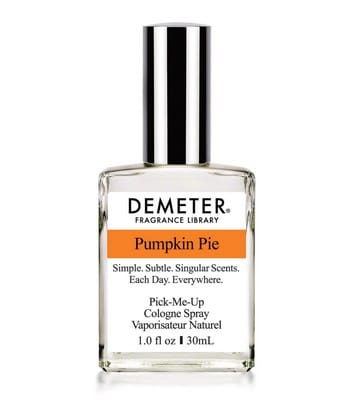 Pumpkin Pie is a special scent released by Demeter in 2011. It is a scent for men and women available in spray flacon, purse spray, roll-on, and mini splash.
Pumpkin Pie can evoke the joyous memories of Thanksgiving. First, it smells like freshly-baked pumpkin pie. Then, you can get hints of sugar, a touch of ginger, cloves, cinnamon, and of course, pumpkin. This scent is inviting, delicious, and warm, which can make anyone feel hungry.
For those who are excited about the fall season, Pumpkin Pie is the cologne for you. You can wear this to Thanksgiving dinner or other related events.
---
Dirt by Demeter
Most Versatile Demeter Cologne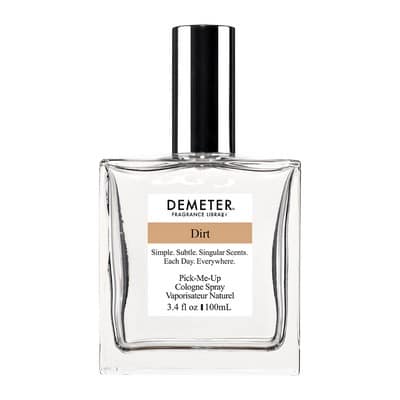 You might think that dirt is a weird scent to turn into cologne. But, Demeter took a brave step and launched Dirt by Demeter, inspired by the scent of dirt and soil.
This cologne proved that Demeter could turn the most mundane things into a magnificent fragrance. It smells woodsy and earthy, just like fresh soil. Dirt captures all the best things about getting dirty, gardening, and digging soil. It has a resemblance with Thunderstorm and Petrichor, but Dirt is drier and more earthy.
Dirt's subtle scent makes it versatile. You can wear it on a regular office day or a special date night.
---
Salt Air by Demeter
Aquatic & Aromatic Fragrance
In the 2000s, Demeter Fragrance launched another unique fragrance, Salt Air. It was endorsed as an aromatic and aquatic scent for men and women.
Salt Air was designed to capture all the beautiful things about the beach. This cologne can transport you to a beautiful seashore, where you can smell the fresh and clean sea breeze. The scent is so realistic that you can almost feel the sand on your feet and hear the waves crashing.
This is a perfect scent for people who love to spend time by the water, particularly on the beach. Its crisp aquatic scent makes it suitable for almost anyone to enjoy.