Diptyque is a luxurious French fragrance company that was established in 1961. Christiane Gautrot, an interior designer, Yves Coueslant, a theater set designer, and painter Desmond Knox-Leet founded this fragrance house. At first, Diptyque marketed textiles and exotic artifacts only seen in Paris. The three entrepreneurs started selling candles in 1963 and fragrances in 1968 as demand for their creations increased. The brand's early success is attributable to a combination of lucky timing, gut instinct, and meticulous planning.
Its first store is at 34 Boulevard Saint-Germain in Paris, but each scent can take you to places. The origin of each perfume may be traced back to a particular location, era, or narrative. The Diptyque shop is like an aromatic teleporter, transporting customers to faraway places like a tropical beach in Vietnam or a rose garden in England.
Desmond created the iconic oval logo, where his passion for calligraphy reflects each label's unique design. Each perfume packaging is produced by refining vast drawings until a single element expresses the matching fragrance.
---
Philosykos
A Stroll in a Verdant Forest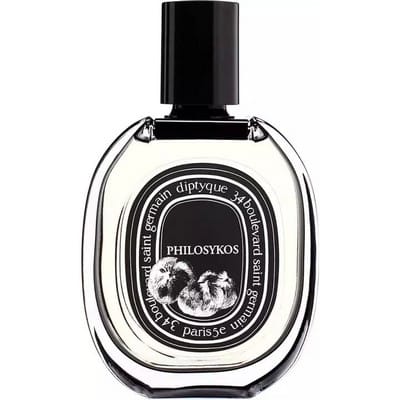 Olivia Giaobetti introduced her green and woodsy scent, Philosykos, in 1996.
It begins with a refreshing green fruitiness that lasts throughout the fragrance's transition. A fig leaf's flavor is earthy and somewhat bitter. Coconut, which has a natural sweetness akin to vanilla, helps to accentuate these other flavors. The creamy coconut adds smoothness to the scent, which pairs well with the clean green notes. The drydown has a variety of woody notes, the richest of which is cedar.
The scent vividly depicts a relaxing walk through the forest. Due to its green notes, this perfume is best worn in the spring and summer and throughout the day.
---
Eau Duelle
Spice of the Night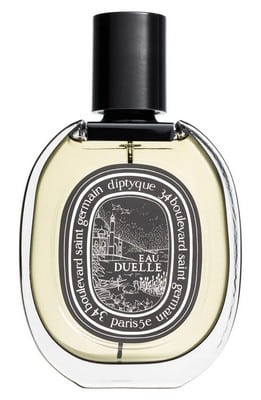 The spicy, sweet, and oriental undertones of Eau Duelle make it an excellent choice for men. The nose behind it is Fabrice Pellegrin, debuting in 2010.
Eau Duelle combines spices and vanilla flavor with a hint of herbal tea. Unlike other vanilla-scented perfumes, Eau Duelle is smooth and warm without being too sweet.
Juniper serves as the fragrance's opening note and pairs with cardamom, a fragrant spice with a bitter aftertaste. Saffron is layered into the fragrance's center, while Calamus introduces the initial sense of sweetness.
This fragrance's spicy undertones make it ideal for an evening occasion, and its woodsy undertones make them suitable for the colder months.
---
l'Eau De Tarocco
A Mysterious Aroma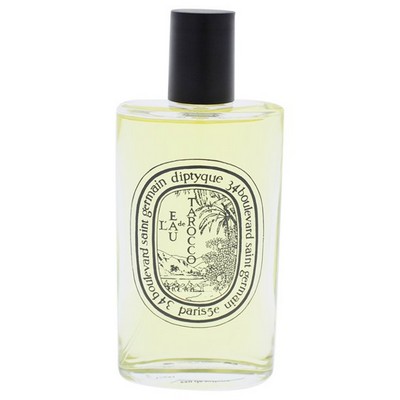 In 2009, Olivier Pescheux launched L'Eau de Tarocco. It combines citrus with spices, musk, and incense to produce a mysterious aroma that lingers for hours.
Orange and grapefruit notes serve as a bold introduction. The heart is composed of flowers and spices, balancing the sourness with sweetness and depth. The zesty flavor of ginger is reminiscent of citrus, while cinnamon overpowers the opening's coolness. The cedar adds an oriental smell, while the musk's powdery quality pairs well with the incense. The last note is the orange flower, a white floral that is sweet.
Because of its crispness, this perfume is ideal for wearing throughout the day in the spring and summer.
---
Eau Lente
Sweet and Spicy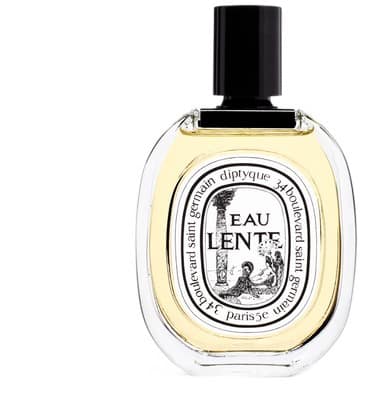 Developed by perfumers Desmond Knox-Leet and Serge Kalouguine in 1986, Eau Lente is renowned for its blend of spicy and oriental notes. Its spicy scent is comforting and warming, with a hint of natural sweetness in cinnamon.
The subtle use of spices in Eau Lente makes it cozy and alluring. Cloves and cinnamon provide a first warm, spicy flavor. It builds to the opoponax in the drydown, a profoundly sweet and warm note. Enhancing the cinnamon's underlying sweetness makes the finish more pronounced.
Eau Lente is perfect for the year's colder months at any time of day or night.
---
Volutes
Deliciously Smokey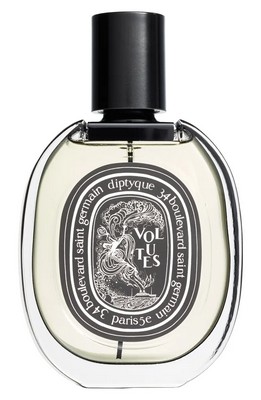 Volutes is an ideal perfume for men with a delightful blend of sweet, smokey, and spicy tones. It debuted in 2012 with the collaboration of Fabrice Pellegrin and Diptyque.
It has a sweet combination of notes due to the dried fruits and iris. With honey, the mixture gains a natural sweetness without the artificial aftertaste. Once the tobacco settles in, it adds an herbal aroma that balances the sweetness. The fragrance's base notes provide a layer of warm, spicy perfume to the sweetness of the scent's top.
Volutes is perfect for the colder months of winter and autumn. This scent also works well for a casual or formal atmosphere.
---
Vetyverio
Aromatic All Year Round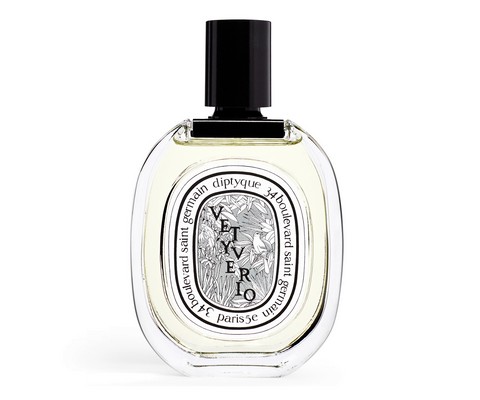 Olivier Pescheaux introduced his first fragrance, Vetyverio, a floral woody musk, in 2010. The progression begins with a lemony introduction, moves through a spicy and floral middle, and settles into a woody and musky conclusion.
The lemon has a pleasantly bitter tang, while the grapefruit and Mandarin orange have a sharp yet subtle sweetness. The bergamot adds a fragrant, spicy flavor to the introduction. The addition of ylang-ylang adds a rich, flowery undertone. The fragrance ends on a crisp note of musk that lasts long into the drydown.
Vetyverio can be an everyday trademark. However, it may not be best worn during the cold seasons.
---
Eau Des Sens
Fresh Throughout the Summer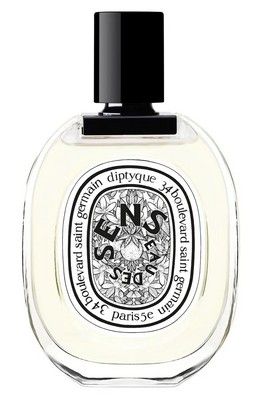 Olivier Pescheux created Eau Des Sens in 2016. It exudes a tangy, flowery, fruity aroma that pleases the senses.
The top notes of Eau Des Sens are a lovely combination of fresh orange blossom and bitter orange. It produces a refreshing floral opening that establishes the perfume's overall tone. After that, the aroma of juniper berries emerges. Combining these notes with the opening's citruses makes for a summery fragrance. Over time, it becomes warmer, and the citrus flavors fade but retain their basic flavor profile.
Eau De Sens is elegant and light, just like a summer breeze. In addition, this perfume is versatile to wear any time of the day.
---
Eau De Lierre
Green & Refreshing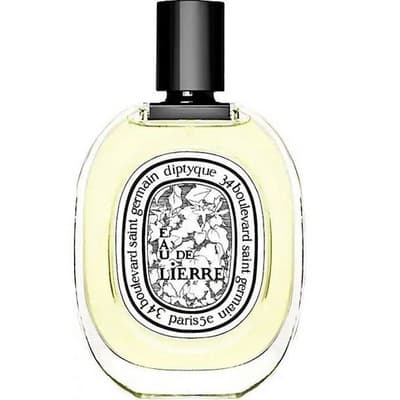 Eau de Lierre is a breathtaking green scent released by Diptyque in 2006. It is the perfect cologne for men who like fresh, green aromas.
The first impression of this fragrance is a robust, green aroma. Cyclamen, a floral note with hints of sweetness, is stunning when paired with the opening's green hue. Then the flowery undertone with woody notes, like Brazilian rosewood, emerges. The musk becomes more apparent in the drydown, providing an aromatic, powdery cologne. The use of ambergris gives the smell an aroma that is both earthy and somewhat salty.
Eau de Lierre exudes a fragrance reminiscent of springtime in a bottle, with its green undertones and light floral top note.
---
Tam Dao
The Smell of Confidence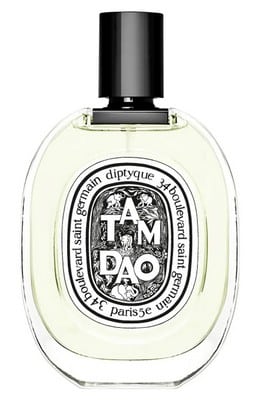 Introduced in 2003, Tam Dao is a flowery woody musk created by blending woods, spices, and musk. The scent is dominated by woody undertones, with the flowers acting as a background creaminess.
Tam Dao's opening of woodsy notes and spicy aromas sets the whole mood. A refreshing rose smell enhances both the myrtle and Italian cypress. Cedar and sandalwood are mellowed and rounded out by the base notes. Brazilian rosewood, with spicy and floral undertones, makes up the drydown. Finally, amber and white musk produce a rich oriental foundation.
The spiciness and freshness of Tam Dao are suitable for confident men who are ready to take on any challenge.