Le Labo has been in the business of scents since 2006. Founded by Fabrice Penot and Edouard Roschi, it initially introduced a lineup of 10 fragrances. Now, it offers more than 50 fragrances, with the latest products added in 2021. It sells its products in high-end department stores and perfumeries worldwide.
The scents in Le Labo's collection result from collaboration with top perfumers. Le Labo has worked with Nathalie Lorson, Frank Voelkl, Michel Almairac, Francoise Caron, Daphne Bugey, Maurice Roucel, Annick Menardo, Alberto Morillas, and Yann Vasnier. Le Labo specializes in the luxury market, offering scents made with high-quality natural ingredients. It uses minimalist apothecary-style bottles to provide customers with a personalized experience.
Le Labo has an interesting way of naming its fragrances. The names of the products indicate the most prominent scent in the bottle. Also, the appended numbers in the fragrance names indicate the number of notes in the product.
---
Santal 33
Comforting & Addicting Floral Scent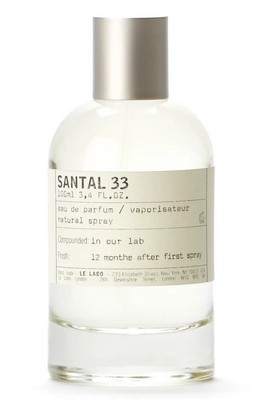 Santal 33 by Le Labo was introduced in 2011. It is a sophisticated fragrance created with the nose of Frank Voelkl behind it. It is comparable to the experience of solo camping amid the rugged, wide plains. It is comforting and liberating.
With over 30 notes, Santal 33 offers a complex experience that can sometimes become intoxicating and addictive. The top note of this fragrance is cardamom, which gives off an earthy sensation. The mid notes are a mix of flowers and spices. For the base, Santal 33 features sandalwood and cedar.
Santal 33 is a year-round scent versatile for day or night use.
---
Ambrette 9
Fresh & Light Musky Fragrance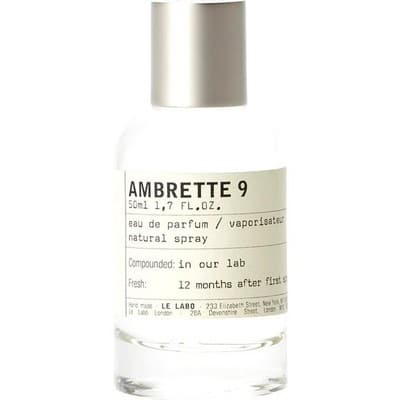 Ambrette 9 is one of the pioneering fragrances from Le Labo. It was developed and introduced in 2006 with the nose of Michel Almairac. Based on the ambrette seed, its main accords are musky, fruity, and floral.
Its light and fresh formula makes Ambrette 9 different from the rest of the fragrances under Le Labo. It has discernable citrusy top notes but remains partly light and pleasant. It sticks to the signature formula most customers have become accustomed to.
The Ambrette 9 fragrance is relatively flexible. However, it is best suited for spring and summer use. Also, it is mostly a daytime fragrance.
---
Another 13
Hypnotizing Woody & Fruity Scent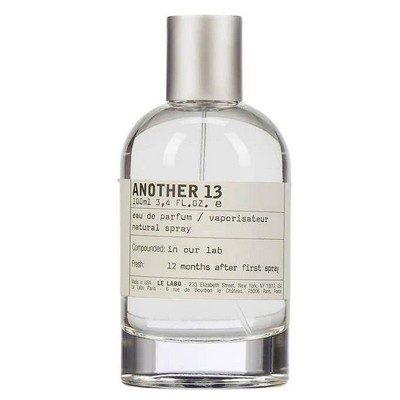 Another 13 is an amber woody fragrance launched in 2010. It derived its name from AnOther Magazine, which commissioned Le Labo to craft an exclusive scent. Le Labo coordinated with AnOther magazine's editor-in-chief Jefferson Hack for this project.
What came out of the collaboration is a unique fragrance that features a synthetic animal musk called ambroxide. This ingredient creates an addictive effect as it melds with other ingredients, including jasmine and moss. The top notes include citruses, apples, and pears. The mid notes are amyl salicylate, ambrette, moss, and jasmine. The base consists of cetalox and ambrettolide.
Another 13 was developed with the nose of Nathalie Lorson. It is a good scent to wear at night or during the day.
---
The Matcha 26
Woody & Fruity Matchup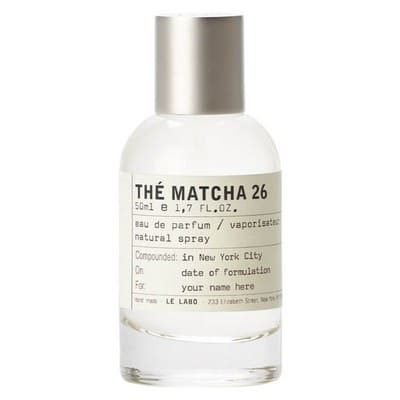 The Matcha 26 is one of the newest scents from Le Labo, released in 2021. It was inspired by the solemn aroma of the famous matcha tea. It produces a calming effect that stimulates a sense of spirituality and inner celebration.
This fragrance's main accord is woody. It comes with a creamy fig hint and is anchored with base notes of soft vetiver, cedar woods, and bitter orange.
The creators of Matcha 26 intended for this fragrance to be introverted and deep. Someone has to be close enough to the person wearing it to sense all of the fragrance's notes, from the top to the base.
---
The Noir 29
Fresh Spicy and Woody Combination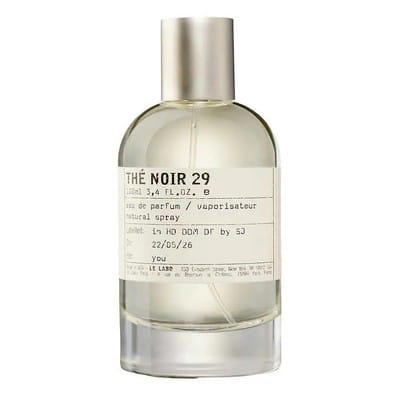 The Noir 29 by Le Labo was released in 2015. It is described as a homage to the noble leaf and designed to strike a balance between freshness and depth, gentleness and strength. This scent was developed with Frank Voelkl's olfactory guidance.
The Noir 29 starts with the scent of fig, bay leaves, and bergamot. It then slides into the aroma of cedarwood, musk, and vetiver. The base notes are tobacco and hay, which bring an earthy appeal that is also sensuous and addicting.
The Noir 29's main accords make it a good option for winter and spring use, as it creates a warm and inviting sensation.
---
Rose 31
Flexible Scent for Casual Wear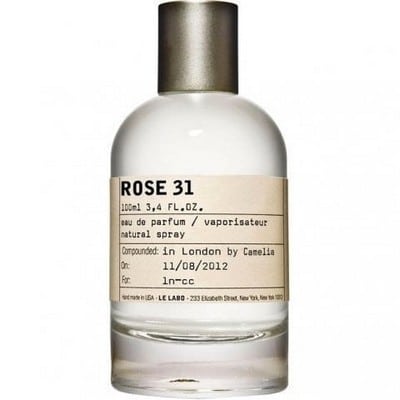 Rose 31 may sound like a fragrance created for feminine users. However, it was specifically designed to turn rose into a virile scent that is not only for women but also for men to wear comfortably and confidently.
The top notes for this fragrance are rose and cumin. These scents create a welcoming warmth as they mix with the mid-notes of olibanum, amber, and cedar. Adding guaiac wood and cistus enhances the overall fragrance while providing a sense of mystery.
Rose 31's unique musky and woody notes make it great for any time use. It can be the scent for a day event or a nighttime affair.
---
Tonka 25
Invigorating Dark Sensations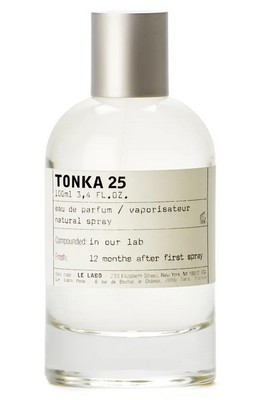 Tonka 25 is a dark-themed fragrance that bears the distinct aroma of the black seeds of the tonka bean tree. It was introduced in 2018 and was developed with the guidance of scents expert Daphne Bugey.
The fragrance of Tonka 25 is characterized by warm darkness with dashes of sweetness. It resembles the aromatic seeds and resins of summer underwoods mixed with musk and vanilla. It is sweet but not the same as the bright, fruity and floral fragrance of tropical gardens.
Tonka 25's distinctive scent is woody, musky, and vanilla-sweet. It also has hints of cedar atlas. This combination makes Tonka 25 a winter and fall favorite.
---
Neroli 36
Sensual Sunny Floral Fragrance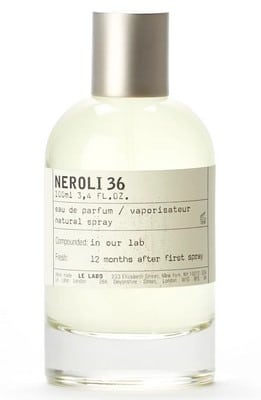 Neroli 36 banners the odoriferous yellow oil of orange blossoms. Created with Daphne Bugey and introduced in 2006, it is one of the pioneering scents from Le Labo.
What makes this fragrance stand out is the distinctive quality of the neroli oil used to create it. It exudes a luminous floral character that is not only sweet and perky but also warm and sensual. The initial whiff of this fragrance reveals rose, orange, jasmine, and vanilla. It is one of the most complex scents from Le Labo, exuding zest, warmth, elegance, and charm.
With its citrusy top notes and musky-sweet base notes, Neroli 36 is a great scent to wear during warm and humid seasons.
---
Bergamote 22
Timeless Floral Scent for Dignified Gentlemen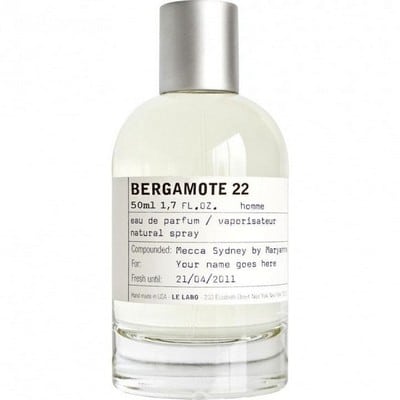 One of the fragrances launched by Le Labo when it started in 2006, Bergamote 22 features a versatile mix of sweetness, freshness, and sensuality. Dubbed as the "fire cologne," this dazzling scent is citrusy, woody, and spicy.
Bergamot 22 owes its unique character to the combination of bergamot, grapefruit, vetiver, orange blossom, petitgrain, musk, cedar, vanilla, and amber. It presents a delicate floral sweetness without necessarily being too soft or feminine. This classic scent is perfect for gentlemen with unique personalities.
Developed with perfumer Daphne Bugey, Bergamot 22 is preferred for daytime use. Its citrusy, woody, and fresh spicy main accords make it a summer favorite.